Quilt No.1027JL - Joyce Lannin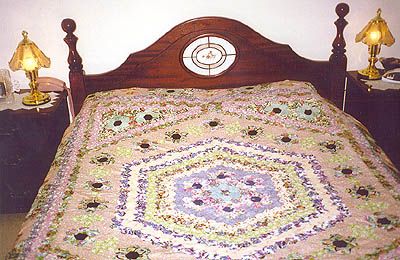 Description:
A frame quilt with a pattern using hexagons from crepe de chine and silk material. The centre frame consists of a blue rosette of hexagons surrounded by six rosettes or flowers all with black centres. These are surrounded by rows of hexagons and then a row of flowers and then more hexagon borders. The owner refers to the pattern as 'Grandma's Garden'. 2550 x 2550 mm
History:
The quilt was made by Lila Myrtle Harvey in the 1950s in Western Australia. It was given to her daughter Vivienne Gill and on her death to Lila's grand-daughter Debbie Rendell. It is still used.
Story:
Lila Myrtle Harvey: "When a small child Lila spent her early years in South Australia with her Aunties who spent hours doing patch work and Lila was fascinated with the colours and results of their work. So much so that she always had a hankering to do patchwork herself. But she lived a very busy life and it was not until after her own children had grown up that she was able to indulge in her dream.
Her first quilt was made from tailors samples which were destined for the rubbish and which she saved. With these she made a very serviceable rug which has seen many years of service in her family. All her life Lila has been busy making clothes for her family and has kept the pieces left over from her sewing. As soon as she had spare time when her family had less need of her full attention she started making hexagon templates and covering them with pieces from her scrap box. These she joined into flowers which she joined together to make her first quilt. Many years later after hours of hand sewing her first quilt top was finished making a masterpiece of beauty. It stayed on her bed until she passed away when it was handed on to her daughter who has since passed away and the quilt now belongs to her first grand-daughter Debbie Rendell.
A neighbour of Lila's had a quilt made in Log Cabin design and gave Lila a square as a pattern so Lila sat at her machine for months making Log Cabin squares until she had enough squares to make her quilt. Each square is made of different materials and colours. The final result is a very lovely [quilt] which is now owned and used by her daughter Joyce Lannin in Lake Grace.
Besides these quilts Lila made quilts for her grand-daughters and many cushions for her children. After she passed away her unfinished pieces were incorporated into patchwork quilts and articles by her daughter.
Lila was born in 1892 and passed away in 1970." [Joyce Lannin]
Related Quilts:

Small square piece of crazy patchwork in silks and taffetas. Many of the seams are oversewn with decorative embroidery stitches. There is a calico backing.
550 x 550mm

"Hexagons pieced over cardboard hand-sewn together. Each rosette was then machine quilted 1/8th to 1/4 inch from edge of rosette in shape of each rosette. Quilt is mainly cottons with a few rayons. Some checks and stripes are used but mainly florals. Has been machine quilted in rosette shape using green on green fabrics, lemon on lemon, orange on orange and red on red." [Ryder Lundy] There is no padding and the backing is gold curtain fabric extended at the end and one side with matching taffeta. 2220 x 1270 mm.

Hexagon quilt with rosettes centred in an all over diamond pattern. It is hand pieced and hand quilted. All the materials are either linen or pure cotton. The quilt is padded with batting (American) and the backing is floral cotton.
2360 x 1800mm

"English patchwork pieces. 1110mm x 1500mm. Hand pieced by at least two people. Made from scraps, cut down clothing and sheeting. Backing made from shirtings, dress fabrics, furnishing fabric and ticking. No synthetics. Machine quilted. Condition, fragile�.." [Dubbo Museum]

Block pattern consisting of a circle, hexagon and circle within a square. Cotton dressmaking fabrics with a few plain creams. Hand pieced and hand quilted. At some stage has been machine reinforced. Now faded, worn and damaged especially one end. Quilting pattern is four leaf clover inside large cable. The backing is 4 different pink toned fabrics in longitudinal stripes. Cotton batting. 2620 x 2300mm

Patchwork quilt of multi coloured silks and brocades. Crazy patchwork borders, mainly rectangular fabrics pieced together in diagonal patterns, radiating from a central frame embroidered with flowers. Many pieces are extensively embroidered in a great variety of stitches and motifs; butterflies, sunflowers, cats, daffodils, crown, pawn broker's symbol, 'money to lend', 'good night', the initials of family members and 'mater 1890'. The quilt has a deep border of maroon sateen. There is no padding visible but it is possibly a blanket. The backing is green/gold silk with a self stripe with red cotton damask showing underneath, possibly an earlier backing.
2165 x 2165mm