Quilt No.338HR - Heather Roobol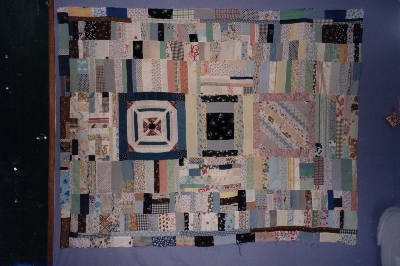 Description:
Patchwork quilt has three centre squares, one in blue/white/brown in a cross pattern, one in framed square, one with diagonal strips in a pink frame. The rest of the quilt is made from strips of rectangles in different sizes sewn in rows. There is a narrow pieced frame, then an outer border of pieced rectangles. Mostly pastel colours. No padding. Backing is calico. There is a little embroidery.
2160 x 1601mm
History:
Made by Elizabeth Anne Lawrence (born Warr) 1872-1963, at Massey's Creek, near Singleton (NSW), probably before the 1930s. Previously owned by her daughter Martha Everett, now owned by Elizabeth's grand-daughter and Martha's niece Heather Roobol.
Story:
"I found it on my aunt's bed (Martha Everett) or rather it was being being used UNDER her mattress to protect the mattress from the wire mesh support of the bed. When I asked her if I could have it (early 80s) she replied 'What do you want that old thing for?' "
[Heather Roobol 5.7.97]
Related Quilts:

Double sided patchwork quilt/rug constructed from squares machined together in strips and then the strips joined. The squares average about 27cms. The materials are mainly woollens, fleck tweed, school jumpers, gren check, and chenille and all are from used clothing.
1800 x 1170mm

Patchwork quilt made from squares and rectangles of pink, blue and white fabric set with a frame of pink and white print around a centre rectangle made of 4 pink triangles. Four corner squares of blue and white stripes, Many squares are pieced from smaller scraps. The Material is a crepe type, possibly used for underwear. Handsewn and machined. Backing is made from cotton scraps, possibly lawn or similar. Padding is flanellete or similar. Edges are bound in a striped material. Quilt shows signs of wear.
620mm x 520mm

Suffolk puff quilt with each puff approximately 4cm x 4cm. The puffs are small squares rather than the more usual circles. Materials are mainly cottons and satins in a wide variety of colours and patterns. The backing is striped flannelette and is hand stitched to the top.
1660 x 1140mm

Large hexagon rosettes in a variety of plain colours. 6 form a flower and each hexagon has a contrasting colour for the centre. Machined smaller hexagons give a ruffled effect. Colours of flowers include teal, burnt orange, pink, lime and mauve. The material is nylon and the backing is a single piece of pink bubble nylon. The padding is a single piece of calico.
2050 x 1530mm

Patchwork quilt has three centre squares, one in blue/white/brown in a cross pattern, one in framed square, one with diagonal strips in a pink frame. The rest of the quilt is made from strips of rectangles in different sizes sewn in rows. There is a narrow pieced frame, then an outer border of pieced rectangles. Mostly pastel colours. No padding. Backing is calico. There is a little embroidery.
2160 x 1601mm

Double sided patchwork quilt. Machined squares and rectangles joined in strips and then the strips joined. Wide variety of materials, mainly woollen from hand or machine knitted jumpers, many patched. All materials came from worn garments from family and friends of the maker. No padding.
1860 x 1410mm