Quilt No.340ER - Elsie Roberts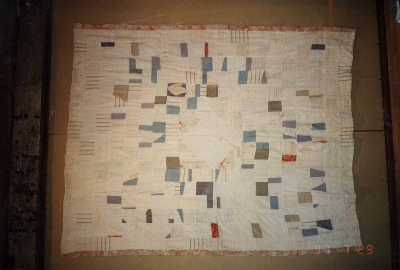 Description:
Patchwork quilt has a centre of a square within a square, with rows of scraps added around it. The scraps are mainly cotton shirting fabrics and are cut in different sizes and shapes. The two long sides have a narrow red edging folded from the back. The other two sides have been 'bagged'. Filling is an unusual weave thought to be wool. Backing is a pink, red and beige floral cotton.
2080 x 1650mm
History:
Made before 1930 by Lucy Elizabeth Williams at Cowes, Phillip Island Vic. Previously owned by Lucy's daughter-in-law Linda Williams, now owned by her grand-daughter Sue Mathews.
Story:
"The Williams' family owned a general store at Cowes and the quilt was made from samples of fabric from the shop. Lucy was a tailoress but I think this was the only quilt she made. It is very worn as it was found under a mattress after Linda Williams died. �"
[Elsie Roberts 17.10.97]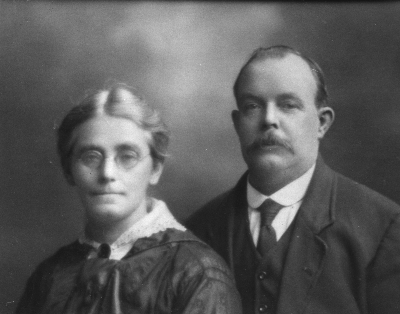 Related Quilts:

Quilt made of 26 x 13 rectangles of woollen men's suiting samples. Each rectangle is about 70 x 130 mm. Wide variety of patterns, mainly stripes, and colous. The padding is part of a worn cream blanket and joined pieces of woollen clothing. The backing is a well worn piece of brushed cotton. Machine made.
11900 x 1870 mm

Quilt of small silk and rayon rosettes of hexagons in prints and plain materials including velvet, voided velvet, chine, printed silk, brocades, taffeta, satin, crepes. Many of the materials are from Japanese kimono and wrapping silks. It is pieced over papers, one paper has a typed date '1930'. The backing is black silk satin and is turned to the front to form a border.
1695 x 1390mm

Allover pattern in woollen dress materials in blue, grey, navy, black and pink. Hand stitched. The owner suggests it was made in the 1950s or earlier. It is not used.
910 x 1250mm
Cotton scrap quilt with shapes of squares and diamonds and strips. There is no padding and the backing is calico.
2125 x 1440mm

Old jute wool pack opened out and joined together selvedge to selvedge. Ends bound with recycled curtain material.
1550 x 1321mm

Patchwork quilt in the Tumbling Block pattern in light and dark silks in bright colours. On both sides and at the bottom is a wide border in Tumbling Blocks, the pattern vertical at the sides and forming a triangle centre bottom, with an edge on both sides of two black bands with pieced diamonds between. Made for a poster bed. Hand sewn.
1790 x 1750mm