Quilt No.1044JW - Julie White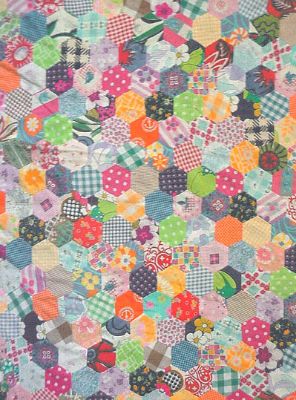 Description:
Hand stitched hexagon quilt in a wide variety of patterned cottons. Made completely from dressmaking scraps from clothes made for the maker's children and grand children. The hexagons are randomly placed. There is no padding and the backing is fawn cotton. 2260 x 1430mm.
History:
The quilt was commenced in 1969 by Anneliese Goerling in Perth WA. It is now owned by Julie White. It is not used.
Story:
"Maker was born in Kassel, Germany on 26.2.1903 into a well-to-do family. Her husband, German by descent but born in Victoria, met her in Germany. After their marriage they came to Australia where they owned Marloo Station in the Murchison district of WA. Heinrich's family were all interested in hobbies, particularly photography. Heinrich enjoyed cine photography and some of his film of station life in the outback is now in film archives. The couple had four daughters before moving to Pinjarra in 1933 where they farmed cattle and sheep until Heinrich's death in 1946. Anneliese, now with seven children, continued on the farm as best she could by share farming. After selling the 1000 acre farm to Alcoa in 1969, Anneliese began making the quilt in suburban Booragoon. Anneliese had always enjoyed dressmaking for her children and grand-children so making a quilt was a creative activity to help bridge the gap from farm to suburban house - and it was a good way to use some of the dress-making scraps she had always saved. She later bought a knitting machine which she used a lot. Anneliese also sewed many stamped tapestries which gave her the feeling that she was painting. She began that hobby at the age of about 70 and continued making about 80 tapestries until she was about 90 not long prior to her death on 25.3.2000. [Julie White]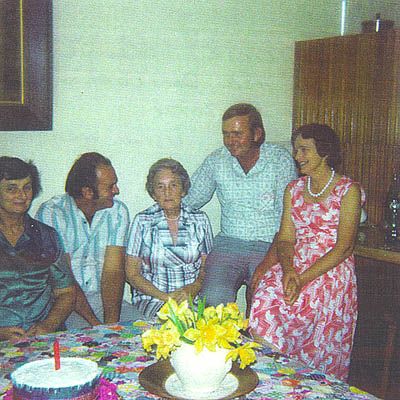 Related Quilts:

Cotton frame quilt with a diamond in the centre of the frame and a border of straight pieces. The outer border is diamonds. The quilt is hand sewn and hand quilted.
1910 x 1830mm

Patchwork cot or pram quilt made of diamond patches in the Tumbling Block pattern. Patches are made from cotton, corduroy and velvet, with red, black, teal blue, green, brown and cream predominating. No padding. Backing is of green wool and the quilt is bound with dark red crushed velvet.
780 x 560mm

Cotton quilt, machine sewn and hand quilted. Pattern similar to Double Irish Chain. The background is white and the small squares mainly patterned in pinks, blues, lilacs and greens. The backing is plain white cotton and the padding, which is lumpy, could be some type of cotton.
2057 x 1220mm

Patchwork quilt made for a child. All cotton with cotton padding. White blocks have embroidery depicting different nursery rhymes eg Mary, Mary, Quite Contrary ; Old Mother Goose. These blocks are separated by rectangular strips of teal cotton. The quilt is hand stitched and heavily quilted.
1677 x 1271mm

Patchwork quilt or table covering dark and light silks in bright colours, pieced from diamond shapes into stars with black patches between the stars. Plain and patterned silks are used for the stars. Border is made from a single row of Tumbling Blocks in plain silks with an edging on each side of truncated black diamonds on blue on the inside, orange on the outer edge. There is a star pieced of diamonds in each corner. Hand sewn.
1830 x 1800mm

Hand pieced and quilted quilt in silks, wool and cotton dress materials. The centre is a hexagon star in pink and yellow with black points. Most of the body of the quilt is pieced in Tumbling Blocks with an outer border of triangles. The backing is pieced from large rectangles of blue satin, rust-brown moire taffeta and brown-grey silk in a 'rectangle within a rectangle' pattern. The quilting is all over and finely done in yellow thread in a variety of patterns including snails, petalled flowers and hearts.