Quilt No.222RA - Rozanne Andrew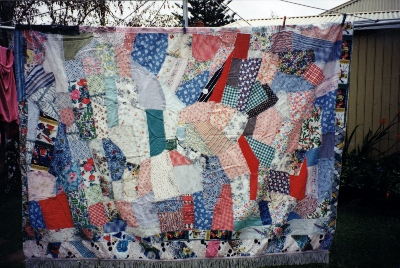 Description:
Patchwork crazy quilt of late 40s and early 50s. Pieces are from curtains, tablecloth,other kitchen type fabrics in cotton, seersucker and linen. Colours are mainly reds, greens, blues, and pastels, in prints and plain. Herringbone stitch is worked around the edge of each patch. No filling. The backing is calico with one edge in a piece of coloured cotton from the front; the calico was a little small for the top.
2020 x 1400mm
History:
Made by the owner's grandmother, Bertha Fechner, at Loxton, SA in the early 1950s, no later than 1953. Owned by Rozanne Andrew.
Story:
"Further on from last correspondence regarding information on 3 quilts I own from my paternal grandmother. � This is information on grandmother's life. Name - Bertha Fechner & Philip Fechner
D.O.B 19/5/1888 D. 20/12/73 D.O.B 1/6/1893 D. 5/12/46
Lived all their married [lives] at Loxton, South Australia, a town on the River Murray.
Both people of German descent but born in Australia.
Both very frugal in their use of food and possessions. Always preserved all their fruit, killed own animals, grown most of their fruit and vegetables. Grandmother of course made own clothes and many quilts in her lifetime. Many traditions from Germany passed down and carried on through the generations including language. Being able to knit, crochet, sew, embroider an essential part of education. Strong church followers always.
� Grandfather was a blacksmith and wheelright. Grandmother did 'home duties".
[Letter from Rozanne Andrew 20.12.95]
Related Quilts:

" Double bed size coverlet made of white cotton 'blue bags' fabric (white cotton squares used to hold a measured amount of blueing agent used to keep linens white during the laundering process). Patches are sewn together in the 'Suffold Puff' style - a circle of fabric is gathered up to make a puff. Patches are joined by a few stitches on four sides. Coverlet is edged with a deep crochet fringe, to a depth of approx. 18cm on all four sides���On lining is written in black ink: 'C.Bleagard Baby Ken'. " [NT NSW]
2570 x 2380mm

Quilt made from dressmaking materials in a design probably made up by the maker but resembling 'Courthouse Steps'. The outer border of each block is mitred. Originally it was reversible but during restoration the back was brought to the front, doubling the size of the quilt. The padding is old woollen materials. The backing is a new piece of floral material. It is now machine quilted.
1830 x 1220mm

Hexagon quilt, hand sewn, using a wide variety of patterned and plain cotton scraps left over from dressmaking. 6 hexagons are placed around a centre one. There is no padding. The backing is brown flannel turned over to the front with hexagons hand stitched to it.
1220 x 763mm

Handsewn cotton hexagons in a wide variety of patterns. Centre oval of hexagons with 2 outer rings. There is no padding and the backing is white cotton.
2490 x 2200mm

Quilt made of 26 x 13 rectangles of woollen men's suiting samples. Each rectangle is about 70 x 130 mm. Wide variety of patterns, mainly stripes, and colous. The padding is part of a worn cream blanket and joined pieces of woollen clothing. The backing is a well worn piece of brushed cotton. Machine made.
11900 x 1870 mm

Patchwork quilt for a child made from suiting pieces from the Castlemaine Woollen Mills in Victoria. One side has dark rectangles in greys and navy, the other side uses pieces in light browns, cream and rust, with dark grey. The edging is also made from suiting. No padding Machine sewn.
1347 x 1271mm