Quilt No.1052MB - Maureen Brazzica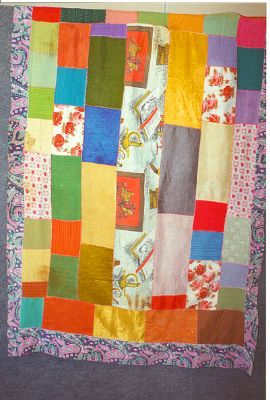 Description:
Quilt constructed from seven strips of different sized rectangular pieces of scrap curtain materials. There is a cross border at each end and an edge of floral cotton all around. Most of the seams are overseen in herringbone stitch. There is no padding and the backing is brushed cotton. 1500 x 1000mm.
History:
The quilt was made by Florence McVicar in Fremantle WA in the late 1940s or early 1950s. Florence was the present owners husband's grandmother. Florence died in 1977 at the age of 93. The quilt is still used.
Related Quilts:

The quilt is called 'Loved'. The pattern is log cabin and it is made from dress materials and pyjama flannelette. The original filling was a heavy woollen blanket (now flannelette) and the backing is green headcloth - all government issue. With its restoration, the backing was supplemented with a green floral, and the quilt is now tied. The quilt is machine pieced, some restoration work is done by hand.
2260 x 1920mm

Wholecloth quilt in white cotton voile with alternating designs of Australian wildflowers worked in multi coloured cottons and shadow work. It is backed with yellow voile. There is no padding.
2010 x 1910mm

Quilt made of hexagons in cotton materials, the hexagons set in the 'Grandmother's Flower Garden' pattern with 6 patterned patches set around a plain coloured centre patch and white hexagons forming 'paths'. There is a white cotton backing with the edges turned under all the way around and top and backing are joined by a blue machine sewn satin stitch. The patches are hand sewn.
2160 x 1830mm

Patchwork quilt made from a variety of printed cottons over 70 prints, using shirting and dress fabrics, fabrics also from pyjamas, curtains, aprons, tablecloths. The centre medallion is a square within a square with white borders, the inner frame made of sawtooth triangles. This is surrounded by pieced triangles, square within a square and crosses. Outer frame of sawtooth triangles, and outer border pieced of squares and triangles. Colours are pinks, blues, burgundy and pastels, with floral, stripe and check prints. Lining of cotton. Backed with a printed cotton. Quilt is bound on all edges.
2430 x 2250mm

150mm squares of old material scraps, mostly cotton, including some curtain material. There is no padding and the backing is brown lawn.
2540 x 2370mm

Patchwork quilt made from cotton hexagon patches in the 'grandmother's Flower Garden' pattern, in bright prints and plains, with cream 'paths' made from dress material. Padding is flannel sheeting, and backing is the same cream material as the 'paths'. The centre of the 'flower' patches are autographed with friends' names and dates, as are some 'petals' and cream patches, in black ink.
1550 x 1400mm