Quilt No.163VD - Verna Doak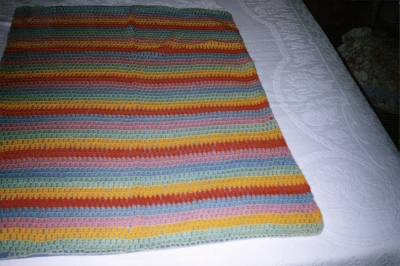 Description:
Cot quilt made in rows of crochet in treble clusters. Backed with blue cotton fabric. Backing replaced with another backing of blue fabric in 1970. Colours of rows are green,yellow, blue, pink and red.
History:
Made by Margaret Osterfield (born Folletta) born 25th August 1866, for her grand-daughter Verna's cot (1940). Used by Verna's sisters and her 3 children, in 1970, 1973 and 1976. Owned by Verna Doak.
Story:
"Margaret Osterfield, born Falletta 25th August 1856 was a very hard working farmer's wife. She and husband Frederick Osterfield had 10 children, my Father the second youngest. They lived at Burnt Gully, approx. 10 miles from Bendigo. She crocheted and embroidered until her death on her 87th birthday."
Related Quilts:

Wholecloth pram quilt with a top of pink cotton sateen, and the reverse is a more finely woven, ivory, fabric. All over quilting design as main feature, with stylised hearts, leaves and cross hatching. The padding is cotton batting. 870 x 660 mm.

Hand stitched, cotton, appliquéd, quilt in a flower pattern on a plain background. Colours are shades of green, apricot and browns. This quilt was known as a 'Bride's Quilt'. Padding is thought to be layers of white fabric raised almost like a wadding. The backing is cotton material. 2470 x 2020 mm.

" This coverlet is composed of two pieces of dark blue cheese cloth joined with a row of running stitches down the centre of the coverlet (the seam faces the front face of the coverlet but is hidden beneath a row of appliqué).
The coverlet is decorated with rows of pieced work surrounding appliquéd and embroidered scenes. A panel down the LHS of the quilt and a smaller panel lower RHS depict animals and floral images. In the centre RHS an elderly couple sit beneath a tree. In the upper left a bride and groom accompanied by three flower girls are showered with petals from a wicker basket carried by a very large angel. Glass beads, sequins and a button have been used to highlight the appliqué and embroidery.
As with all of Mary Jane Hannaford's quilts, the work is stitched by hand and quite crudely, but the naivety of the images is overwhelming with their charm." [NGA] The quilt is not padded or lined. 1950 x 1690mm

Hand appliqued, embroidered and quilted, 1940s. Cotton quilt with yellow, pink and purple tulips and green leaves, has scalloped edging with green piping. Hand quilted.
2240 x 885mm

4 Pieces of a patchwork quilt which was formerly a whole quilt. It is pieced in cottons in blues reds and browns in many prints. There are whole circles and pieced circles against a plain cream calico background. It is wool lined and is quilted. There are the initials 'A.B.' and '1828' on a central piece. The 4 pieces are various sizes.

Wholecloth quilt with both sides of floral cotton. The padding is thought to be hessian bags.
2060 x 1300mm