Quilt No.188BHS - Benall & District Historical Society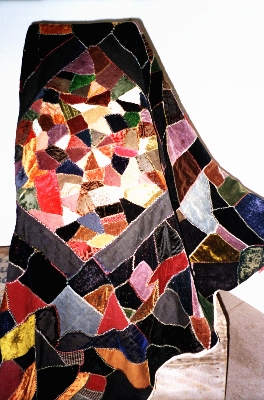 Owner:
Benall & District Historical Society
Description:
Crazy patchwork quilt in mostly dark colours made from velvet and silk. Centre panel has a circular piece made from 9 triangles. This panel is in a grey [velvet] frame or border. Seams are stitched over with herringbone stitch in different coloured threads, and some other decorative stitches are used. Quilt is dotted with 'stars'. Backing is a cotton fabric printed with bunches of pink roses on a blue and white ground. Padded, and qulted with widely spaced rows of machine stitching. Quilt is edged with bias.
1520 x 1460mm
History:
Maker unknown. Believed made c.1910. Previously owned by the Evans Family, Lima East (VIC). Now owned by the Benall & District Historical Society.
Related Quilts:

Suffolk Puff quilt with puffs mainly in patterned cotton pieces saved from 60 years of household sewing. Puffs are formed into rosettes and the holes are on the top making a decorative feature. It is hand sewn.
2700 x 2400mm.

Utilitarian quilt made from large pieces of wool, flannel and cotton. Machine construction and the padding is wool.
1570 x 152Omm

Hand sewn hexagons over paper templates in a pattern known as 'Grandmother's Flower Garden'. Materials are printed dress cottons, patterned and plain, mainly in pinks, blues and browns. The border and backing is grey linen and is machine stitched on. There is no padding. 2060 x 1579 mm.

Quilt with alternate red and white diamonds in cotton, with wide border of white cotton and a white cotton crochet edging. All diamond patches and edging were joined to white border decorated with feather stitch. White border edged with zig-zag white feather stitch. Centre rectangle of white has 4 red petals edged with white feather stitch and 4 red diamonds each embroidered in white clockwise: '1898', 'R', 'L', 'K'. Diamonds edged with feather stitch. There is no padding and the backing is white cotton.
2420 x 1740mm

Patchwork quilt made from hexagon patches on one side, and squares and rectangles on the reverse. Cottons are used, mostly from dressmaking, in bright and light colours. The hexagons form an indented edge on all sides; on the back the rectangles have been cut at the edge to match the hexagon shapes. Hand sewn, the edge machine sewn.
No padding.
1551 x 1373mm

The strip quilt is handsewn and quilted. Quilt top has 13 panels or strips of 3 different cotton lawn floral prints. Some fabrics are now wearing. Backing is of plain white cotton. The padding is wool. Quilting features a triple row cable design with flower motifs.
2100 x 1800mm