Quilt No.9ARM - Albury Regional Museum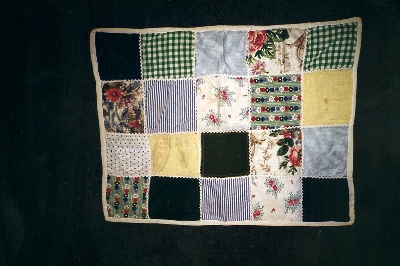 Description:
Patchwork cot quilt, machine pieced, rectangular, 5 x 4 squares. Assorted fabrics including seersucker, corduroy, printed and plain cottons. White ric-rac braid and zigzag machine stitching accentuate rows. Edge of white cotton tape. Backing is single flour bag, calico, with maker's printing visible through patchwork: 'Tiger. Best Australian Roller Flour. Mala Foot. Sole Supply. Part of Kuala Lumper' and Chinese characters.
674 x 540mm
History:
The quilt is thought to have been made in the 1950s. It is not known who the maker was. It was donated to the Albury Regional Museum [NSW] in 1969.
Related Quilts:

Crazy patchwork quilt pieced from velvets, satins, braids, taffetas, cottons with some decorative stitching. A ruffle and the backing are in ruby red satin. There is a dacron type padding.
1620 x 1200mm

Patchwork quilt made of rectangles of woollen fabrics from dressmaking projects. Pieces have been stitched together in no particular order. Colours are predominantly dark red and light grey, with some green, pink and blue. Fabrics are plain, checks and weaves. No padding or quilring. Backing is yellow curtain fabric.
2200 x 1100mm

Patchwork quilt made of hexagons in silks, satins and brocades. Colours are soft, mainly creams and pastels, with some deep pink, yellow, dark grey and bright blue. Quilt is bordered with a wide band of light navy moire or faille. Padded, possibly with a blanket. Backed with cotton twill.
2420 x 1900mm

Crazy patchwork quilt made from pieces of silk, velvet, silk ribbon and brocade in a variety of patterns and plains, in a range of colours. All patches are edged with embroidery, in blanket, feather, herringbone and other stitch variations. Many patches are embroidered with flowers, butterflies, leaves and initials of family members, and there is some beading. 1901 is embroidered in one corner. Quilt has a wide border of gold velvet. Patches are stitched to a base fabric. Backing is dark green sateen.
1470 x 1060mm

Crazy quilt of velvet upholstery fabrics, and cigar ribbons with surface embroidery. Patches are outlined in embroidery stitches, and one patch has 'Dec 12 1886' on it. There is no padding, and the backing is cotton. 1720 x 1580 mm.

Double sided square quilt. One side is a crocheted rug. The centre of this is 4 triangles joined and from this coloured bands in crochet radiate out to the border. The other side is randomly pieced scraps of mainly woollen material in checks, plains and tartans. Machine construction.
1600 x 1600mm