Quilt No.9ARM - Albury Regional Museum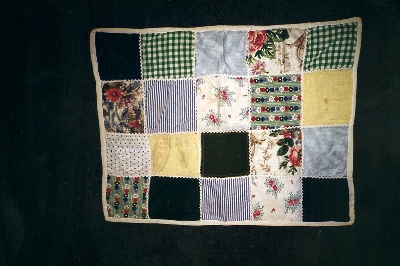 Description:
Patchwork cot quilt, machine pieced, rectangular, 5 x 4 squares. Assorted fabrics including seersucker, corduroy, printed and plain cottons. White ric-rac braid and zigzag machine stitching accentuate rows. Edge of white cotton tape. Backing is single flour bag, calico, with maker's printing visible through patchwork: 'Tiger. Best Australian Roller Flour. Mala Foot. Sole Supply. Part of Kuala Lumper' and Chinese characters.
674 x 540mm
History:
The quilt is thought to have been made in the 1950s. It is not known who the maker was. It was donated to the Albury Regional Museum [NSW] in 1969.
Related Quilts:

Patchwork quilt, all cotton including cotton padding. Pattern is based on squares and a cross. Variety of fabrics, plain and patterned. Hand stitched and quilted.
2083 x 1626mm

Patchwork quilt made from a variety of printed cottons over 70 prints, using shirting and dress fabrics, fabrics also from pyjamas, curtains, aprons, tablecloths. The centre medallion is a square within a square with white borders, the inner frame made of sawtooth triangles. This is surrounded by pieced triangles, square within a square and crosses. Outer frame of sawtooth triangles, and outer border pieced of squares and triangles. Colours are pinks, blues, burgundy and pastels, with floral, stripe and check prints. Lining of cotton. Backed with a printed cotton. Quilt is bound on all edges.
2430 x 2250mm

Suffolk puff quilt with puffs in a variety of fabrics. Very little cotton. Fabrics are satin, polyester, organza, wool (now moth eaten), rayon and silk. There is no padding or backing. 2450 x 2100mm

Quilt in a wide variety of patterned and plain hexagons in cotton with a wide green border. There is no padding and the backing is cotton.
2500 x 2200mm

Patchwork quilt has three centre squares, one in blue/white/brown in a cross pattern, one in framed square, one with diagonal strips in a pink frame. The rest of the quilt is made from strips of rectangles in different sizes sewn in rows. There is a narrow pieced frame, then an outer border of pieced rectangles. Mostly pastel colours. No padding. Backing is calico. There is a little embroidery.
2160 x 1601mm

Quilt made from dressmaking materials in a design probably made up by the maker but resembling 'Courthouse Steps'. The outer border of each block is mitred. Originally it was reversible but during restoration the back was brought to the front, doubling the size of the quilt. The padding is old woollen materials. The backing is a new piece of floral material. It is now machine quilted.
1830 x 1220mm