Quilt No.202BL - Barbara Levy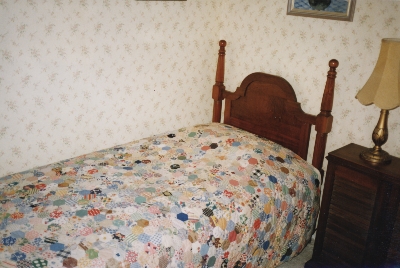 Description:
"The quilt is made up of many cotton hexagons of various colours, patterns and designs, finely sewn by hand, making a very attractive bedspread. Each patch is lined with lawn. It is quite a heavy quilt, with its plain border, and backing of home-spun cotton or cesarine. The family always called it a 'cottage design'."
No quilting.
2312 x 1905mm
History:
Made by Mrs Gordon Sides (born Iser) at 'Bundidjarie', Melvor Rd, Bendigo in 1947. Owned by her daughter Barbara Levy. It has been used in the bedroom occupied by Barbara's now married daughter Belinda.
Story:
Bundidjarie' is now demolished, replaced by a motel.
"My father Gordon Sides, an engineer, meticulously cut all the hexagons for my mother. My mother, maiden name 'ISER', was the fifth child the youngest of German parents who came to Bendigo in the early 1870s from Hamburg."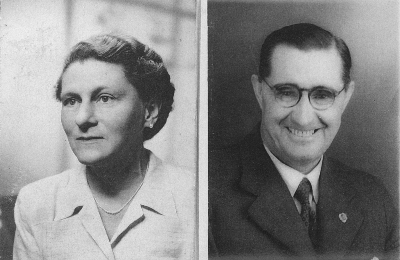 Related Quilts:

Patchwork quilt made for a doll's bed or possibly as an infant's quilt. All cotton. The owner calls the pattern a variation of 'Bow Ties'. Hand sewn and quilted. This quilt is new.
534 x 382mm

Hand sewn patchwork quilt with a pattern of blue stars. Each star consists of hexagons in the centre with part diamonds forming the star shape. The quilt is made from scraps. It is not padded and the backing is cotton and has a hexagon star border. 2660 x 2470 mm

Hand sewn quilt comprising 263 rosettes of hexagons in chintz. 6 hexagons around a centre one form a rosette. Between these are plain off white hexagons. There is a mark on one corner on cream material, possibly a stamp. The crochet lace border is on three sides only.
2850 x 2720mm

Pieced repeat block, in what the owner calls 'Our Village Green' pattern. Wide variety of patterned and plain materials. Finely quilted. Padding is cotton and the backing is white calico. 2180 x 1890 mm.

Patchwork quilt has three centre squares, one in blue/white/brown in a cross pattern, one in framed square, one with diagonal strips in a pink frame. The rest of the quilt is made from strips of rectangles in different sizes sewn in rows. There is a narrow pieced frame, then an outer border of pieced rectangles. Mostly pastel colours. No padding. Backing is calico. There is a little embroidery.
2160 x 1601mm

This quilt consists of rows of pieced blocks approximately 280mm square sewn directly on to a foundation square. The design is really a version of 'log cabin' set on the diagonal. The backing squares are made from flour bags including a number stamped in blue ink "The Defiance Milling Company��..Toowoomba NET 3 lbs". Another is stamped in green ink "Parsons Rolled Oats". Two short sides and one long side of the quilt are bound in apricot coloured cotton.
1960 x 1700mm