Quilt No.202BL - Barbara Levy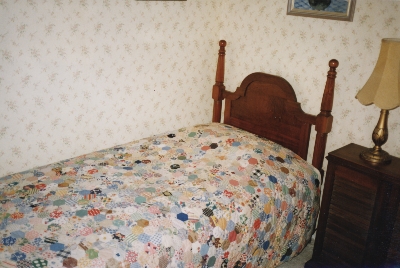 Description:
"The quilt is made up of many cotton hexagons of various colours, patterns and designs, finely sewn by hand, making a very attractive bedspread. Each patch is lined with lawn. It is quite a heavy quilt, with its plain border, and backing of home-spun cotton or cesarine. The family always called it a 'cottage design'."
No quilting.
2312 x 1905mm
History:
Made by Mrs Gordon Sides (born Iser) at 'Bundidjarie', Melvor Rd, Bendigo in 1947. Owned by her daughter Barbara Levy. It has been used in the bedroom occupied by Barbara's now married daughter Belinda.
Story:
Bundidjarie' is now demolished, replaced by a motel.
"My father Gordon Sides, an engineer, meticulously cut all the hexagons for my mother. My mother, maiden name 'ISER', was the fifth child the youngest of German parents who came to Bendigo in the early 1870s from Hamburg."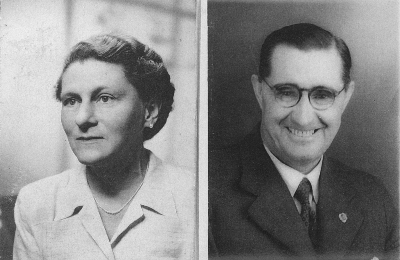 Related Quilts:

Cotton log cabin double bed quilt. Each square has 52 pieces (i.e. 13 pieces x 4 to make a square). There are 192 squares so a total of 10.092 pieces. There is probably no padding. The backing is calico with a floral pattern done in running stitch.
2200 x 2200mm

Repeat block in wedding ring pattern. All cottons with cream background and mainly pale mauve and green dressmaking prints in wedding rings. Green border and cream calico backing. The padding is cotton. 1800 x 210mm.

Miniature crazy quilt either for a baby or a doll. Plain and patterned materials including velvet, satin, sateen and brocade. 4 patches are embroidered and the central patch has a hand painted flower. Each patch is embroidered around the edge with a variation of feather stitch. It has a brown binding and lace edge. The backing is twill cotton.
490 x 390mm

Handsewn quilt of hexagon patches in cotton prints in 'Grandmother's Flower Garden' pattern. Each flower consists of double rows of print hexagons around a yellow centre and these are joined by 'paths' in plain green and white cotton. Backing is green cotton and there is a wool padding. There is outline quilting around all green and white hexagons and centre and first row of hexagons in flowers.
1885 x 1750mm

Cotton Hexagon quilt with a wide variety of patterned and plain materials. Blue binding and a cotton backing. The padding is thought to be cotton wool.
1525 x 1220mm

Cot quilt of cotton hexagons. There is a central diamond of hexagons and then a repeat diamond motif radiating to the edge. Each hexagon is 40mm. The backing is sheeting or similar and the padding is dacron type.
1200 x 700mm