Quilt No.226NTA - National Trust of Australia (SA)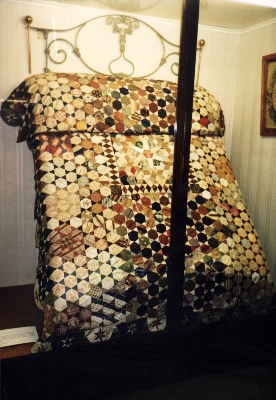 Description:
Patchwork quilt made from silks in hexagon shapes with dark silk triangles in between the hexagons. The centre of the quilt has a star design with an embroidered hexagon with six star points, with diamonds and hexagons, surrounded by a border of dark coloured diamonds on a cream ground. The quilt is edged with deep single scallops in alternate dark blue and white each with an appliqued six point star with a hexagon centre.
History:
Probably made by members of the Chester family, in the second half of the 19th century. The quilt was commenced at Balmoral, Scotland, but it is not known where it was finished. Previously owned by the Chester family, now owned by the National Trust of Australia (South Australia), at Millicent.
Story:
"The quilt has the unusual feature of having been used to record the initials and dates of members of the Chester family, ie 'W.C. Died Jan 15 1838' and 'A.J.C. Born July 24 1862'.
Legend has it that the central patch, which is a deep pink shade, and shows the Prince of Wales feathers motif, came from material used in Queen Victoria's trousseau."
[Irene Bishop, Millicent National Trust Museum]
Related Quilts:

Centre medallion of hexagons surrounded by blocks of tumbling blocks. Rows of triangles around the edge. Each corner has a star within a hexagon. Hand stitched with the traditional 20 stitches to the inch. There is a silk tassle in each corner. Materials include: silk, silk ribbon, taffeta, brocade, velvet, striped silk, faille. The backing is cream holland.
1580 x 1510mm

This quilt has been strip pieced with no regular pattern. It seems a large quilt has been made then folded in half. The materials used are woollen skirting pieces in a variety of colours. It could be used either way. There is no padding and it is very heavy.
2100 x 1950mm

Patchwork quilt of cotton hexagon patches grouped in 'flowers', comprising 4 rings of patches around a central hexagon. Prints and plains are used, the colours mainly browns, greens, yellows, dark blue and dark pink. The 'paths' are in a yellow-brown cotton. Cotton backing. The padding is probably an old blanket. The quilt is an irregular shape, and is tied.
2550 x 1870mm

This domestic Wagga is two layers of woollen army blankets with the top layer in rectangles joined in rows. The backing is hessian bags that originally contained meat meal.
11650 x 1130mm

Single bed quilt made up entirely of hexagons in 'Granny's Flower Garden' pattern. The rosettes are made up of 8 hexagons and a central one. Native flower prints, including wattle, on a white background. Plain hexagons in white, yellow and blue form a scalloped border. Hexagons are hand stitched and the 2 layers are quilted in running stitch. The backing is a pieced sheet.
2400 x 1500mm

Patchwork quilt has three centre squares, one in blue/white/brown in a cross pattern, one in framed square, one with diagonal strips in a pink frame. The rest of the quilt is made from strips of rectangles in different sizes sewn in rows. There is a narrow pieced frame, then an outer border of pieced rectangles. Mostly pastel colours. No padding. Backing is calico. There is a little embroidery.
2160 x 1601mm