Quilt No.550PD - Phyllis Dowling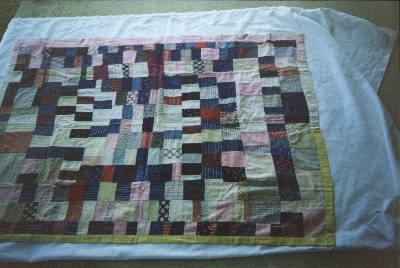 Description:
Hand pieced cot quilt made from small rectangular shapes of a great variety of materials including cottons, silks, wools and velvets. The backing is cotton sateen in 3 colours and is brought to the front to form a border of pink, cream and yellow.
1170 x 920mm
History:
The exact history of the quilt is not known but it is thought to have been made by Harriet Harris at either Kiandra or 'Glory Hole' in the 1860s. It is now owned by her great grand-daughter, Phyllis Dowling.
Story:
"Harriet Harris was born c.1825-1830 in Pedwell, Somerset, England. She was the daughter of John Chapple, a builder, and Mary Sandy. She married Henry Josiah Harris on 2 January 1853 at Trinity Church, Newington, London.
Henry Harris was a butcher and had several trips to Australia as a Ships Butcher before deciding to remain here c.1857.
They had 3 children born in London, Annie, Emma Harriet and Henry George. Harriet and her 3 children arrived in Sydney on the ship 'Herald of the Morning' on 25 June 1858. The family were in Newtown, Sydney when the 4th child, Robert, was born 6th June 1859.
In 1860, following the discovery of gold the family moved to Kiandra, travelling to Twofold Bay by boat and then to Kiandra by bullock dray.
The next child, Catherine Louisa was born there 9 May 1860 followed by Rose Elizabeth 12 September 1864 and finally Oliver John 9 February 1866.
Henry Harris continued with his butchering business in Kiandra but because of the harsh winters had to have somewhere other than Kiandra for his stock in winter so besides the home in Kiandra he purchased a 40 acre block below what is now Yarrangobilly Caves. This property was called 'Glory Hole' and members of the family lived there until 1910.
Although small and primitive in the beginning the 'Glory Hole' home eventually had 5 bedrooms, lounge, dining room, kitchen. hallway and verandah. The house was built of timber split on site.
Both Henry and Harriet are buried in the family grave at 'Glory Hole'. Henry died 17 August 1898 and Harriet 1 August 1904."
[Phyllis Dowling, Tumut 1998]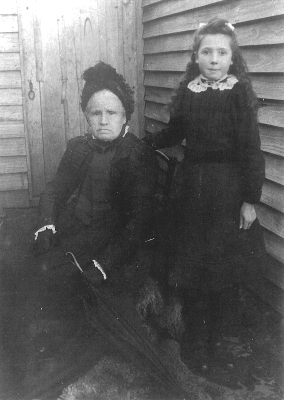 Related Quilts:

Rectangular quilt of print and plain
cottons pieced in squares and rectangles within 2 frames, the inner border or frame of blue/green check material, then 2 rows of squares and rectangles, the outer frame of a grey and red geometric pattern and 2 rows of squares or rectangles. Backing of plain fabric. Machine stitched on a treadle machine.

Frame quilt with central square of fabric around which the borders or frames have been added in strips. The fabrics are mostly floral, a heavy weight similar to damask or curtaining. The colours are mainly beige, brown, green and red. The original backing was a red paisly design. A second backing, of red, brown and yellow leaves on white (possibly dating from 1930s), has been added at a later date. Quilt is bound with brown fabric.
2200 x 2000mm
Dresden plate quilt with pointed pieces set around a white centre. Fabrics are checks, floral patterns and plains of the 1930s. The twenty blocks are sashed with plain mauve fabric which does not meet evenly in some places. The padding is two layers of cotton bedspreads. The backing is open weave rough quality cotton.
1860 x 1550mm.

Crazy patchwork quilt made from silk and cotton fabrics, in patterns and plains, in bright colours. Patches are arranged around a central diamond shaped patch in yellow which is bordered with light blue. All seams are covered with featherstitch and herringbone stitch. Patches were stitched onto a calico backing. A recent calico backing ahs been added and dark blue binding attached to the edge. No padding.
1555 x 910mm

Single bed quilt hand pieced from silk hexagons using the English method. The border, backing and central rosette of hexagons are black. All other hexagons are a mixture of plain colours, stripes and florals. They are randomly placed. It is quilted in a diamond pattern. The padding is a thin cotton woven material.
1550 x 1330mm

Patchwork Quilt consisting of diamond shapes forming a Tumbling Block pattern. All cotton, mainly patterned pieces, with signs of blotting paper templates. Hand sewn. The outer border of patches consists of off-cuts from nurses' uniforms of the times as 2 of the maker's daughters were nurses. It is thought most other squares were probably from material samples from large city stores such as Anthony Horderns. Backing is red cotton in a paisley design.
2030 x 1890mm