Quilt No.243EJ - Ella Jarvis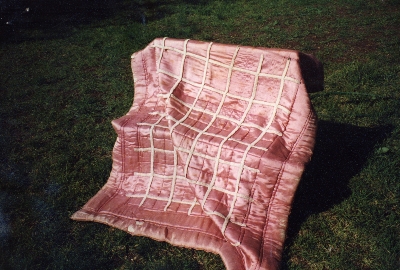 Description:
Wholecloth quilt of pink satin with machine qulting in squares across the main part of the quilt, and two rows of two lots of stitching around the wide border. The quare pattern on the quilt top is overlaid with a grid of applied thick white braid. Backing of cotton. Padding appears to be enclosed in white cotton. Fragile condition.
1650 x 1370mm
History:
Maker and date of making unknown. Purchased by the owner, Ella Jarvis, at the Red Cross shop at Murray Bridge (SA).
Related Quilts:

Wholecloth pram quilt with a top of pink cotton sateen, and the reverse is a more finely woven, ivory, fabric. All over quilting design as main feature, with stylised hearts, leaves and cross hatching. The padding is cotton batting. 870 x 660 mm.

Hand stitched, cotton, appliquéd, quilt in a flower pattern on a plain background. Colours are shades of green, apricot and browns. This quilt was known as a 'Bride's Quilt'. Padding is thought to be layers of white fabric raised almost like a wadding. The backing is cotton material. 2470 x 2020 mm.

The top is a wholecloth piece of twill type cotton and the backing is a wholecloth piece of finer patterned cotton. The padding is a layer of pieces of used clothing stitched together, including part jumpers, some darned. These are inside an old folded blanket.
1540 x 950mm

Hand worked wholecloth Chinese quilt. Background is cream with a central motif of a dragon embroidered in various shades of orange. The border has floral and leaf decoration at each corner joined by a stem interspersed with leaves, berries and butterflies. The border is dull gold satin finished cotton with a fine gold braid machined on. The backing is fine brown cotton.
1730 x 1700mm

Wholecloth quilt with one side blue satin with a red satin border and the reverse side wholecloth floral cotton. The quilting is parallel lines and squares. It is all hand stitched. The padding is raw cotton.
1740 x 1240mm
Wholecloth quilt made of deep cherry red satin with a cotton backing of a lighter red colour. The padding is wool. The quilting pattern comprises twelve squares, each approximately 350mm with a four leaf pattern in each. The border is straight and wavy parallel lines.
2000 x 1820mm