Quilt No.1092AS - Angela Smith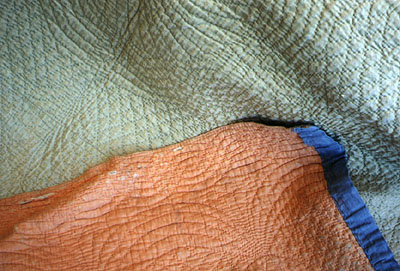 Description:
Durham quilt made of cotton sateen, mainly gold on one side and yellow green on the other. Top, pillow fold, has been removed. The straight sides have tiny pin stripe added border. The quilting pattern is large tree of life (palm like), swags and cable on top and bottom border. Fill in is slightly elongated diamonds. 1880 x 1520mm
History:
The quilt is thought to have been made by Elizabeth Thompson (born Bell) born 1883 in Northumberland, England. It then passed by maternal descent to her daughter Mary Lucy (London) and then Elizabeth's grand-daughter, Angela Smith in Perth Australia. It is not used now.
Story:
"My grandmother was born in 1883, one of eight children. Four of the boys were born in Medomsley, and likely the other children were born in the near vicinity. The family tree (Oley - great grandmother's maiden name) shows birth dates going back to 1670 in that area.
My mother was born in 1903, in the same area, and came to London in about 1932/3 during the Great Depression. Her mother followed her a year later and it is likely that the quilt came with one of them.
The material colours are plain gold and green with a pale blue edging, it also had a dark brown suiting material doubled over like a flounce and sewn to one side. This was removed about five years ago when it was brought to Australia. [Angela Smith, Perth 2002]
The quilt in my recollection was used on a bed and then for more than 20 years put in a packing box to protect china and kept in a shed.
I brought the quilt to Australia in 1997-8 together with other sentimental household items."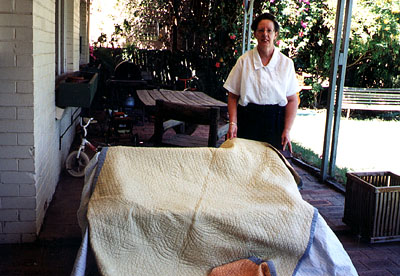 Related Quilts:

Wholecloth pram quilt with a top of pink cotton sateen, and the reverse is a more finely woven, ivory, fabric. All over quilting design as main feature, with stylised hearts, leaves and cross hatching. The padding is cotton batting. 870 x 660 mm.

Hand stitched, cotton, appliquéd, quilt in a flower pattern on a plain background. Colours are shades of green, apricot and browns. This quilt was known as a 'Bride's Quilt'. Padding is thought to be layers of white fabric raised almost like a wadding. The backing is cotton material. 2470 x 2020 mm.

Wholecloth cover in synthetic rayon. Centre plain, drop slightly gathered, edging border is large saw tooth appliqued pieces in flannelette, striped seersucker, crepe de chine. Materials typical of the 30s through to the 50s. The appliqued triangles are chain stitched in yellow thread which also anchors them to the backing.
2450 x 1940mm

Wholecloth quilt made of royal blue satin, squares around a central panel. Seam lines are covered with a faggoting stitch. All names are embroidered in satin stitch, the central motif is hand painted. The border is quilted with a repeat scroll ing pattern in hellow thread, and edges are trimmed with a fringe of small pom-poms in burgundy, gold, blue and yellow, the colours mixed in each pom-pom. Quilt is backed with yellow satin cotton. Centre has embroidered: "Lancefield/ Presbyterian/ Sale of Gifts/ February, 1896'.
1880 x 1330mm

Wholecloth quilt made from deep pink satin. The quilting pattern is a centre circle with a stylised flower surrounded by crescent shapes. This is set in a square and there is a fan design in each corner. Parallel lines create a border. There is a frill on all sides of the quilt. The padding is raw cotton.
2000 x 1770 mm

Wholecloth quilt made from orange cotton cretonne for back and front. Padding is made from old blankets stitched together. The quilt weighs 16 lb.
1423 x 1118mm