Quilt No.245RC - Ruth Collins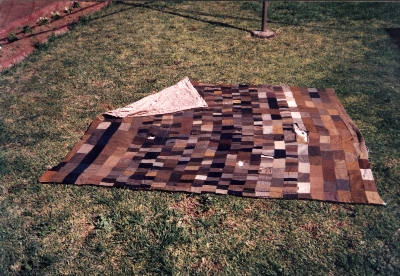 Description:
Patchwork quilt of rectangular wool and cotton tailors' samples, in browns, greys, navy, black and beige, in plains and patterned weaves. Padding is a woollen blanket, and the backing is a patterned cotton.
1956 x 1702mm
History:
Made by Selina Pavy (born Martens) (1873-1950) at Lameroo (SA), in the 1920s. Given to her elder daughter Melva and then to her son and owner, the oldest grandchild, Mr Collins.
Story:
"Selina Martens was born on 12th February 1873, at Clare, a rural town north of Adelaide in South Australia. She was the seventh child in a family of five daughters and three sons. The Martens family later moved to Port Germein where Selina grew up. Her father died at the age of 50 when she had only recently celebrated her 12th birthday.
Selina (who was called Lena) was obviously taught excellent sewing skills by her mother, and prior to her marriage she was the sewing mistress at the Port Germein school, and gave this as her occupation upon her marriage to Ernest (Ern) Pavy on 25th April 1893.
Following their marriage Lena and Ern lived in Port Germein, where their son and first daughter were born, then in Jamestown and Wilmington during which period they had another daughter. Finally, in 1910 they were among the early settlers who opened up virgin mallee land north of Lameroo, in another part of the state. This was a time of hardship and poverty, of clearing mallee and developing a farm, with some assistance from their two elder children. Lena, like all pioneer women of this era, assisted her husband where possible, as well as caring for her family under difficult circumstances, some distance from amenities such as medical care and shops. She used her considerable sewing skills to clothe the family to quite an extent, and in doing so passed on her talents, particularly to her elder daughter.
Unfortunately, after years of hard work, the farm had to be sold in the early 1920s due to the ill health of Ern and following the loss of their only son on the battlefields of France in June 1918. They lived in the township of Lameroo thereafter, and Lena is remembered by her grandchildren as a very caring and hardworking woman.
The quilt would probably have been made by Lena in the 1920's and some of her older grandchildren can recall this, and other similar items being in their grandparents' home � The quilt was later given to her elder daughter who in turn passed it on to her son (Lena's oldest grandchild), in whose possession it now rests. This grandson recalls the quilt being used in the base of the buggy during his childhood, and how soft and warm it was for he and his sisters to sleep on, while travelling home along the country roads at night after visiting their grandparents.
The quilt has been used through the years by various family members, and a great grand-daughter enjoyed its cosiness as a play rug beneath her play-pen in the early 1960's. A friend of Lena and Ern conducted a tailoring business in Lameroo, and it was from this source that the material samples were obtained, and crafted into the quilt.
Another surviving piece of Lena Pavy's needlework, which dates from the early 1930's, is a small doll's quilt made for her oldest granddaughter. Although now somewhat faded, it is still treasured by a great granddaughter, and is made from small pieces of cotton material worked onto a backing with a herringbone stitch."
[From information provided by Ruth Collins.]
Related Quilts:

The top has a segmented circle in the centre surrounded by a border of small rectangles. The circle is featherstitched on to the background. Materials are wools and cottons and it is hand pieced. The other side appears to have been originally men's suiting materials strip pieced. It is now covered with a children's print in light cotton joined in long rectangles. The padding is coarse heavyweight cotton.
1410 x 1080mm

This Adelaide Chronicle wildflower quilt has alternating squares of green and fawn headcloth embroidered with Australian wildflowers on the fawn squares and stylised floral motifs on the green squares. It is bordered and backed with the same green material. It is padded.
2350 x 1530mm

Double sided quilt. One side is frame with borders of wool rectangles mainly offcuts of men's suiting from tailors' shops. The other side is mainly flannelette in stripes and patterns similar to pyjama material. The padding is pieced patches of worn jumpers that were too matted to be unpicked. Machine construction.
1700 x 1490mm

Pieced patchwork quilt of hexagons in cottons, chintzes and linen. The centre is pieced in 6 point hexagon stars, then radiating out are large hexagons alternating with tumbling blocks, then 6 piece hexagon stars and 4 piece hexagon diamonds. Some pieces have Egyptian patterns dating from 1800 - 1805. The backing is cream linen.
2450 x 2200mm

Scrap quilt made of vertical strips of rectangles alternating with narrow strips of pieced triangles. Colours are subdued, blues, pinks, red, browns and black, in small patterns and stripes. Fabrics are suiting, rayon, crepe, gaberdine, taffeta and blazer wool. The padding or middle layer is pieced from hessian and suiting fabric, knitted cotton. and khaki and brown twill (uniform material). The middle layer is then handsewn to the back.
1550 x 870mm

Patchwork top made in the Log Cabin pattern in cotton fabrics, 10 x 10 squares. Hand sewn. Most fabrics are patterned, colours in darks and lights include blues, red and pink, greys, browns. The wide border is made from 3 rows of blunt ended triangles (tumbler), the edge is bound with a narrow strip of patterned grey and white fabric. Each corner of the border has 3 chequered squares set on the diagonal. Hand sewn, the binding is machine sewn. No padding or backing.
2360 x 2340mm