Quilt No.440EW - Elizabeth Williams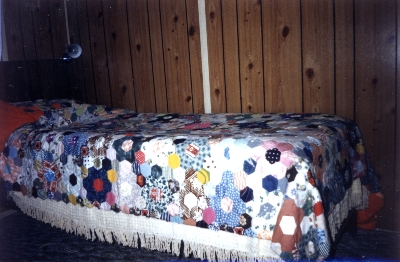 Description:
Cotton quilt of plain and patterned hexagons, 6 joined to make a flower. The flowers are arranged in rows with single motifs filling the spaces. Hand sewn. The backing is heavy red cotton material. There is no padding.
2490 x 1803mm
History:
The quilt was made by Mrs. Celia Aitken, aunt of the present owner, as a gift in the early 1960s. Mrs. Aitken, now deceased, made it when she lived in Berwick Victoria The quilt has been in constant use since it was made.
Story:
"The maker of the quilt was the daughter of a pioneer family who farmed land out of Monbulk Victoria then were forced to move as their property became the site of the now Silvan dam. They then moved to a property at Trafalgar Vic where Celia Aitken met and married Jack Aitken also from a pioneering family."
[Elizabeth Williams 4.6.98]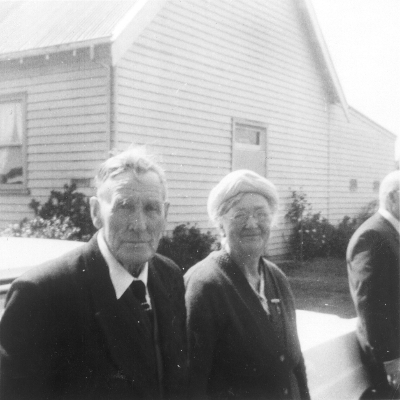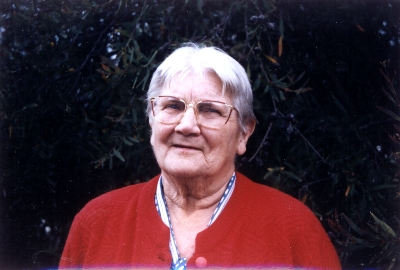 Related Quilts:

Hand pieced patchwork quilt with blue and black checkerboard central frame surrounded by 4 borders of irregular sized rectangles. Mainly dress materials with possibly some furnishing material. It is not quilted or tied. The backing is a large rectangular red check table cloth with 3 borders of irregular shaped pieces down 2 sides and 1 border down 2 sides. There is no padding.
1860 x 1730mm

Patchwork quilt made from hexagons 63mm across in a variety of cotton prints and plains. The bright coloured patches came from children's clothes and dressmaking scraps. The 'set included a large cot cover, a pillow cover and a circular stool cover. No padding. Backing of unbleached calico. Hand sewn.
2300 x 1840mm

Double bed patchwork coverlet of pieced blocks in a pinwheel or dresden plate pattern of prints on a cream ground, each block with a 1 3/4" border or sash. Each pinwheel has 10 pieces, and the quilt is constructed 8 blocks by 6. Cotton fabrics are in florals, checks and stripes, in blues, greens browns, pinks, purple. The quilt was in poor repair and has been reduced in size. Conservation work has been done by the State Conservation Centre.
Backing or filling unknown.

Patchwork quilt has three centre squares, one in blue/white/brown in a cross pattern, one in framed square, one with diagonal strips in a pink frame. The rest of the quilt is made from strips of rectangles in different sizes sewn in rows. There is a narrow pieced frame, then an outer border of pieced rectangles. Mostly pastel colours. No padding. Backing is calico. There is a little embroidery.
2160 x 1601mm

"The quilt is made up of many cotton hexagons of various colours, patterns and designs, finely sewn by hand, making a very attractive bedspread. Each patch is lined with lawn. It is quite a heavy quilt, with its plain border, and backing of home-spun cotton or cesarine. The family always called it a 'cottage design'."
No quilting.
2312 x 1905mm

Patchwork quilt of pieced repeat blocks in 'T' pattern,mainly cottons. Quilt is constructed with 12 blocks across and 12 blocks down. Some fabrices have been reused from clothing, some blocks have patches which have been pieced from scraps to make enough fabric for the pattern. Padding is' pellon', quilt is backed, bound and quilted.
1600 x 1500mm