Quilt No.946NTW - National Trust of Australia (WA)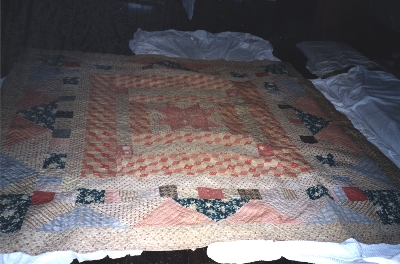 Description:
Frame quilt in cottons with a centre motif of pieced 8 point star surrounded by borders, 2 from red/white material printed to represent Tumbling Block patchwork. The remaining borders are, one plain, one of pieced squares, one of pieced large triangles with squares in the corner. The outer border is plain. The padding is wool and the backing is cream cotton. It is elaborately quilted.
2400 x 2260mm
History:
The maker is unknown. The quilt is thought to date between 1880 and 1900. It is now part of the Quilt collection of the National Trust, WA and is in storage at Woodbridge, Midland WA.
Related Quilts:

Utility patchwork quilt made up of mainly squares of furnishing material machine pieced. It is backed with machine pieced patches of woollen jumpers, mainly machine not hand knitted. The back is possibly the top. There is no padding.
1950 x 1270mm

Patchwork quilt made of squares and rectangles in woollen fabric, stitched together without any particular pattern. Colours are mainly green, grey, blue, black, pink and some yellow. Fabrics are plain, checks and stripes. No padding, quilting or binding. Backing is a remnant of synthetic fabric. The quilt has been well sued and is very worn with fabric torn and marked in some places.
1400 x 400mm

Patchwork quilt or cloth made from pieces of woollen material used for regimental uniforms in England last century. Star pattern in colours, red, pale blue, green, maroon, yellow [white] and brown. Hand pieced probably by more than one person. Red fringe machined on. Red flannelette backing in poor condition. Two layers, not quilted.
1780 x 1700mm

Cotton quilt made from squares of patterned and plain materials. It has a mauve cotton flounce around the border and a mauve cotton backing. There is no padding.
2700 x 1350mm

Wholecloth quilt originally covered with cretonne and recovered with orange satin. Machine quilted. Padding of wool.
1270 x 1160mm

Quilt in mauve, pale blue and white squares, with wide borders of floral and off white. The quilting is a centre medallion with leaves on the border, and cross hatched over all. The padding is cotton batting, and the backing is plain white cotton. 2180 x 1900 mm.