Quilt No.251HS - Helen Sparkman
Description:
Wholecloth quilt mainly made from material with a green and yellow leaf pattern on a black background. This material was also used in another quilt. The backing has a large centre panel of checked material with panels either side of the leaf pattern from the top. The owner wrote that the uneven thickness of this quilt may indicate that old garments were used as 'batting' similar to her mother's (Matilda Pitt) quilts.
1520 x 850mm
History:
This quilt was made by Clara Pitt, daughter of Matilda Pitt, probably during the 1950s. It has always been in the family and Clara was the great aunt of the present owner, Helen Sparkman. It is not used now.
Story:
"Clara May Pitt 1892-1985 (Daughter of Matilda Pitt)
Clara made many quilts mainly during the 1950s and 1960s, not out of need but because of her love of patchwork. Her quilts were mainly Hexagons and Suffolk Puffs. Clara was a single lady who had five neices and a nephew, and quite a number of great neices and nephews. As each quilt was completed it was presented to a family member. These family members now cherish her gifts, even though all have often smiled and queried her fabric selection, placement, neatness and her continual use of white thread over the years. Clara was over 80 years of age when she made her last quilt (Hexagons of course) for a private museum."
[Helen Sparkman Dec.2000]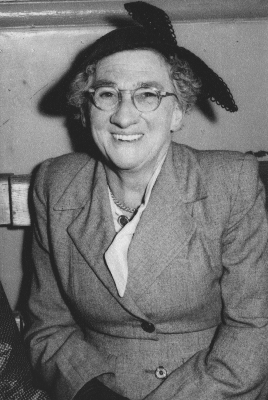 Related Quilts:

Wholecloth pram quilt with a top of pink cotton sateen, and the reverse is a more finely woven, ivory, fabric. All over quilting design as main feature, with stylised hearts, leaves and cross hatching. The padding is cotton batting. 870 x 660 mm.

Hand stitched, cotton, appliquéd, quilt in a flower pattern on a plain background. Colours are shades of green, apricot and browns. This quilt was known as a 'Bride's Quilt'. Padding is thought to be layers of white fabric raised almost like a wadding. The backing is cotton material. 2470 x 2020 mm.

Wholecloth quilt made of red floral crinoline cotton material. Quilting is in vertical rows, alternating cables with orange peel patterns. Padding is of cotton flock. Backing is of white cotton. Quilt is edged with a self fabric ruffle on three sides. Hand sewn.
2236 x 2236mm

Wholecloth quilt of golden brown cotton sateen, the backing of a lighter yellow cotton sateen. Hand quilted with an allover repeatingr pattern of a cross within a square. The border is quilted with 4 parallel rows of stitching at the sides, and 5 at the top and bottom. Padding is cotton wadding. 1920 x 1440 mm.
1920 x 1440mm
" A coverlet of 7 pieces of cream muslin. The edges of the work are secured at the top and sides with bands of green and floral strips. The lower edge has been turned and hemmed. The 'quilt' is highly decorated with bands and diamonds of appliqué fabric. The upper centre field is appliquéd with images depicting Adam and Eve in the Garden of Eden surrounded by trees and a variety of animals and insects. In the centre is a smaller appliquéd image of the manger with mangel and cows. The quilt is not signed or dated, but each of the imaged areas is accompanied by a descriptive text. The writing is executed in black chain stitch. Beads and sequins have been used to depict the eyes of some of the animals in the Garden of Eden. As with all of Mary Jane Hannaford's quilts all work is hand sewn and quite crude and coarse in execution. The quilt is not padded or lined." [NGA] 1810 x 1590mm

Wholecloth quilt with one side cream wool and one side faded red wool. Red wool is joined with 3 seams by loom length; red appears to be cochineal dyed. Cream wool side appears to have been made from a hand woven blanket with blue selvidge on 2 sides. It is hand quilted in red wool thread; Welsh patterns including clamshell, Welsh pear, snail or spiral. Centre frame has 2 cable borders and the centre corners have fans. The outer quilted border has alternate 4 petal flowers, clamshell, and spirals.
It is padded with hand carded wool.
1950 x 1935mm