Quilt No.803EK - Effie Kalenderidis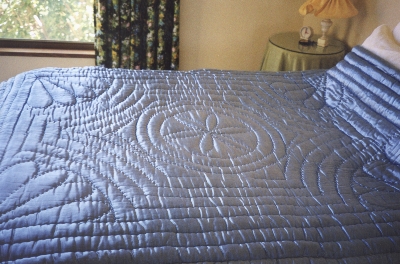 Description:
Wholecloth quilt made from blue satin with turquoise blue cotton backing. The padding is cotton wadding. The quilting pattern is a large central motif of a daisy with a fan design in each corner. The in fill pattern is of curved and straight parallel lines and the border straight parallel lines. It is all hand quilted.
2000 x 1660mm
History:
The quilt was made in the late 40s or early 50s by a quilt maker (name unknown) on the Greek island of Lemnos. Eleni Kalenderidis, mother-in-law of the present owner, collected some quilts for her family. When the family migrated to Australia the quilts came with them. This one was owned by Steve Kalenderidis and now by his wife Effie. It is still used.
Story:
"Effie's Paploma
Effie Kalenderidis was two years old when she arrived in Australia in 1955 with her parents Chrisoula and Trifonas Karpouzos. They came from the village of Kamenitsa, Arcadia, in the Peloponnese, the southern peninsular which is joined to mainland Greece by the Corinth Canal.
There were several quilts around the Kalenderidis household, even a small cot quilt. They all originated from Atsiki on the island of Lemnos where Eleni Kalenderidis (Effie's mother-in-law) had collected them for her family. These two were most probably made by a local quilt-maker, as was the custom in those years. In 1955, Lucas Kalenderidis (Effie's father-in-law) migrated to Australia to begin a new life and hopefully create a better future for his family. When Eleni and their three sons Steve (Efstratios), Ross (Garifalos), and Theo (Theodoraos) arrived in 1956 to join him, their quilts came with them.
The blue quilt, still in excellent condition, was originally owned and used by Steve, as he grew up. He left his quilt at home in Goulburn when he began his training as a high-school teacher. He then took up a teaching position in Canberra and later married Effie. When their first daughter Helena (Eleni) was born, Lucas gave this blue quilt to Effie as a sentimental gift. She in turn, will hand it down to Helena when she marries.
The pink quilt was a special gift to Effie from Aunty Mary Kalenderidis, who was married to Lucas' brother George, and was also from Atsiki, Lemnos. This quilt also will be handed down - to daughter Christine (Chrisoula) when she marries. So already these lovely 'paplomata' represent three generations in the family. Over the years, Effie has had much pleasure in using and caring for them; she has always loved the traditional handcrafts which are so much part of Greek life and culture.
Effie grew up in Wollongong and later trained in secretarial work in Sydney. When she and Steve married, they moved to Canberra where their daughters were born and educated. Helena is a chartered accountant and Christine is currently studying commerce and law at ANU."
[Written by Lula Saunders and Effie Kalenderidis. Adapted from interview 10.1.01 for the National Quil Register]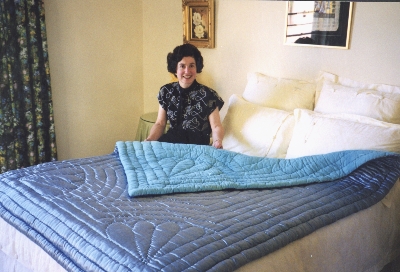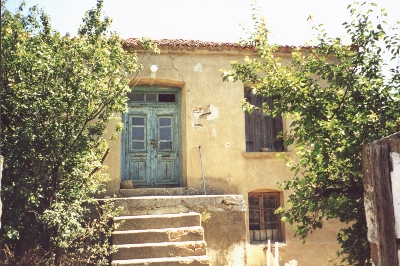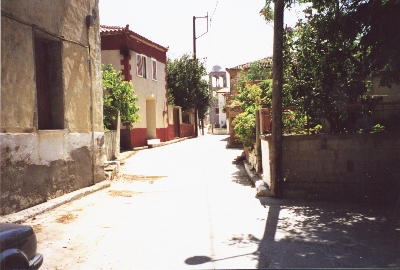 Related Quilts:

Wholecloth pram quilt with a top of pink cotton sateen, and the reverse is a more finely woven, ivory, fabric. All over quilting design as main feature, with stylised hearts, leaves and cross hatching. The padding is cotton batting. 870 x 660 mm.

Hand stitched, cotton, appliquéd, quilt in a flower pattern on a plain background. Colours are shades of green, apricot and browns. This quilt was known as a 'Bride's Quilt'. Padding is thought to be layers of white fabric raised almost like a wadding. The backing is cotton material. 2470 x 2020 mm.

Wholecloth quilt with white cotton centre, sky blue cotton border and dark blue binding. There are 9 repeat designs of cross stitched flowers and leaves in the centre section. Around the blue border there are 18 cross stitched flowers. Blue on blue and white on white cotton quilting of diagonal lines and curls pattern the quilt. The backing is white cotton and there is a very light padding.
2338 x1981mm

"This all white quilt has a front face of fine white plain weave cotton. The quilt is lined with brushed cotton twill. The two layers are quilted with white cotton thread across the entire surface with rows of zigzag stitching 16-20mm apart.
The edges of the quilt have been cut to form scallops and the raw edges here are secured with a binding of fabric similar to that used on the front face of the quilt. All work on the quilt appears to be hand sewn." [NGA] The quilt is not padded. 2655 x 2150mm

Wholecloth quilt of fine cream homespun embroidered with red and white stranded cotton. It is a cross stitch design of roses pre stamped on the material. The quilting consists of a fern pattern medallion in the centre, straight lines and a fern pattern border. The padding is fine wadding and the backing is white sheeting with a small floral pattern,
2160 x 1650mm

Patchwork quilt made for a child. All cotton with cotton padding. White blocks have embroidery depicting different nursery rhymes eg Mary, Mary, Quite Contrary ; Old Mother Goose. These blocks are separated by rectangular strips of teal cotton. The quilt is hand stitched and heavily quilted.
1677 x 1271mm