Quilt No.299ASA - Art Gallery of South Australia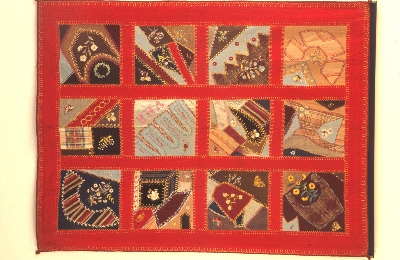 Owner:
Art Gallery of South Australia
Maker
Maker:
Virginia Huntingdon Barclay
Description:
Rectangular patchwork crazy quilt pieced in squares (3 across by 4 down), in silks and wool, with red sashing between blocks and red border, quilted. Colours are dark, with red and light blue. Embroidery includes double feather, rope, herringbone, satin, cross, sword edge, buttonhole and coral stitches, and French knots. Embroidered flowers include lily of the valley, rose, daisy, and sunflower, also butterflies. Backing is pieced in the frame style, with a large centre red square, within 10 frames or borders. Embroidered "In Most Loving Memory of My Darling 1883", "V.H.B." Hand sewn.
1900 x...
History:
Made by Virginia Huntingdon Barclay in Bethany, Virginia, USA, c.1883. Given to Mary Barclay (born Magarey) by her husband, Virginia's brother. Owned by her daughter Audine Andrews. Gifted to the Art Gallery of South Australia, Adelaide, in 1983 by Mrs. Audine Andrews.
832A4
Story:
Virginia Huntingdon Barclay, who died aged 21, made her quilt in Bethany, Virginia, United States. Her embroidered inscription is signed and dated 1883. The quilt was given to the donor's mother Mary Barclay (born Magarey) in 1919 on her return to South Australia with her family. Mary Barclay was born in South Australia and visited the United States in 1903 where she met and married the maker's brother.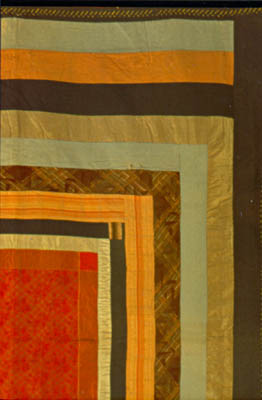 Related Quilts:

Small patchwork piece possibly made from salesman's samples. There is no opening in the back so it is not a cushion cover. There is no padding. The backing is green polished cotton. There is a 40mm fringe around the edge.
520 x 520mm

Double sided quilt. Side 1 has a central patch of small rectangles and borders of half square triangles. Seamed construction. Side 2 is crazy patch in wools and cottons on to a backing material. There is one round segmented circle in the centre. Machine pieced and quilted.
2050 x 1610mm

Patchwork quilt in the Tumbling Block pattern in light and dark silks in bright colours. On both sides and at the bottom is a wide border in Tumbling Blocks, the pattern vertical at the sides and forming a triangle centre bottom, with an edge on both sides of two black bands with pieced diamonds between. Made for a poster bed. Hand sewn.
1790 x 1750mm

The quilt is a repeat block in the Ohio Star pattern in turkey red and cream. Quilted in squares in the cream block and diagonal lines in the star block. The fabric border is disintegrating. The backing is cream calico and the padding is cotton, badly degraded. 1940 x 1760mm.

Red and white cross stitch quilt. Central white panel with red cross stitch embroidery featuring flowers and leaves. Red panels as borders with white embroidery, also flowers and leaves. Machine pieced. Hand quilted in an espalier pattern. There is a fine padding and the backing is homespun. 2200 x 1970mm

Patchwork quilt has a centre of a square within a square, with rows of scraps added around it. The scraps are mainly cotton shirting fabrics and are cut in different sizes and shapes. The two long sides have a narrow red edging folded from the back. The other two sides have been 'bagged'. Filling is an unusual weave thought to be wool. Backing is a pink, red and beige floral cotton.
2080 x 1650mm