Quilt No.667MB - Mrs M Batts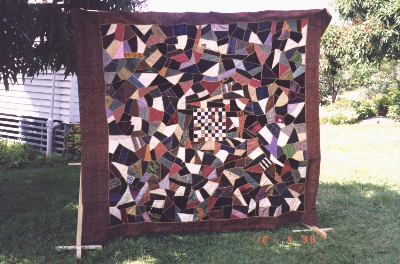 Description:
This quilt is allover crazy patchwork not done in squares. Many pieces are awkward shapes. In the centre is a 150 x 150mm square of squares each 25mm repeating some of the materials in the quilt. Most of the materials are velvets, satins and silks. There is a border of red and green patterned wool and all seams are feather stitched in a thick gold thread. The padding is thought to be flannelette and the backing is polished cotton in faded red and green.
2560 x 2160mm
History:
The maker is unknown but the quilt was probably made in England. It was owned by Miss Melva Batts and is now owned by Mrs. M. Batts. Mrs Batts believes the quilt was probably brought to Australia in 1961 when Miss Melva Batts spent some time in England nursing two elderly aunts. The aunts subsequently died and Miss Batts inherited some items, one of which was possibly the quilt. It is not used now.
Related Quilts:

Cotton quilt made in the USA. Pattern is the 'Evening Star' and each star has a frame. It is hand pieced and hand quilted and uses shirting material. It has been modified along two sides where the block extension is visible, having been turned to make a hem. The backing is calico and the padding is cotton.
1829 x 1575mm

This unfinished cover has a centre frame of a simple block. There are alternating plain and patterned borders including sword tooth, flying geese and squares on point. It is hand pieced with plain and twill weave cottons, variety of stripes, checks, florals and plains. There is no backing.
1800 x 1800mm

Handsewn quilt pieced in red, blue, green and yellow print cottons in 'Lone Star' pattern, with diamond shaped patches. The main star is edged with a red and cream sawtooth border. In each corner is a star made up of 4 rows of diamonds, surrounded by small 8 point stars in red and green. The background material is a cream and brown spot print. The backing is a printed cotton in a small all over purple leaf and bud print on cream. Quilting is in an all over wave pattern.
2320 x 2320mm

Irregularly patched from a variety of cotton dress prints, checks, plains and mattress ticking. 1920s and 30s fabrics. Both top and back are similar. Hessian padding. Originally two single quilts, now stitched together.
1850 x 1720mm

Patchwork quilt has three centre squares, one in blue/white/brown in a cross pattern, one in framed square, one with diagonal strips in a pink frame. The rest of the quilt is made from strips of rectangles in different sizes sewn in rows. There is a narrow pieced frame, then an outer border of pieced rectangles. Mostly pastel colours. No padding. Backing is calico. There is a little embroidery.
2160 x 1601mm
Patchwork quilt made from alternate squares of light green and medium green cotton headcloth. The light green squares are hand embroidered with Australian native birds, the medium green squares are decorated with pulled thread designs. No padding. Backing and binding of medium green headcloth. Made from patterns published in The Adelaide Chronicle.
2650 x 1573mm