Quilt No.667MB - Mrs M Batts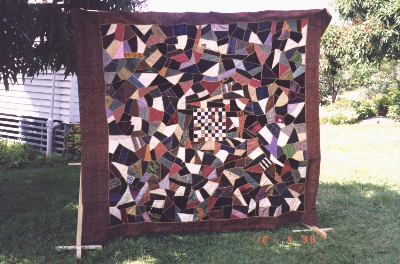 Description:
This quilt is allover crazy patchwork not done in squares. Many pieces are awkward shapes. In the centre is a 150 x 150mm square of squares each 25mm repeating some of the materials in the quilt. Most of the materials are velvets, satins and silks. There is a border of red and green patterned wool and all seams are feather stitched in a thick gold thread. The padding is thought to be flannelette and the backing is polished cotton in faded red and green.
2560 x 2160mm
History:
The maker is unknown but the quilt was probably made in England. It was owned by Miss Melva Batts and is now owned by Mrs. M. Batts. Mrs Batts believes the quilt was probably brought to Australia in 1961 when Miss Melva Batts spent some time in England nursing two elderly aunts. The aunts subsequently died and Miss Batts inherited some items, one of which was possibly the quilt. It is not used now.
Related Quilts:

Centre medallion of hexagons surrounded by blocks of tumbling blocks. Rows of triangles around the edge. Each corner has a star within a hexagon. Hand stitched with the traditional 20 stitches to the inch. There is a silk tassle in each corner. Materials include: silk, silk ribbon, taffeta, brocade, velvet, striped silk, faille. The backing is cream holland.
1580 x 1510mm

Patchwork quilt made from hexagon patches of cotton, silk, brocade, sateen and wool. Some silk patches are individually lined. Colours are mainly red, blues, purple, black, yellow and brown, with some pastels. Many silk patches have disintegrated, showing the paper templates. Quilt has a brown cotton inner lining, then a blue cotton backing, and is edged on the reverse with checked silk. Hand sewn by more than one person: one experienced sewer, one not so experienced.
1370 x 1170mm

Patchwork quilt of cotton hexagon patches grouped in 'flowers', comprising 4 rings of patches around a central hexagon. Prints and plains are used, the colours mainly browns, greens, yellows, dark blue and dark pink. The 'paths' are in a yellow-brown cotton. Cotton backing. The padding is probably an old blanket. The quilt is an irregular shape, and is tied.
2550 x 1870mm

A 'Farm Life Quilt' made from alternate squares of beige linen and brightly coloured cotton headcloth. The coloured squares are farm animals and birds in a variety of embroidery stitches. The beige squares have a cornucopia design embroidered in dark brown stem stitch. There is a wide border front and back of beige linen. The backing is brown and white check cotton. There is no padding.

Rectangular quilt of print and plain cottons pieced in squares and rectangles, the centre group of pieces surround a larger piece of pale blue fabric, within a frame or border, of bright pink material, then 3 rows of squares and rectangles. Backing of plain fabric. Machine stitched on a treadle machine.

Double sided quilt. Side 1 has a central patch of small rectangles and borders of half square triangles. Seamed construction. Side 2 is crazy patch in wools and cottons on to a backing material. There is one round segmented circle in the centre. Machine pieced and quilted.
2050 x 1610mm