Quilt No.156WCQ - Wangaratta Centre Quilters Inc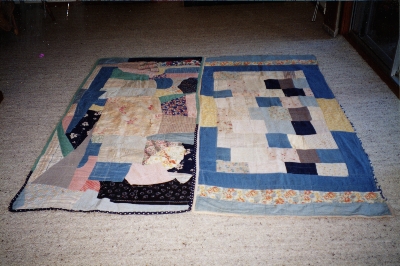 Owner:
Wangaratta Centre Quilters Inc
Description:
Irregularly patched from a variety of cotton dress prints, checks, plains and mattress ticking. 1920s and 30s fabrics. Both top and back are similar. Hessian padding. Originally two single quilts, now stitched together.
1850 x 1720mm
History:
Made by Jessie Waldron in the Sunraysia district of Victoria. Given to the Wangaratta Centre Quilters by Jessie's son Ted Waldron and his wife Fran.
Story:
"Donated to Centre Quilters by Ted and Fran Waldron, Wangaratta. The quilt was made by Ted's mother, Jessie, who lived in the Sunraysia district of Victoria. - the centre of the dried friut industry. The 'batting' in the quilt is hessian - presumably hessian which was used on the drying racks. It appears that this quilt was originally made as 2 single bed quilts and joined together at a later date."
[June Brown for Wangaratta Centre Quilters Inc 5.11.96]
Related Quilts:

Hand sewn hexagons over paper templates in a pattern known as 'Grandmother's Flower Garden'. Materials are printed dress cottons, patterned and plain, mainly in pinks, blues and browns. The border and backing is grey linen and is machine stitched on. There is no padding. 2060 x 1579 mm.

Patchwork quilt made from different sized rectangles, in new materials, including cotton, lightweight velvet, lining silk, crepe, seersucker, and satin. All fabrics are of even weight. Colours are mainly light, with pinks, greens and blues predominating. No padding or backing. Quilt was not finished.
2050 x 1250mm

Hand pieced and quilted quilt in silks, wool and cotton dress materials. The centre is a hexagon star in pink and yellow with black points. Most of the body of the quilt is pieced in Tumbling Blocks with an outer border of triangles. The backing is pieced from large rectangles of blue satin, rust-brown moire taffeta and brown-grey silk in a 'rectangle within a rectangle' pattern. The quilting is all over and finely done in yellow thread in a variety of patterns including snails, petalled flowers and hearts.

Double sided square quilt. One side is a crocheted rug. The centre of this is 4 triangles joined and from this coloured bands in crochet radiate out to the border. The other side is randomly pieced scraps of mainly woollen material in checks, plains and tartans. Machine construction.
1600 x 1600mm

Patchwork quilt in the Log Cabin pattern, made from cotton fabrics in prints and plains in bright colours. There are 185 squares, all sewn on to check gingham. No padding. Backing is of black cotton.
2718 x 2540mm

Patchwork quilt in Log Cabin pattern made from silks, velvet, cottons and taffetas, in prints and plain, around a centre squares of black velvet. Colours are, in the dark sections, blues, greens, browns, yellow and pinks. The base of the blocks is blue and white ticking. The padding is probably cotton. Backing is of green cotton. There is an attached frill on all sides of green cotton, faded to dull light brown.
1630 x 1350mm