Quilt No.156WCQ - Wangaratta Centre Quilters Inc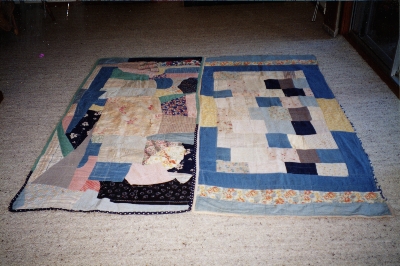 Owner:
Wangaratta Centre Quilters Inc
Description:
Irregularly patched from a variety of cotton dress prints, checks, plains and mattress ticking. 1920s and 30s fabrics. Both top and back are similar. Hessian padding. Originally two single quilts, now stitched together.
1850 x 1720mm
History:
Made by Jessie Waldron in the Sunraysia district of Victoria. Given to the Wangaratta Centre Quilters by Jessie's son Ted Waldron and his wife Fran.
Story:
"Donated to Centre Quilters by Ted and Fran Waldron, Wangaratta. The quilt was made by Ted's mother, Jessie, who lived in the Sunraysia district of Victoria. - the centre of the dried friut industry. The 'batting' in the quilt is hessian - presumably hessian which was used on the drying racks. It appears that this quilt was originally made as 2 single bed quilts and joined together at a later date."
[June Brown for Wangaratta Centre Quilters Inc 5.11.96]
Related Quilts:

"The Rajah "quilt" is a patchwork and appliquéd bed cover or coverlet. It is in pieced medallion or framed style: a popular design style for quilts in the British Isles in the mid 1800's. There is a central field of white cotton decorated with appliquéd (in broderie perse) chintz birds and floral motifs. This central field is framed by 12 bands or strips of patchwork printed cotton. The quilt is finished at the outer edge by white cotton decorated with appliquéd daisies on three sides and inscription in cross stitch surrounded by floral chintz attached with broderie perse on the fourth side. All fabrics used in the Rajah quilt are cotton with the exception of small amounts of linen and silk threads. The quilt shows evidence of being produced by many hands." [NGA] The quilt is not padded or lined. 3372 x 3250mm

Patchwork quilt made of 1 inch hand paper pieced hexagonal patches (English technique), with plain and floral patterned blue fabrics in clusters at regular intervals throughout the taupe coloured patches. Centre of quilt has a cluster or 'flower' of 4 rings of patches, the centre group embroidered in blue satin stitch: 'MW 1938'. Border consists of 3 rows of medium, light and dark blue hexagons. No padding. Backing is of blue cotton sateen.
2185 x 1372mm

The top of this quilt is 6 x 5 alternating squares and rectangles of check woollen material in 12 or more colour ways. Herringbone stitch in yellow stranded cotton is worked along each join and border.The border is plain grey wool. There is no padding and the backing is light blue crepe.
1118 x 814mm

Hand pieced patchwork quilt with 10 diamonds consisting of hexagons with white and black rows as edging. Materials include furnishing and dress materials and a type of linen. It is not quilted or tied. The backing is a small floral print in flannelette.
2180 x 1830mm

Small quilt made from pieces of heavy weight wooollen coat material cut into strips and machined together. It is reversible. Each side is made from different materials but in similar colours of aqua, blue, green and beige. The 2 layers are quilted together with a few machined lines of straight stitching. It has a folded and machine stitched edge. There is no padding.
950 x 790mm

All over pattern of rows of hexagons with each unit made up of 4 hexagons each 45mm. Patterned and plain materials thought to date from the 1930s including cotton and linen dress materials, synthetics and synthetic crepe. It was an unfinished top and Meg Orr, the present owner, finished it by machine stitching some of the hexagon rosettes to the red twill background and stitching on a backing. There is no padding.
1740 x 1210mm.