Quilt No.311BE - Beverley Edmonds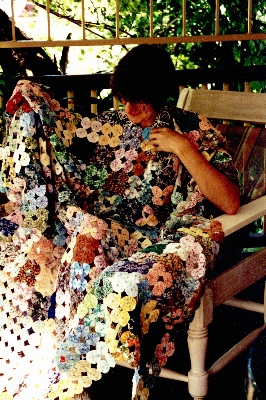 Description:
Patchwork quilt made from Suffolk Puffs in bright and pastel colours in cottons. Patches are a mixture of dark and light prints, including gingham, floral and geometrics, set in groups of 4 patches. No lining or backing. Hand sewn, the patches are joined with fine crochet cotton.
2140 x 1380mm
History:
Made by Agnes Emma Vonhoff (born Schultz) in Toowoomba (Qld), about the 1950s. Agnes was born 1897 in Goombungle, Qld, and died 1976 in Toowoomba Qld. The quilt was left to her son Gordon Vonhoff and on his death came to his daughter Beverley Edmonds, the owner.
Story:
The fabrics for the quilt were collected in the 1930s and 1940s, and the quilt was made about the 1950s.
Related Quilts:

Cotton quilt, machine sewn and hand quilted. Pattern similar to Double Irish Chain. The background is white and the small squares mainly patterned in pinks, blues, lilacs and greens. The backing is plain white cotton and the padding, which is lumpy, could be some type of cotton.
2057 x 1220mm

Quilt made with a rectangular centre panel of cotton fabric printed with red poppies and black flowers in a japanese style. The panel is surrounded by a wide black satin border. The backing is of black cotton, covering a previous backing of green floral cotton fabric. The padding is feathers.
1700 x 1370mm

Crazy patchwork quilt in silks and velvets. Centre circle of embroidered flowers and outer border of diamonds in tunbling block pattern. Most pieces have embroidered flowers and all joins are embroidered in fancy stitches. The owner's mother had a pink silk quilted backing and a thick edge cord added to the quilt by Rocke's of Collins street Melbourne c.1960
1620 x 1595mm

Rectangular patchwork crazy quilt pieced in squares (3 across by 4 down), in silks and wool, with red sashing between blocks and red border, quilted. Colours are dark, with red and light blue. Embroidery includes double feather, rope, herringbone, satin, cross, sword edge, buttonhole and coral stitches, and French knots. Embroidered flowers include lily of the valley, rose, daisy, and sunflower, also butterflies. Backing is pieced in the frame style, with a large centre red square, within 10 frames or borders. Embroidered "In Most Loving Memory of My Darling 1883", "V.H.B." Hand sewn.
1900 x 1500mm

A hand sewn quilt of more than 6,536 hexagon pieces in cottons, silks and polyester mix. There is a centre circular pattern of hexagons within a larger hexagon and small hexagons form larger hexagons in a random pattern on the quilt top. There is no padding and the backing is a plain fawn sheet with a floral edging in hexagons. 2880 x 2550 mm.

Pieced patchwork quilt of hexagons in cottons, chintzes and linen. The centre is pieced in 6 point hexagon stars, then radiating out are large hexagons alternating with tumbling blocks, then 6 piece hexagon stars and 4 piece hexagon diamonds. Some pieces have Egyptian patterns dating from 1800 - 1805. The backing is cream linen.
2450 x 2200mm