Quilt No.316MM - Bill & Barbara Meynink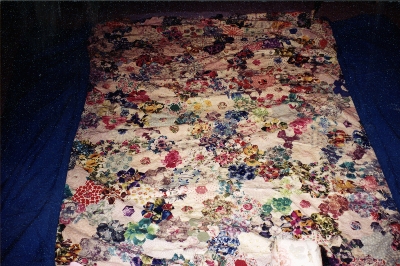 Description:
Patchwork quilt made from brightly coloured printed cotton fabrics in hexagon patches hand sewn together in rosettes, and stitched by machine onto a border of bright teal blue fabric. Fabric scraps for the patchwork were donated from friends. No padding. Backing is polished cotton curtain lining.
2312 x 1969mm
History:
Made by Jane Ellen Meynink (born Crothers, 1894-1983) in Brisbane (Qld) who began quilting in her retirement aged 70. Made before 1965 for her grand-daughter Margaret Stuart Meynink (born Easton), before she married. Now owned by Bill and Barbara Meynink. This is the 2nd of 6 quilts made by Jane.
Story:
Jane Ellen Meynink was an accomplished needlewoman, doing fancywork and tapestry. She was also a good cook. The aspect of her work which Jane Ellen really enjoyed was the donation of fabrics by friends, as she enjoyed the donors' visits.
"This quilt was made as a single bedcover. For Margie's marriage the quilt was extended in all directions for use on the double bed."
[Barbara Meynink]
Related Quilts:

Patchwork quilt made in the 'Trip Around the World' pattern, from cottons and some fine dress linen, in bright and pastel solids. Each colour is placed in a diamond shape on the quilt. Patches are 10cm square, quilt has 620 squares. The linen was mainly used to work the cross stitch. Quilt has a 2 inch border in black. Backing is sheeting. Each square is embroidered, with many different stitches, in geometric, floral, animal, insect and abstract designs, in different colours.
2760 x 2350mm

Double sided quilt. One side is frame with borders of wool rectangles mainly offcuts of men's suiting from tailors' shops. The other side is mainly flannelette in stripes and patterns similar to pyjama material. The padding is pieced patches of worn jumpers that were too matted to be unpicked. Machine construction.
1700 x 1490mm

Patchwork quilt has three centre squares, one in blue/white/brown in a cross pattern, one in framed square, one with diagonal strips in a pink frame. The rest of the quilt is made from strips of rectangles in different sizes sewn in rows. There is a narrow pieced frame, then an outer border of pieced rectangles. Mostly pastel colours. No padding. Backing is calico. There is a little embroidery.
2160 x 1601mm

Pieced quilt featuring log cabin and tumbling block patterns. It is handsewn and has some appliqued flowers.Materials are mainly velvet with a small amount of cotton. There is no padding and the backing is cotton flannelette.
1525 x 1220mm

Cotton quilt made from squares of patterned and plain materials. It has a mauve cotton flounce around the border and a mauve cotton backing. There is no padding.
2700 x 1350mm

Double sided patchwork quilt/rug constructed from squares machined together in strips and then the strips joined. It is made in one piece and then doubled over. The materials are mainly wool, worsted, part cream machine made jumper, pink and blue mohair, blue and white spotted flannelette and cream blanket and all are scraps or from worn clothing.
1690 x 1370mm