Quilt No.316MM - Bill & Barbara Meynink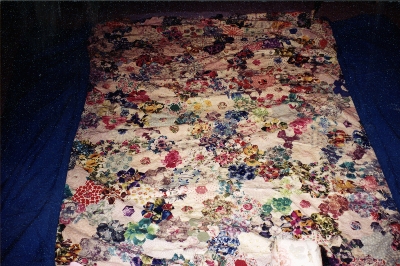 Description:
Patchwork quilt made from brightly coloured printed cotton fabrics in hexagon patches hand sewn together in rosettes, and stitched by machine onto a border of bright teal blue fabric. Fabric scraps for the patchwork were donated from friends. No padding. Backing is polished cotton curtain lining.
2312 x 1969mm
History:
Made by Jane Ellen Meynink (born Crothers, 1894-1983) in Brisbane (Qld) who began quilting in her retirement aged 70. Made before 1965 for her grand-daughter Margaret Stuart Meynink (born Easton), before she married. Now owned by Bill and Barbara Meynink. This is the 2nd of 6 quilts made by Jane.
Story:
Jane Ellen Meynink was an accomplished needlewoman, doing fancywork and tapestry. She was also a good cook. The aspect of her work which Jane Ellen really enjoyed was the donation of fabrics by friends, as she enjoyed the donors' visits.
"This quilt was made as a single bedcover. For Margie's marriage the quilt was extended in all directions for use on the double bed."
[Barbara Meynink]
Related Quilts:

Patchwork quilt made of small squares pieced from four triangles. Each square is 90mm and is joined to the others by a herringbone lacing in yellow rayon crochet thread, so making an open mesh between each square. The quilt is edged with thick yellow rayon corded braid. Each square is backed with gold coloured cotton. No padding.
1730 x 1430mm

Cotton frame quilt with a diamond in the centre of the frame and a border of straight pieces. The outer border is diamonds. The quilt is hand sewn and hand quilted.
1910 x 1830mm

Patchwork quilt made of hexagons in silks, satins and brocades. Colours are soft, mainly creams and pastels, with some deep pink, yellow, dark grey and bright blue. Quilt is bordered with a wide band of light navy moire or faille. Padded, possibly with a blanket. Backed with cotton twill.
2420 x 1900mm

Large centre rectangle of hexagons in various colours of patterned and plain cottons. It is surrounded by a wide border in a checkerboard of red and white cottons. There is a wholecloth cotton backing. The front and the back have been turned under at the edge and machined. There is no padding.
1829 x 1372mm

Crazy patchwork quilt made from pieces of silk, velvet, silk ribbon and brocade in a variety of patterns and plains, in a range of colours. All patches are edged with embroidery, in blanket, feather, herringbone and other stitch variations. Many patches are embroidered with flowers, butterflies, leaves and initials of family members, and there is some beading. 1901 is embroidered in one corner. Quilt has a wide border of gold velvet. Patches are stitched to a base fabric. Backing is dark green sateen.
1470 x 1060mm

4 Pieces of a patchwork quilt which was formerly a whole quilt. It is pieced in cottons in blues reds and browns in many prints. There are whole circles and pieced circles against a plain cream calico background. It is wool lined and is quilted. There are the initials 'A.B.' and '1828' on a central piece. The 4 pieces are various sizes.