Quilt No.426AW - Alyce Wright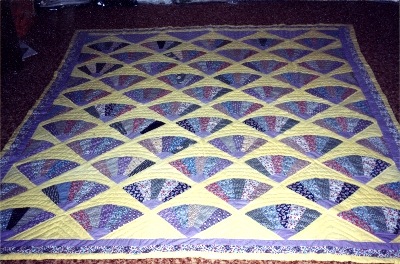 Description:
Cotton scrap quilt in a pattern known as 'Grandmothers Fan'. It is hand quilted. The padding is hand carded cotton and the backing is muslin.
2235 x 1880mm
History:
The quilt was made by Alyce Bush (born Rodgers) 1870s-1949 in the early 1930s in Alabama USA. She gave the quilt to Alyce Wright her grand-daughter who is the owner. The quilt is not used now.
Story:
"Alyce Bush, a lone quilter, would spend many hours alone on her front porch as her husband was a security night watchman and slept during part of the day. Quilts were the main form of bed covering used in the family.
When I went to visit my grandmother the bedding comprised a feather mattress with at least 4 quilts layered on top. It was very cold in winter and we only had open fireplaces for heating."
[Alyce Wright 14.1.98]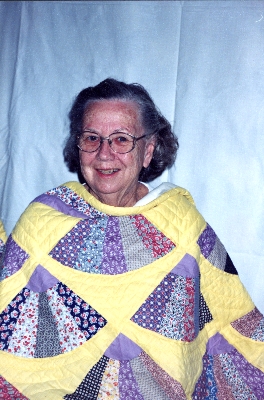 Related Quilts:

Snow Ball' cotton quilt made in the USA. Feed bag materials and dress materials. Hand pieced and hand quilted. Calico border and backing.
2058 x 2007mm

Suffolk puff quilt with each puff approximately 4cm x 4cm. The puffs are small squares rather than the more usual circles. Materials are mainly cottons and satins in a wide variety of colours and patterns. The backing is striped flannelette and is hand stitched to the top.
1660 x 1140mm

Log cabin quilt, machine pieced and assembled. Some fabrics are pieces from family dresses, with mauve crepe used throughout. The pale side of each block is silk taffeta and other silk pieces. Padding is flannelette, and backing is cream muslin from a petticoat of the present owner, worn when she was bridesmaid to an aunt and uncle. 1000 x 630 mm.

Patchwork quilt of cotton hexagons in a random mix of colours and prints, the predominant colours being blue, red, green, light yellow and pastels. Patches hand sewn. There is no padding and the backing is a grey wool blanket. The top is machine stitched around the edge to the blanket.
1645 x 1060mm

Unfinished crazy patchwork quilt. Materials are mainly silk, velvet, woven ribbons, woven brocades. Hand embroidery using many different stitches also machine embroidery eg frog. Some individual patches have names, initials, dates probably relating to family members. There are also place names several of which may refer to Australia. Apart from the embroidery on individual patches there are overlaid a number of floral displays across parts of the quilt. Backing is flannelette with selvedges of blue and pink. 1300 x 1300mm

Patchwork quilt, machine construction in pink and white twill cotton, log cabin pattern. Each log cabin block was constructed with the backing in place, in groups of 4 blocks placed together. Each block 200mm in size.
2300 x 2050mm