Quilt No.609PWH - The Pioneer Women's Hut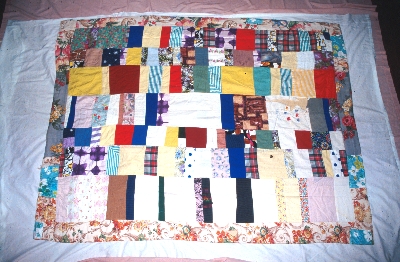 Description:
Utility patchwork quilt made up of mainly squares of furnishing material machine pieced. It is backed with machine pieced patches of woollen jumpers, mainly machine not hand knitted. The back is possibly the top. There is no padding.
1950 x 1270mm
History:
This quilt was made by women in the Wagga district for the Gumleigh Boys' Home c.1940. The home was for boys needing care in the Riverina. It closed in 1985. This quilt, and others made for the home, was for general use on the boys' beds. It was one of three donated to the Pioneer Women's Hut by Hazel Rhodes of The Gumleigh Boys' Home. It is occasionally displayed at the museum.
Related Quilts:

Hexagon quilt in pattern known as 'Grandmother's flower garden'. Hexagons of prints and plains with yellow centre to each flower, and plain pink outlines. It is hand pieced and hand quilted. Padding is cotton, backing is cream cotton. 2200 x 2000 mm.

The quilt consists of 2 layers of random pieces of woollen coating and suiting materials machined together, very dark colours on one side and a mixture of dark and lighter on the other. The 2 layers are quilted together with a row of machining and has a folded and machine stitched edge. There is no padding.
1270 x 950mm

Cot quilt of mixed textiles and techniques. Made in sections and stitched together possibly with some padding. It features embroidered and appliqued animals (cats, donkey, elephant, squirrel, birds, kangaroo, emu) and nursery rhyme characters. Materials are cotton, silk, wool, imitation fur. There is a black velvet patch with a cross stitch parrot and embroidered date and initials 'May 1925 AE'. The backing is woven self patterned curtain material. There is a ruffle around the edge in the same material.
1400 x 930mm

Cotton quilt with central frame and radiating borders mainly in squares in pinks and blues, printed materials and plain. The padding is cotton wool and the backing is off white cotton.
2040 x 1800mm

Log cabin patchwork pieces (2) with each block approximately 120 x 120mm. They are diagonally divided into light and dark side. Materials are mainly silks including silk velvets. Each block is stitched on to a backing square, pieces of old blanket, woollens, cottons, many very worn. There is no other backing.
Quilt is hand pieced.
1000 x 1000mm

The suffolk puffs are mainly cotton in a wide variety of colours and plain and patterned materials. The puffs are small squares rather than the more usual circles. The backing is teal satin hand stitched to the top. There is a teal bow at one end. There is no padding.
1570 x 1100mm