Quilt No.875NTNW - National Trust of Australia (NSW)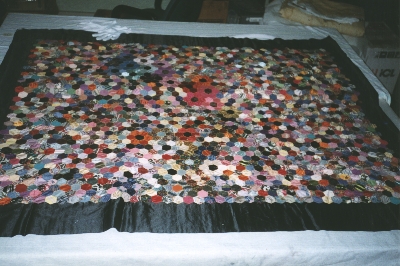 Description:
Quilt of small silk and rayon rosettes of hexagons in prints and plain materials including velvet, voided velvet, chine, printed silk, brocades, taffeta, satin, crepes. Many of the materials are from Japanese kimono and wrapping silks. It is pieced over papers, one paper has a typed date '1930'. The backing is black silk satin and is turned to the front to form a border.
1695 x 1390mm
History:
Details of the maker are unknown. The quilt was made in Australia probably in the 1930s. It is now one of the quilts in the National Trust (NSW) Collection.
Related Quilts:

Hand pieced hexagon quilt in pattern known as 'Grandmother's Flower Garden". 12 hexagons, in patterned cottons, form the outer border of each flower with an inner border of 6 matching plain coloured hexagons and all flowers have a yellow hexagon centre. There is no padding, a cotton backing and it is hand quilted.
2400 x 1780mm.

Large double sided quilt of rectangles and squares of men's suitings, patterned and plain on both sides. The top has a central motif of a circle of three segmented rings radiating from a single hexagon. The outer ring is all tailors' samples and the inner rings are a variety of materials. There is some featherstitching in red. The quilt is sparsley machine quilted.

Utility patchwork quilt made up of mainly squares of furnishing material machine pieced. It is backed with machine pieced patches of woollen jumpers, mainly machine not hand knitted. The back is possibly the top. There is no padding.
1950 x 1270mm

Patchwork quilt, log cabin pattern. Made of strips of dark and light material arranged to produce strongly contrasting bands running diagonally across the quilt. Colours are mainly pinks and blues in small floral and paisley cotton prints. There is no padding.
1310 x 1140mm

This quilt has been strip pieced with no regular pattern. It seems a large quilt has been made then folded in half. The materials used are woollen skirting pieces in a variety of colours. It could be used either way. There is no padding and it is very heavy.
2100 x 1950mm

Patchwork quilt or cloth made from pieces of woollen material used for regimental uniforms in England last century. Star pattern in colours, red, pale blue, green, maroon, yellow [white] and brown. Hand pieced probably by more than one person. Red fringe machined on. Red flannelette backing in poor condition. Two layers, not quilted.
1780 x 1700mm