Quilt No.875NTNW - National Trust of Australia (NSW)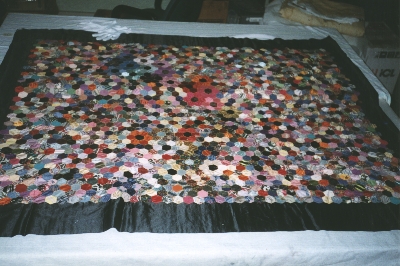 Description:
Quilt of small silk and rayon rosettes of hexagons in prints and plain materials including velvet, voided velvet, chine, printed silk, brocades, taffeta, satin, crepes. Many of the materials are from Japanese kimono and wrapping silks. It is pieced over papers, one paper has a typed date '1930'. The backing is black silk satin and is turned to the front to form a border.
1695 x 1390mm
History:
Details of the maker are unknown. The quilt was made in Australia probably in the 1930s. It is now one of the quilts in the National Trust (NSW) Collection.
Related Quilts:

Quilt top. The centre piece is appliqued with cross strips and triangles with 'Chester 4 �.' printed on a centre blue strip. The last letters are difficult to read. The borders are triangles, rectangles and squares in cottons (including dimity) and some chenilles.
1860 x 1760mm

" Reversible patchwork quilt of woollen suiting/upholstery fabrics in khaki, greys, blues and browns. Both sides have different designs. The front of the quilt has 13 rows of 12 vertical rectangles flanked on either side by a column of 22 horizontal rectangles. The reverse has a more interesting and complex design of small and very large rectangles, squares and triangles; with khaki contrasting with the duller greys and blues. The patchwork layers are joined at the edges with machine stitching and the quilt is machine quilted along 3 horizontal lines following joins in the patchwork; therefore not being totally straight. These lines are more noticeable on the reverse. The reverse face has been on display at the NGA." [NGA] There is a cotton blanket used as padding. 2054 x 1451mm

The suffolk puffs are mainly cotton in a wide variety of colours and plain and patterned materials. The puffs are small squares rather than the more usual circles. The backing is teal satin hand stitched to the top. There is a teal bow at one end. There is no padding.
1570 x 1100mm

Hand pieced cot quilt made from small rectangular shapes of a great variety of materials including cottons, silks, wools and velvets. The backing is cotton sateen in 3 colours and is brought to the front to form a border of pink, cream and yellow.
1170 x 920mm

" A wide range of cotton fabrics have been used to make this quilt in the traditional log cabin style. The strips of the log cabin are joined by rows being hand sewn onto a small square backing fabric, each square of strips has then been hand sewn together to form the quilt. The work is backed with a sateen printed fabric decorated with paisley design. A strip of the lining trims the edge of the front face of the quilt. The lining is attached with machine stitching. There are numerous tacking stitches that remain in the front face of the quilt. There are approx 9000 pieces in the quilt, most being only 5mm in width.
The quilt is of three layers because the strips of the log cabin are attached to a backing piece, and then the quilt is lined; however it is not padded." [NGA]

Quilt of machine pieced squares and rectangles using a wide variety of materials in plain colours and patterns. It is one of a pair. There is no padding and the backing is 90cm strips of calico.
2500 x 2130mm