Quilt No.352GC - Gwen Cordinglay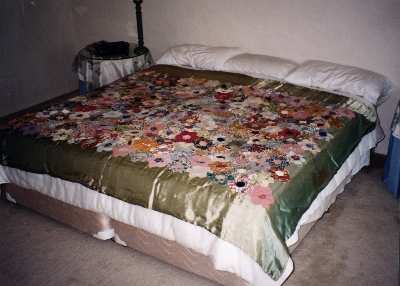 Description:
Patchwork quilt made from hexagon patches in silks and rayons, in pinks, blues, red, yellow mainly, with pastels. No padding. Bordered and backed with green satin.
1829 x 1372mm
History:
Made in the late 1940s in Kalgoorlie (WA) by Olive Lawer, who owns the quilt.
Story:
"Made to occupy time waiting for husband to return from shift work in Mines at Boulder [near Kalgoorlie]. Fabrics mainly silks or rayons. Many provided by dressmaker aunt in Perth, who sent bags of scraps. Some stitching perished and some patches of fabric have deteriorated. Lining and border, faded and stained."
[Gwen Cordinglay 18.12.97]
Related Quilts:

Double sided silk quilt. One side is paisley designs and the reverse plain silk . Machine pieced. There is a thin padding possibly sheeting.
2694 x 2287mm

This hand pieced and hand quilted hexagon quilt is in a pattern often called 'Grandmother's Flower Garden'. The background is white and there are concentric rows of double rosettes each with a yellow centre. The colours start in the centre of the quilt with pink and then follow the rainbow. Paper templates were used. The padding is cotton (American) and the backing is cotton floral poplin.
2360 x 1730mm

Cotton patchwork quilt in double wedding ring pattern in pastel prints. Quilted in a design of geometric flowers. Padding is probably cotton wadding, backing is cream calico. 2270 x 1970 mm.

Cotton scrap quilt in a pattern known as 'Grandmothers Fan'. It is hand quilted. The padding is hand carded cotton and the backing is muslin.
2235 x 1880mm

Hand sewn quilt (possibly child's or table top) of crazy patchwork in silk, silk ribbon and cotton velvet. The top has surface decoration of embroidery on all seams, feather stitch and blanket stitch variations. Many of the crazy patches are also embroidered. The centre patch has a rooster embroidered in lame thread. Embroidered motifs are hearts, butterflies, guitar, cow, Little Red Riding Hood, horseshoes, crown, clover leaf. Stitches are feather, stem, satin and blanket. Embroidered initials are 'B', 'R', and 'S'. The backing is dark grey silk.
840 x 840mm

Centre medallion of hexagons surrounded by blocks of tumbling blocks. Rows of triangles around the edge. Each corner has a star within a hexagon. Hand stitched with the traditional 20 stitches to the inch. There is a silk tassle in each corner. Materials include: silk, silk ribbon, taffeta, brocade, velvet, striped silk, faille. The backing is cream holland.
1580 x 1510mm