Quilt No.399SM - Santa Maltese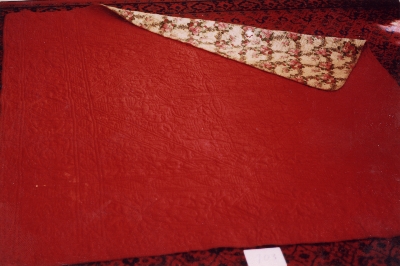 Description:
Wholecloth quilt with top of red sateen. Hnad quilted with a large central rosette in a 'gothic' border then square on point border and outer border with rosettes in rectangular corner panel. The backing is cotton sateen with printed floral bouquets. The thick padding is cotton. This type of quilt is called 'cuttunina' in the Sicilian dialect which means 'has cotton inside'.
2360 x 2310mm
History:
The quilt was made by Giuseppa Avvocato in Salaparuta, Sicily and is now owned by her daughter Santa Maltese.
Story:
" This quilt was left to Santa by her mother who died when Santa was 3 years old. When Santa married in Italy in 1951 and she used it then - she has found it too heavy to use in recent years. It is a treasured memento of Santa's mother - Santa has no memories of her mother."
[Anna Drago (a friend) 29.8.98]
Related Quilts:

Wholecloth pram quilt with a top of pink cotton sateen, and the reverse is a more finely woven, ivory, fabric. All over quilting design as main feature, with stylised hearts, leaves and cross hatching. The padding is cotton batting. 870 x 660 mm.

Hand stitched, cotton, appliquéd, quilt in a flower pattern on a plain background. Colours are shades of green, apricot and browns. This quilt was known as a 'Bride's Quilt'. Padding is thought to be layers of white fabric raised almost like a wadding. The backing is cotton material. 2470 x 2020 mm.

Wholecloth quilt, both sides cretonne in different rose patterns. 120mm double frill matches each side. Padding is possibly hessian bags. It is hand quilted in large stitches in white/cream cotton in strips with circles, diamonds and scrolls repeated.
2070 x 2030mm

Wholecloth quilt of white cotton with hand appliqued flowers in 3 shades of red. The centre of the quilt has 6 separate flowers radiating from a circle and each corner has a separate arrangement of flowers. The white cotton quilting is in diagonal lines and a daisy pattern. There is a narrow red border widely scalloped. The backing is white cotton. There is no padding.
2236 x 1905mm

Traditional Wagga rug made from 3 wheat bags joined along the long side by sewing with bag needle and twine. Machined twill cover was put on later in the 1960s. Originally no padding but now the bags are the padding. One of a pair(identical).
1790 x 1160mm

Double sided cretonne quilt, red floral one side, green floral the other. The padding is layers of blanket pieces and pieces of woollen clothes tacked flat. It is machine quilted in squares from the centre outwards.
1270 x 1060mm