Quilt No.826NTR - National Trust of Australia (TAS)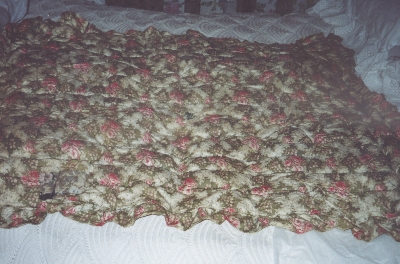 Owner:
National Trust of Australia (TAS)
Description:
Child's quilt, reversible, top and ruffle of cotton patterned with pink and off white roses on a green background. The reverse has had a large piece of red and green paisley printed cotton hand sewn over the rose print. Machine stitched in rectangles in 5 rows with pink cotton. The padding is cotton or kapok.
1150 x 840mm
Related Quilts:

Wholecloth pram quilt with a top of pink cotton sateen, and the reverse is a more finely woven, ivory, fabric. All over quilting design as main feature, with stylised hearts, leaves and cross hatching. The padding is cotton batting. 870 x 660 mm.

Hand stitched, cotton, appliquéd, quilt in a flower pattern on a plain background. Colours are shades of green, apricot and browns. This quilt was known as a 'Bride's Quilt'. Padding is thought to be layers of white fabric raised almost like a wadding. The backing is cotton material. 2470 x 2020 mm.

Wholecloth quilt with both sides of floral cotton. The padding is thought to be hessian bags.
2060 x 1300mm

Wholecloth quilt, bright crimson cotton. Hand quilting is in thick cotton with a medallion design in the centre, vases of flowers in each corner, and some cross hatching. Padding is thick flock, possibly compacted fabrics, and backing is yellow cotton. 2250 x 1930 mm.

Traditional hand stitched Greek quilt, the top piece (in Greek a 'Stoffa') is of blue brocade with a gold pattern of roses and leaves. The border and backing are made from gold brocade woven with a daisy pattern (the same material as is in sister Ann Kyranis' quilt). The padding is cotton wool.
2100 x 1740mm

Reversible Durham quilt made with nine pieced strips of deep green polished cotton joined together. Very finely hand quilted in an all-over traditional English quilting design. It is padded but the type of padding is unknown. 2220 x 2020mm.