Quilt No.422JB - Joan Bradford
Description:
This utility quilt/eiderdown has a wholecloth top of faded floral cotton, a frill of the same material and a centre diamond of plain green cotton. The backing is plain green and the padding is kapok.
1753 x 1474mm
History:
The original maker is unknown. It was owned by Karolyn Eastwell (born Mauch) 1850-1926 and then by the present owner Joan Bradford. It is not used now.
Story:
This quilt was recoverd about 1920 to make it thicker but a lot of the material was eaten by mice and the rest turned to dust. The original quilt was then carefully washed and survived.
Karolyn Eastwell (the previous owner) had 5 children before she was 20 and a total of 14 children.
[Joan Bradford 13.1.98]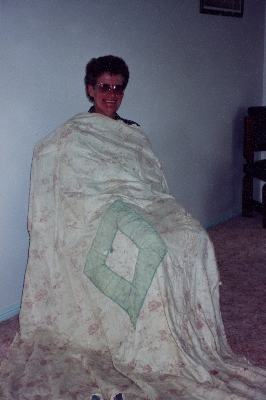 Related Quilts:

Wholecloth pram quilt with a top of pink cotton sateen, and the reverse is a more finely woven, ivory, fabric. All over quilting design as main feature, with stylised hearts, leaves and cross hatching. The padding is cotton batting. 870 x 660 mm.

Hand stitched, cotton, appliquéd, quilt in a flower pattern on a plain background. Colours are shades of green, apricot and browns. This quilt was known as a 'Bride's Quilt'. Padding is thought to be layers of white fabric raised almost like a wadding. The backing is cotton material. 2470 x 2020 mm.

Wholecloth quilt, machine sewn, made from cotton chintz with a pale green background and a floral pattern of bunches of pink roses and blue flowers, reversible. The centre is stitched in a diamond pattern with two outside borders, then filled with feathers, using a broom handle to force the feathers through. Cover made from 36" fabric, the pattern matched exactly. Excellent condition. Feather filling was collected by the makers from backyard poultry, geese, ducks, fowls. Called an eiderdown.
1830 x 1480mm

" This coverlet is composed of two pieces of dark blue cheese cloth joined with a row of running stitches down the centre of the coverlet (the seam faces the front face of the coverlet but is hidden beneath a row of appliqué).
The coverlet is decorated with rows of pieced work surrounding appliquéd and embroidered scenes. A panel down the LHS of the quilt and a smaller panel lower RHS depict animals and floral images. In the centre RHS an elderly couple sit beneath a tree. In the upper left a bride and groom accompanied by three flower girls are showered with petals from a wicker basket carried by a very large angel. Glass beads, sequins and a button have been used to highlight the appliqué and embroidery.
As with all of Mary Jane Hannaford's quilts, the work is stitched by hand and quite crudely, but the naivety of the images is overwhelming with their charm." [NGA] The quilt is not padded or lined. 1950 x 1690mm

Hand appliqued, embroidered and quilted, 1940s. Cotton quilt with yellow, pink and purple tulips and green leaves, has scalloped edging with green piping. Hand quilted.
2240 x 885mm

Wholecloth quilt. Quilting pattern is a large 'feathered thistle' with thick stem, as the main design feature. The border is a combination of straight and curved parallel lines. Burgundy sateen with damask weave. All quilting is handstitched. Padding is cotton wadding and backing is tomato red cotton. 2150 x 1820 mm.