Quilt No.422JB - Joan Bradford
Description:
This utility quilt/eiderdown has a wholecloth top of faded floral cotton, a frill of the same material and a centre diamond of plain green cotton. The backing is plain green and the padding is kapok.
1753 x 1474mm
History:
The original maker is unknown. It was owned by Karolyn Eastwell (born Mauch) 1850-1926 and then by the present owner Joan Bradford. It is not used now.
Story:
This quilt was recoverd about 1920 to make it thicker but a lot of the material was eaten by mice and the rest turned to dust. The original quilt was then carefully washed and survived.
Karolyn Eastwell (the previous owner) had 5 children before she was 20 and a total of 14 children.
[Joan Bradford 13.1.98]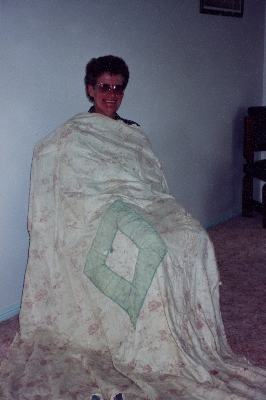 Related Quilts:

Wholecloth pram quilt with a top of pink cotton sateen, and the reverse is a more finely woven, ivory, fabric. All over quilting design as main feature, with stylised hearts, leaves and cross hatching. The padding is cotton batting. 870 x 660 mm.

Hand stitched, cotton, appliquéd, quilt in a flower pattern on a plain background. Colours are shades of green, apricot and browns. This quilt was known as a 'Bride's Quilt'. Padding is thought to be layers of white fabric raised almost like a wadding. The backing is cotton material. 2470 x 2020 mm.

Wholecloth quilt, yellow sateen both sides. Hand quilted in geometric and curvilinear patterns. Edges turned in, hand finished. Stuffed with flock-like material said by the donor to be wool. Approximately 2.5cm thick.
2500 x 2000mm.

Wholecloth quilt. Top is gold sateen and the backing is gold cotton. Hand quilted in an overall large shell pattern within a border of three parallel lines spaced at 1000, 800, 700mms respectively. The padding is cotton wadding. 2000 x 1800mm
Wholecloth quilt of pink satin with machine qulting in squares across the main part of the quilt, and two rows of two lots of stitching around the wide border. The quare pattern on the quilt top is overlaid with a grid of applied thick white braid. Backing of cotton. Padding appears to be enclosed in white cotton. Fragile condition.
1650 x 1370mm

Wholecloth quilt made from pink satin, with similar pink cotton backing. The padding is cotton wadding. It is hand quilted and the pattern is a large central circular motif of a leaf pattern. There is a fan design in each corner and the in-fill pattern is of curved and straight parallel lines. The external border is four parallel lines.
2030 x 2000mm