Quilt No.459CT - Christine Taylor
Description:
Autograph quilt consisting of 372 x 100mm calico squares with signatures worked in green thread. There is a scalloped border. The backing is green paisley flannelette and the padding is an old twill sheet.
2200 x 1840mm
History:
The quilt was made by Miss Alma Birkin in Carwarp Vic in 1968 to celebrate the 50th anniversary of the Carwarp school. It was raffled and the present owne, Mrs. Christine Taylor, won the raffle. The quilt is stored in her parents' home and is not used.
Story:
The embroidered names on the quilt include students, parents, friends, anyone associated with the Carwarp school and surrounding area. "The border tells the story of special inhabitants, sporting clubs and numerous organisations over the years 1918-1968." [A.Birkin] Every person who had a name embroidered received a numbered ticket. The quilt was then raffled and Mrs. Christine Taylor (born Doering) was the winner.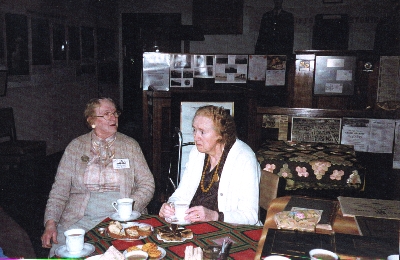 Related Quilts:

Wholecloth pram quilt with a top of pink cotton sateen, and the reverse is a more finely woven, ivory, fabric. All over quilting design as main feature, with stylised hearts, leaves and cross hatching. The padding is cotton batting. 870 x 660 mm.

Hand stitched, cotton, appliquéd, quilt in a flower pattern on a plain background. Colours are shades of green, apricot and browns. This quilt was known as a 'Bride's Quilt'. Padding is thought to be layers of white fabric raised almost like a wadding. The backing is cotton material. 2470 x 2020 mm.

Quilt of woollen rectangles, probably tailors' samples. Machine pieced. The backing is floral cotton similar to curtain material.The backing has a french seam down the centre back and is folded over to the front to form a binding. There is no padding.
1440 x 1260

Wholecloth quilt made of royal blue satin, squares around a central panel. Seam lines are covered with a faggoting stitch. All names are embroidered in satin stitch, the central motif is hand painted. The border is quilted with a repeat scroll ing pattern in hellow thread, and edges are trimmed with a fringe of small pom-poms in burgundy, gold, blue and yellow, the colours mixed in each pom-pom. Quilt is backed with yellow satin cotton. Centre has embroidered: "Lancefield/ Presbyterian/ Sale of Gifts/ February, 1896'.
1880 x 1330mm

Wholecloth quilt of golden brown cotton satin, the reverse side of pink cotton satin. Central quilting pattern of interlaced curves, within 3 rows of parallel stitching, then a border pattern of an interlaced knot design, the edge finished with 2 rows of parallel quilting. Filling of cotton. 2010 x 1920 mm.
2010 x 1920mm

Irregularly patched from a variety of cotton dress prints, checks, plains and mattress ticking. 1920s and 30s fabrics. Both top and back are similar. Hessian padding. Originally two single quilts, now stitched together.
1850 x 1720mm