Quilt No.472FN - Flora Noyce
Description:
Log cabin quilt consisting of 36 blocks each 200mm square. Light and dark arrangement with a variety of small patterned cotton materials (floral, spotted, striped) and plains. The blocks are hand stitched on to fine cotton and then joined by machine. There is a 120mm double gathered frill of floral cotton with a beige background. The backing is 2 pieces of cream cotton with repeat floral and musical motifs interspersed with forget me nots.
1500 x 1500mm
History:
The quilt was made by Mary-Anne Weir probably before 1890 at Glenlogie near Elmhurst Vic. where she lived with her husband William. They were married in 1880.
It was then owned by the daughters of Mary-Anne, the youngest died 1976, aged 84 years. It is now owned by Flora Noyce, daughter of Elsie Weir. It is not used.
Story:
The family knew the quilt was on the bed every Sunday when Mary-Anne and William lived at Glen Logie.
"The youngest of Mary-Anne's children rescued this quilt from the 'Red Cross rag bag' about 1950 when an older sister was cleaning out cupboards." [Flora Noyce 8.12.98]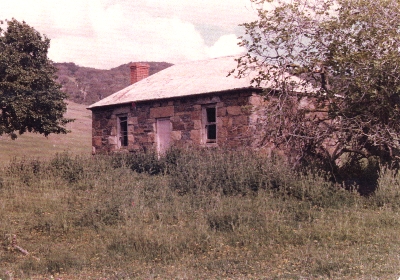 Related Quilts:

Machine pieced cotton quilt, in random design of geometric pieces. Materials used are cotton sheeting, dress fabrics, broderie anglaise, and seersucker. There is no padding, and backing is white curtain lining.
1540 x 1150 mm.

Crazy patchwork quilt in a variety of cotton materials. There is no padding. The backing is old flour bags.
2000 x 2000mm

Rectangular quilt of print and plain
cottons pieced in squares and rectangles within 2 frames, the inner border or frame of blue/green check material, then 2 rows of squares and rectangles, the outer frame of a grey and red geometric pattern and 2 rows of squares or rectangles. Backing of plain fabric. Machine stitched on a treadle machine.

Grandmother's Flower Garden quilt. Hexagons are from cotton and polyester material mostly from 'Reverse Garbage' Melbourne. Hand pieced by Rita Fiddian, the owner. Hand quilted. The padding is wool and the backing cotton.
3049 x 2109mm

Cotton quilt of pieced hexagons and some diamonds made for a baby's basket. Colours are mainly blue and pink and two 'Punch and Judy's' are appliqued in the centre. There is no padding and the backing is a cotton floral in blues and greens.
760 x 660mm

Crazy patchwork quilt made from silk and cotton fabrics, in patterns and plains, in bright colours. Patches are arranged around a central diamond shaped patch in yellow which is bordered with light blue. All seams are covered with featherstitch and herringbone stitch. Patches were stitched onto a calico backing. A recent calico backing ahs been added and dark blue binding attached to the edge. No padding.
1555 x 910mm