Quilt No.472FN - Flora Noyce
Description:
Log cabin quilt consisting of 36 blocks each 200mm square. Light and dark arrangement with a variety of small patterned cotton materials (floral, spotted, striped) and plains. The blocks are hand stitched on to fine cotton and then joined by machine. There is a 120mm double gathered frill of floral cotton with a beige background. The backing is 2 pieces of cream cotton with repeat floral and musical motifs interspersed with forget me nots.
1500 x 1500mm
History:
The quilt was made by Mary-Anne Weir probably before 1890 at Glenlogie near Elmhurst Vic. where she lived with her husband William. They were married in 1880.
It was then owned by the daughters of Mary-Anne, the youngest died 1976, aged 84 years. It is now owned by Flora Noyce, daughter of Elsie Weir. It is not used.
Story:
The family knew the quilt was on the bed every Sunday when Mary-Anne and William lived at Glen Logie.
"The youngest of Mary-Anne's children rescued this quilt from the 'Red Cross rag bag' about 1950 when an older sister was cleaning out cupboards." [Flora Noyce 8.12.98]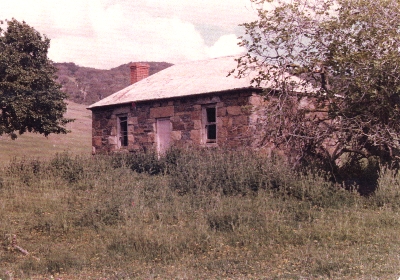 Related Quilts:

Utilitarian quilt. The top and backing are machine pieced scraps of curtain material and clothing pieces. The centre is an old blanket and possibly clothing pieces.
2033 x 1525mm

Small rectangular bed cover, probably child's or even doll's, made from rectangles of cream linen stitched together with hand sewn french seams. The top surface is decorated with small squares and rectangles of coloured silk, velvet, wool and cotton attached approximately 25mm apart, with 3 stitches in centre of patch to attach to background. Bright pink wool patches stand out.
935 x 635mm

Pieced quilt featuring log cabin and tumbling block patterns. It is handsewn and has some appliqued flowers.Materials are mainly velvet with a small amount of cotton. There is no padding and the backing is cotton flannelette.
1525 x 1220mm

Cotton quilt made in the USA. Pattern is the 'Evening Star' and each star has a frame. It is hand pieced and hand quilted and uses shirting material. It has been modified along two sides where the block extension is visible, having been turned to make a hem. The backing is calico and the padding is cotton.
1829 x 1575mm

Frame quilt pieced from square, rectangular and triangular pieces from plain and patterned cotton. The central motif of the rooster is appliqued in red cotton on white background with a border of red triangles. There is a white cotton backing.
2000 x 1925mm

Cot quilt of mixed textiles and techniques. Made in sections and stitched together possibly with some padding. It features embroidered and appliqued animals (cats, donkey, elephant, squirrel, birds, kangaroo, emu) and nursery rhyme characters. Materials are cotton, silk, wool, imitation fur. There is a black velvet patch with a cross stitch parrot and embroidered date and initials 'May 1925 AE'. The backing is woven self patterned curtain material. There is a ruffle around the edge in the same material.
1400 x 930mm