Quilt No.595PWH - The Pioneer Women's Hut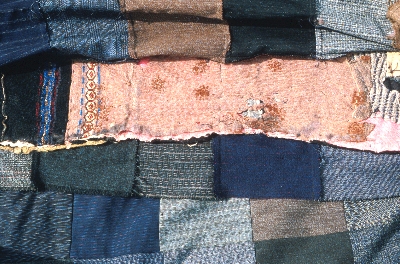 Description:
Double sided utility quilt made from machine pieced squares of tailors' samples and men's and boy's suitings. The padding is 5 or 6 layers of pieced used clothing including darned, threadbare socks, part jumpers, blanket pieces etc.
2090 x 1340mm
History:
The quilt was made by Neta le Cerf (born Cayirylys) c.1940 in Tumbarumba NSW. The quilt was made for use on beds in the house and on the verandah. It was stored in the linen press of Norm and Ellen Bradley's home at Rosewood and always valued. Norm Bradley donated it to the Pioneer Women's Hut. It is occasionally displayed at the Museum.
Story:
It is thought the tailors' sample books came from the family store of 'Le Cerf and Blencowe' in the Parade, Tumbarumba. As well as general groceries and farm merchandise men could order their suits through the store.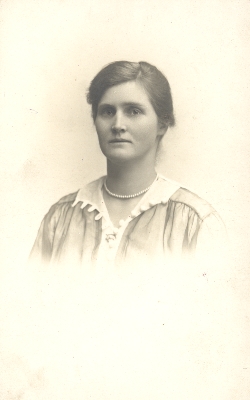 Related Quilts:

Pieces of heavy woollen material have been strip pieced and then joined. The joined pieces have then been folded over and restitched along the sides to make a double sided quilt. It is very heavy.
1830 x 1400mm

Patchwork quilt in Log Cabin pattern made from silks, velvet, cottons and taffetas, in prints and plain, around a centre squares of black velvet. Colours are, in the dark sections, blues, greens, browns, yellow and pinks. The base of the blocks is blue and white ticking. The padding is probably cotton. Backing is of green cotton. There is an attached frill on all sides of green cotton, faded to dull light brown.
1630 x 1350mm

Randomly patched quilt in many different colours and fabrics. There are appliquéd shapes over many pieces including Suffolk Puffs, hearts, hexagons and other shapes. There is an embroidered inscription "A11 to S11 1829" which is thought to mean AN to SN 1829. There is no padding and the backing is white cotton.
2000 x 2200mm

A 'Farm Life Quilt' made from alternate squares of beige linen and brightly coloured cotton headcloth. The coloured squares are farm animals and birds in a variety of embroidery stitches. The beige squares have a cornucopia design embroidered in dark brown stem stitch. There is a wide border front and back of beige linen. The backing is brown and white check cotton. There is no padding.

Wholecloth quilt made from turquoise and red plaid brushed cotton, with a filling of a marcella bedspread with cut up pieces of knitted and crocheted garments stitched on top by hand and machine. Garment pieces are pink, red, yellow, black and pastels. Sleeves, collar and pockets can be clearly seen. Backing is an old blanket.

Quilt made from furnishing materials, mostly velour type or uncut moquette. The colours are dusty pinks and beige/camel/blue. It has been put together by making wide strips of various sized rectangles sewn together and any missing piece in a rectangle added by using another piece of material to complete the shape. There is no padding and the backing is winter cotton.
2000 x 1650mm