Quilt No.595PWH - The Pioneer Women's Hut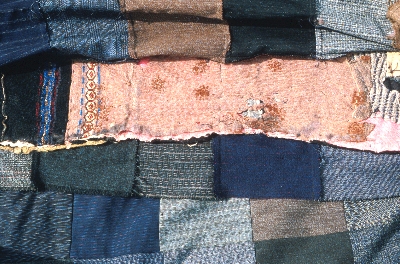 Description:
Double sided utility quilt made from machine pieced squares of tailors' samples and men's and boy's suitings. The padding is 5 or 6 layers of pieced used clothing including darned, threadbare socks, part jumpers, blanket pieces etc.
2090 x 1340mm
History:
The quilt was made by Neta le Cerf (born Cayirylys) c.1940 in Tumbarumba NSW. The quilt was made for use on beds in the house and on the verandah. It was stored in the linen press of Norm and Ellen Bradley's home at Rosewood and always valued. Norm Bradley donated it to the Pioneer Women's Hut. It is occasionally displayed at the Museum.
Story:
It is thought the tailors' sample books came from the family store of 'Le Cerf and Blencowe' in the Parade, Tumbarumba. As well as general groceries and farm merchandise men could order their suits through the store.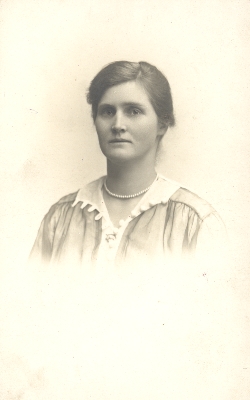 Related Quilts:

Quilt made of 26 x 13 rectangles of woollen men's suiting samples. Each rectangle is about 70 x 130 mm. Wide variety of patterns, mainly stripes, and colous. The padding is part of a worn cream blanket and joined pieces of woollen clothing. The backing is a well worn piece of brushed cotton. Machine made.
11900 x 1870 mm

Old jute wool pack opened out and joined together selvedge to selvedge. Ends bound with recycled curtain material.
1550 x 1321mm

Patchwork quilt of cotton hexagon patches grouped in 'flowers', comprising 4 rings of patches around a central hexagon. Prints and plains are used, the colours mainly browns, greens, yellows, dark blue and dark pink. The 'paths' are in a yellow-brown cotton. Cotton backing. The padding is probably an old blanket. The quilt is an irregular shape, and is tied.
2550 x 1870mm

Quilt made of tailors' swatches, machine constructed around a central frame that is mainly mid brown pieces. This is surrounded by rectangles of mainly charcoal greys and the outer border is navy blues. The backing is a heavy cotton with random green and cream and grey stripes.
1651 x 1220mm

The centre of the quilt is a small blue 6 pointed star surrounded by a larger blue star. Blue stars also form a border to the quilt. The background material is a multicoloured small floral pattern on white cotton. The quilt is all hand worked over templates. The padding is cotton and the backing is polyester sheeting with a border of stars.
2650 x 2475 mm

Double sided quilt. Side 1 has a central patch of small rectangles and borders of half square triangles. Seamed construction. Side 2 is crazy patch in wools and cottons on to a backing material. There is one round segmented circle in the centre. Machine pieced and quilted.
2050 x 1610mm