Quilt No.595PWH - The Pioneer Women's Hut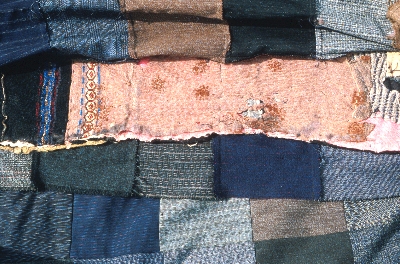 Description:
Double sided utility quilt made from machine pieced squares of tailors' samples and men's and boy's suitings. The padding is 5 or 6 layers of pieced used clothing including darned, threadbare socks, part jumpers, blanket pieces etc.
2090 x 1340mm
History:
The quilt was made by Neta le Cerf (born Cayirylys) c.1940 in Tumbarumba NSW. The quilt was made for use on beds in the house and on the verandah. It was stored in the linen press of Norm and Ellen Bradley's home at Rosewood and always valued. Norm Bradley donated it to the Pioneer Women's Hut. It is occasionally displayed at the Museum.
Story:
It is thought the tailors' sample books came from the family store of 'Le Cerf and Blencowe' in the Parade, Tumbarumba. As well as general groceries and farm merchandise men could order their suits through the store.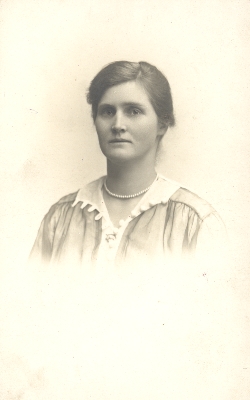 Related Quilts:

Hexagon quilt, hand sewn, using a wide variety of patterned and plain cotton scraps left over from dressmaking. 6 hexagons are placed around a centre one. There is no padding. The backing is brown flannel turned over to the front with hexagons hand stitched to it.
1220 x 763mm

Suffolk puff quilt with puffs in a variety of fabrics. Very little cotton. Fabrics are satin, polyester, organza, wool (now moth eaten), rayon and silk. There is no padding or backing. 2450 x 2100mm

"Hexagons pieced over cardboard hand-sewn together. Each rosette was then machine quilted 1/8th to 1/4 inch from edge of rosette in shape of each rosette. Quilt is mainly cottons with a few rayons. Some checks and stripes are used but mainly florals. Has been machine quilted in rosette shape using green on green fabrics, lemon on lemon, orange on orange and red on red." [Ryder Lundy] There is no padding and the backing is gold curtain fabric extended at the end and one side with matching taffeta. 2220 x 1270 mm.

Repeat block quilt top based on hexagons, each 350 mm diameter. Six hexagons and a centre one make a 'flower' and these are set in rows against a plain calico background. Patterned cotton fabrics are used for the hexagons, small prints, fine stripes and tiny flowers. As it is a quilt top only, there is no lining or padding. 2100 x 1800 mm

Grandmother's Flower Garden quilt. Hexagons are from cotton and polyester material mostly from 'Reverse Garbage' Melbourne. Hand pieced by Rita Fiddian, the owner. Hand quilted. The padding is wool and the backing cotton.
3049 x 2109mm

Patchwork quilt made for a child. All cotton with cotton padding. White blocks have embroidery depicting different nursery rhymes eg Mary, Mary, Quite Contrary ; Old Mother Goose. These blocks are separated by rectangular strips of teal cotton. The quilt is hand stitched and heavily quilted.
1677 x 1271mm