Quilt No.595PWH - The Pioneer Women's Hut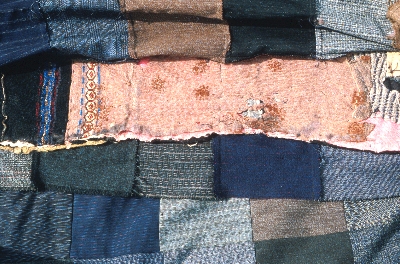 Description:
Double sided utility quilt made from machine pieced squares of tailors' samples and men's and boy's suitings. The padding is 5 or 6 layers of pieced used clothing including darned, threadbare socks, part jumpers, blanket pieces etc.
2090 x 1340mm
History:
The quilt was made by Neta le Cerf (born Cayirylys) c.1940 in Tumbarumba NSW. The quilt was made for use on beds in the house and on the verandah. It was stored in the linen press of Norm and Ellen Bradley's home at Rosewood and always valued. Norm Bradley donated it to the Pioneer Women's Hut. It is occasionally displayed at the Museum.
Story:
It is thought the tailors' sample books came from the family store of 'Le Cerf and Blencowe' in the Parade, Tumbarumba. As well as general groceries and farm merchandise men could order their suits through the store.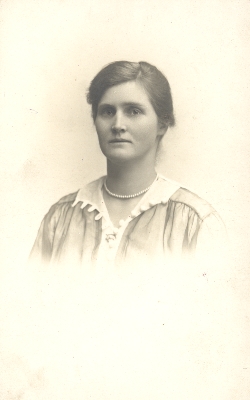 Related Quilts:
Patchwork top with a centre frame of a mauve cross outlined in black within a square bordered with pink. The rest of the top is rectangles and squares in a wide variety of materials. There is no padding. The backing is brown, possibly curtain material.
1910 x 1480mm

Double sided quilt. Side 1 has a central patch of small rectangles and borders of half square triangles. Seamed construction. Side 2 is crazy patch in wools and cottons on to a backing material. There is one round segmented circle in the centre. Machine pieced and quilted.
2050 x 1610mm

The top is a wholecloth piece of twill type cotton and the backing is a wholecloth piece of finer patterned cotton. The padding is a layer of pieces of used clothing stitched together, including part jumpers, some darned. These are inside an old folded blanket.
1540 x 950mm

Quilt of hand stitched cotton hexagon patches, the hexagons are in groups of 7 to form flowers, with white or cream 'paths'. The quilt centre has 19 flowers grouped within a single hexagon border of brown and red patches. In each corner of the quilt there are 6 flowers grouped around a larger flower within a single border of darker print hexagon patches. Backing is cream cotton, machine stitched to the top. There is no padding or quilting. Some fabric patches have deteriorated.

Large hexagon rosettes in a variety of plain colours. 6 form a flower and each hexagon has a contrasting colour for the centre. Machined smaller hexagons give a ruffled effect. Colours of flowers include teal, burnt orange, pink, lime and mauve. The material is nylon and the backing is a single piece of pink bubble nylon. The padding is a single piece of calico.
2050 x 1530mm

Taylor's sample quilt made from men's suit swatches, mainly greys and blues. Edging is 6cms wide, of blue flannelette. Padding is an old grey blanket, and the backing is of printed pattern corduroy. 1680 x 920 mm.