Quilt No.269IB - Ida Blenkiron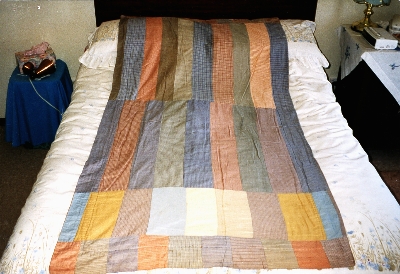 Description:
Rectangular quilt with front and back made of rectangles of cotton samples of shirt materials, in checks, stripes and plains. Colours are soft muted reds, greens, blues, yellows and browns, and pastels. Construction is 3 to 4 rows of rectangles joined across the quilt. Padding is probably an old blanket. There is a row of hand quilting approximately the width of one patch in from the edge, holding the layers together.
1870 x 950mm
History:
Made by Mrs Edith Elizabeth Hocking (born Rowe) (1885 - 1969) around 1930, in South Australia. Owned by Ida Blenkiron (born Hocking).
Story:
Ida's uncle Ted (her father's brother) worked at Goode, Durant & Murray in Adelaide and when he'd come home for the holidays he'd present Edith with the samples with which she was delighted to make a new quilt.
Related Quilts:

Small rectangular bed cover, probably child's or even doll's, made from rectangles of cream linen stitched together with hand sewn french seams. The top surface is decorated with small squares and rectangles of coloured silk, velvet, wool and cotton attached approximately 25mm apart, with 3 stitches in centre of patch to attach to background. Bright pink wool patches stand out.
935 x 635mm

Square patchwork quilt made from rectangles of woollen tailors' samples, each patch outlined with machine fancy stitch using red thread. Machine sewn. The backing is a green and white check fabric. No filling.

Patchwork quilt made from Suffolk Puffs in a mixture of bright and pastel prints and plains, mainly in cotton materials. Hand sewn. No padding or backing.
1630 x 1440mm

Patchwork quilt made from squares and rectangles of pink, blue and white fabric set with a frame of pink and white print around a centre rectangle made of 4 pink triangles. Four corner squares of blue and white stripes, Many squares are pieced from smaller scraps. The Material is a crepe type, possibly used for underwear. Handsewn and machined. Backing is made from cotton scraps, possibly lawn or similar. Padding is flanellete or similar. Edges are bound in a striped material. Quilt shows signs of wear.
620mm x 520mm

Cotton patchwork quilt in an all over pattern of diamonds in a wide variety of patterned and plain materials. Many seams are oversewn in feather stitch which goes through to the backing of calico.
1625 x 925mm

Silk quilt in diamonds with hexagon border. "Toward the edge of the quilt, the design of diamonds made into blocks offers an optical illusion, where the diamonds can be seen to form stars. The border is made up of these stars and half-diamonds, and the entire quilt is trimmed with lace and triangular flaps made of tiny hexagons." [extract unidentified magazine article supplied by quilt owner.]
The backing is maroon cotton. 1600 x 1600 mm.