Quilt No.269IB - Ida Blenkiron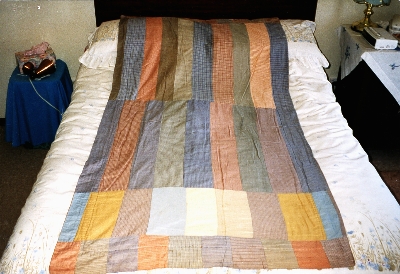 Description:
Rectangular quilt with front and back made of rectangles of cotton samples of shirt materials, in checks, stripes and plains. Colours are soft muted reds, greens, blues, yellows and browns, and pastels. Construction is 3 to 4 rows of rectangles joined across the quilt. Padding is probably an old blanket. There is a row of hand quilting approximately the width of one patch in from the edge, holding the layers together.
1870 x 950mm
History:
Made by Mrs Edith Elizabeth Hocking (born Rowe) (1885 - 1969) around 1930, in South Australia. Owned by Ida Blenkiron (born Hocking).
Story:
Ida's uncle Ted (her father's brother) worked at Goode, Durant & Murray in Adelaide and when he'd come home for the holidays he'd present Edith with the samples with which she was delighted to make a new quilt.
Related Quilts:

Patchwork quilt made of squares and rectangles in woollen fabric, stitched together without any particular pattern. Colours are mainly green, grey, blue, black, pink and some yellow. Fabrics are plain, checks and stripes. No padding, quilting or binding. Backing is a remnant of synthetic fabric. The quilt has been well sued and is very worn with fabric torn and marked in some places.
1400 x 400mm

Double sided patchwork quilt. Machined squares and rectangles joined in strips and then the strips joined. Wide variety of materials, mainly woollen from hand or machine knitted jumpers, many patched. All materials came from worn garments from family and friends of the maker. No padding.
1860 x 1410mm

Patchwork quilt of squares measuring between 190mm and 220mm machined together. Materials include chenille, wool and nylon. There is no padding. The backing is green gabardine
1350 x 148mm

Wholecloth quilt made of royal blue satin, squares around a central panel. Seam lines are covered with a faggoting stitch. All names are embroidered in satin stitch, the central motif is hand painted. The border is quilted with a repeat scroll ing pattern in hellow thread, and edges are trimmed with a fringe of small pom-poms in burgundy, gold, blue and yellow, the colours mixed in each pom-pom. Quilt is backed with yellow satin cotton. Centre has embroidered: "Lancefield/ Presbyterian/ Sale of Gifts/ February, 1896'.
1880 x 1330mm

Pieced wool quilt, machined. Rectangles and squares, from a wide variety of materials including tartans, checks, tweeds, herringbones, joined in strips and then the strips joined. The backing is scraps of woollen material with a seal motif aookiqued on. There is no padding.
1350 x 800mm

Double sided patchwork quilt. One side has a centre of pieced hexagons enclosed by borders of plain strips and pieced stars and squares. The other side has a printed Royal Coat of Arms (lion and unicorn) 'Honi Soit Qui Mal y Pense, Dieu Et Mon Droit', surrounded by wide borders of plain and printed materials in the style of frame quilts.
2400 x 2300mm