Quilt No.269IB - Ida Blenkiron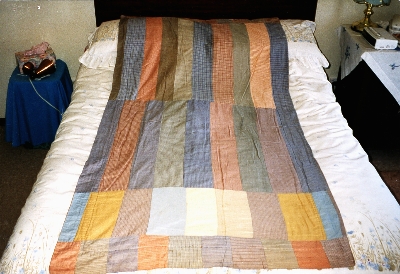 Description:
Rectangular quilt with front and back made of rectangles of cotton samples of shirt materials, in checks, stripes and plains. Colours are soft muted reds, greens, blues, yellows and browns, and pastels. Construction is 3 to 4 rows of rectangles joined across the quilt. Padding is probably an old blanket. There is a row of hand quilting approximately the width of one patch in from the edge, holding the layers together.
1870 x 950mm
History:
Made by Mrs Edith Elizabeth Hocking (born Rowe) (1885 - 1969) around 1930, in South Australia. Owned by Ida Blenkiron (born Hocking).
Story:
Ida's uncle Ted (her father's brother) worked at Goode, Durant & Murray in Adelaide and when he'd come home for the holidays he'd present Edith with the samples with which she was delighted to make a new quilt.
Related Quilts:

Crazy patchqork quilt, handsewn, composed of six large squares of patches in brocade, velvet and silk in random shapes and sizes. Patches are stitched to others by blanket stitch in yellow thread. Some patches have surface embroidery, e.g. a dragonfly, flowers, music notes, and names, 'Minnie', 'Loyetta' (house in Ballarat), 'Diana'. There are also five small cream bobbles. Colours are red, gold, brown, pinks, greens and blues. Padding is flannel, and quilt is backed and edged with maroon or burgundy ribbed silk.
1461mm x 687mm

Patchwork quilt with repeat blocks of Log Cabin pattern in cottons. One side of the square has blue fabrics, the other side has pink. Blocks are separated by a floral and a blue strip. The quilt is finished with a dark blue border on 2 sides, and a light and dark blue border on the other 2 sides. Dark blue binding around edge. Hand quilted with a cable pattern on the borders. Padding is probably synthetic. The quilt is backed.

Quuilt constructed from large pieces of used clothing pieced together to form the top. There are layers of under shirts once used by the maker's father and also by her husband Bill. The backing is an old cream blanket.
1700 x 1200mm

Tumbling Block quilt made from pure silk ribbons, patterned and plain. The quilt edge follows the block shapes. The backing is polished cotton printed with flowers.
2743 x 2439mm

Cotton quilt made in the USA. The pattern is 'Nine Patch'. The quilt is machine pieced and hand quilted. The backing is cotton material possibly shirting. The padding is cotton.
1702 x 1702mm

Crazy patchwork quilt made from silk, brocade and velvet pieces, the seams covered with feather stitching in yellow silk. Fabrics are plain, and patterned with tartans, woven spots, stripes and floral brocade. Colours are rich, mainly red, pink, blue, green and cream. Quilt has a patterned velvet or velour border with urns and flowers in pale olive green and black, edged with a fringe in these colours.
1090 x 1040mm