Quilt No.473GW - Glenda Wilkinson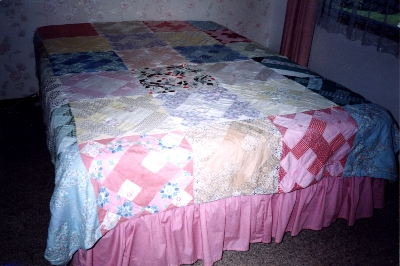 Maker
Maker:
North Carolina Church Ladies Guild
Description:
Quilt consisting of 30 blocks 360 x 360mm each (5 x 6). Each block consists of squares and rectangles arranged diagonally and edged with triangles. Each block is made from 2 or 3 different cotton materials, different colours but mainly pastels. It has not been quilted but tied with pink wool with 5 ties per block. Machine sewn with a folded and machine stitched edge. Padding appears to be coarse open weave cotton. The backing is printed flannelette.
2210 x 1850mm
History:
The quilt was made by a church ladies guild in North Carolina, USA about 1967 for Betty Wootton. It was sent to her when she was living in Seoul, South Korea where she was working with her husband for the Presbyterian Missionary Society. When Betty returned from Korea in early 1969 she gave the quilt to her sister-in-law Glenda Wilkinson as she was returning overseas and wanted to leave it with someone who would appreciate it. It is rarely used.
Related Quilts:

A frame quilt with a pattern using hexagons from crepe de chine and silk material. The centre frame consists of a blue rosette of hexagons surrounded by six rosettes or flowers all with black centres. These are surrounded by rows of hexagons and then a row of flowers and then more hexagon borders. The owner refers to the pattern as 'Grandma's Garden'. 2550 x 2550 mm

Double sided quilt. One side is different shapes including rectangles in various sizes in wools and men's suiting material. It is hand pieced. The pther side is mainly cottons in florals of different patterns joined in strips of varying width and machine and hand pieced. There is a 25mm binding. The padding is an old blanket.

Cotton quilt made in the USA. The pattern is 'Double Irish Chain'. It is machine pieced and hand quilted. The backing is calico and the padding is cotton,
2134 x 2134mm

This domestic Wagga is two layers of woollen army blankets with the top layer in rectangles joined in rows. The backing is hessian bags that originally contained meat meal.
11650 x 1130mm

Patchwork quilt has pieced blocks in the 'Ohio star' pattern in red print and white cotton, alternating with plain white blocks. Quilt has a 9cm frill in red and grey geometric print cotton, machine stitched around the edge. Quilt appears to have some hand quilting. No padding. Backing is white cotton.
2210 x 2060mm

Single bed quilt made up entirely of hexagons in 'Granny's Flower Garden' pattern. The rosettes are made up of 8 hexagons and a central one. Native flower prints, including wattle, on a white background. Plain hexagons in white, yellow and blue form a scalloped border. Hexagons are hand stitched and the 2 layers are quilted in running stitch. The backing is a pieced sheet.
2400 x 1500mm