Quilt No.195BM - Barbara McCabe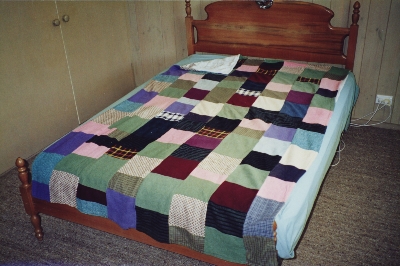 Description:
Patchwork quilt made from rectangles of mostly woollen fabrics sewn in strips and then stitched together. Fabrics left over from dressmaking projects. Machine stitched. Colours mainly green, purple, blue, pink, pastels, in plain, checks and spots. No padding or quilting. Lining is an old bedspread.
2200 x 1440mm
History:
Made by Barbara McCabe in 1966-1967 while living at Echuca (VIC). Owned by Barbara McCabe.
Story:
Barbara and her husband David were school teachers, and moved around Victoria, from Echuca to Research to Geelong/Highton.
Barbara made a number of quilts in this style during the 1960s and early 1970s as bedcoverings for the family. When they ended their life as bed coverings, they were/are used as car boot liners, packing around furniture, etc.
Related Quilts:

Double sided patchwork quilt. Both sides have central frame surrounded by borders. Side 1 has diamond of squares set in a square frame 490mm. Borders are squares and triangles. Side 2 is central frame of squares on point surrounded by plain grey velvet border then marroon border. Materials are cottons, silks, velvet, crepe, rayons in a wide variety of colours and apperned and plain. Machine construction. No quilting. Padding is a cream wool blanket.
1440 x 1420mm

Square patchwork quilt made from rectangles of woollen tailors' samples, each patch outlined with machine fancy stitch using red thread. Machine sewn. The backing is a green and white check fabric. No filling.

Quilt top of hexagonal patches in silk and velvet in colours of brown, black, soft green, maroon, light yellow and blue. Some materials self patterned. Blue backing papers can be seen at edges behind some patches.

Machine sewn quilt made from 125mm squares of scraps left over from dressmaking, joined in strips and then the strips joined. There is a border of fawn cotton and the backing is the same material. The padding is an old blanket and the border is padded with sheep's wool.
1400 x 925mm

Cotton quilt made in the USA. The pattern is 'Double Irish Chain'. It is machine pieced and hand quilted. The backing is calico and the padding is cotton,
2134 x 2134mm

Patchwork quilt, log cabin pattern. Made of strips of dark and light material arranged to produce strongly contrasting bands running diagonally across the quilt. Colours are mainly pinks and blues in small floral and paisley cotton prints. There is no padding.
1310 x 1140mm