Quilt No.195BM - Barbara McCabe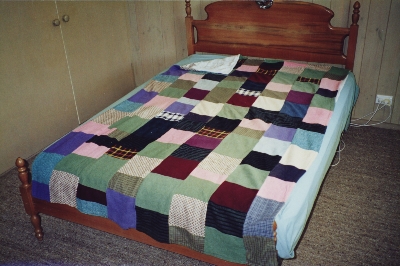 Description:
Patchwork quilt made from rectangles of mostly woollen fabrics sewn in strips and then stitched together. Fabrics left over from dressmaking projects. Machine stitched. Colours mainly green, purple, blue, pink, pastels, in plain, checks and spots. No padding or quilting. Lining is an old bedspread.
2200 x 1440mm
History:
Made by Barbara McCabe in 1966-1967 while living at Echuca (VIC). Owned by Barbara McCabe.
Story:
Barbara and her husband David were school teachers, and moved around Victoria, from Echuca to Research to Geelong/Highton.
Barbara made a number of quilts in this style during the 1960s and early 1970s as bedcoverings for the family. When they ended their life as bed coverings, they were/are used as car boot liners, packing around furniture, etc.
Related Quilts:

Double sided frame quilt. All reused materials including corduroys, wools and light weight suitings. Machine made and not quilted There is no padding as already heavy and warm.
1780 x 1530mm

Crazy patchwork quilt made from pieces of silk, velvet, silk ribbon and brocade in a variety of patterns and plains, in a range of colours. All patches are edged with embroidery, in blanket, feather, herringbone and other stitch variations. Many patches are embroidered with flowers, butterflies, leaves and initials of family members, and there is some beading. 1901 is embroidered in one corner. Quilt has a wide border of gold velvet. Patches are stitched to a base fabric. Backing is dark green sateen.
1470 x 1060mm

Crazy patchwork quilt with patches of velvet, satin and silk joined in 12 blocks. Each seam is embroidered and many patches have embroidered flowers. There is a 140mm maroon velvet border. The backing is maroon silk. There is a sachet that belongs with the quilt.
1800 x 1400mm

Patchwork quilt of rectangular wool and cotton tailors' samples, in browns, greys, navy, black and beige, in plains and patterned weaves. Padding is a woollen blanket, and the backing is a patterned cotton.
1956 x 1702mm

Hexagonal log cabin quilt. Hexagons constructed of strips with half hexagon dark and half light. These hexagons are then joined to form diagonal light and dark stripes. Machine and hand sewn. Materials are wools, printed cottons, velvets, corduroys, rayons, flannelettes, brocades, pique and taffetas. The backing is a single piece of brocatelle (rayon brocade). There is probably a thin layer of padding.
1400 x 1200mm

Cot quilt of mixed textiles and techniques. Made in sections and stitched together possibly with some padding. It features embroidered and appliqued animals (cats, donkey, elephant, squirrel, birds, kangaroo, emu) and nursery rhyme characters. Materials are cotton, silk, wool, imitation fur. There is a black velvet patch with a cross stitch parrot and embroidered date and initials 'May 1925 AE'. The backing is woven self patterned curtain material. There is a ruffle around the edge in the same material.
1400 x 930mm