Quilt No.477LC - Mrs. L. M. Chick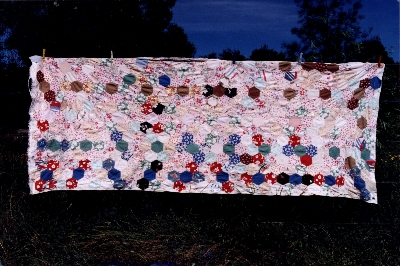 Description:
Hexagon quilt made by hand from a wide variety of cotton materials. There is no padding and the backing is calico.
2286 x 915mm
History:
The quilt was made by Doreen Vincent in 1935 for her family. It is now owned by Mrs. L.M.Chick, her daughter.
Story:
"This quilt is a replica of quilts made each year by the Ladies Guild at Holy Trinity Cathedral Wangaratta. Each member sewing together by hand a block 8 inches wide. Each separate piece hand sewn, and tacked, and hemmed over a six sided piece of heavy brown paper, joined around a centre piece and at the meetings put in a big box to be finally joined up. My Mother Doreen Vincent, each year had the job to join up all the collection up on the kitchen table and tack them all on to a quilt size length of washed calico. Machine all around edges and across. Then when finished the quilt was donated to one of the Church's Homes. Needless to say later in her life decided to make one for our family (Doreen Vincent) this is the one in the photo. This quilt is her own personal work, bringing us all many very happy memories when we look at it now. I can age memories of lots of my old dresses, many of my mothers too, lots of bits and pieces from many things and family membres, aunties, cousins aaaand even my Grandmother. How all our family love it." [L.M.Chick 27.11.1998]
Related Quilts:

Double sided frame quilt. All reused materials including corduroys, wools and light weight suitings. Machine made and not quilted There is no padding as already heavy and warm.
1780 x 1530mm

Crazy patchwork quilt made from pieces of silk, velvet, silk ribbon and brocade in a variety of patterns and plains, in a range of colours. All patches are edged with embroidery, in blanket, feather, herringbone and other stitch variations. Many patches are embroidered with flowers, butterflies, leaves and initials of family members, and there is some beading. 1901 is embroidered in one corner. Quilt has a wide border of gold velvet. Patches are stitched to a base fabric. Backing is dark green sateen.
1470 x 1060mm

Crazy patchwork quilt with patches of velvet, satin and silk joined in 12 blocks. Each seam is embroidered and many patches have embroidered flowers. There is a 140mm maroon velvet border. The backing is maroon silk. There is a sachet that belongs with the quilt.
1800 x 1400mm

Patchwork quilt of rectangular wool and cotton tailors' samples, in browns, greys, navy, black and beige, in plains and patterned weaves. Padding is a woollen blanket, and the backing is a patterned cotton.
1956 x 1702mm

Hexagonal log cabin quilt. Hexagons constructed of strips with half hexagon dark and half light. These hexagons are then joined to form diagonal light and dark stripes. Machine and hand sewn. Materials are wools, printed cottons, velvets, corduroys, rayons, flannelettes, brocades, pique and taffetas. The backing is a single piece of brocatelle (rayon brocade). There is probably a thin layer of padding.
1400 x 1200mm

Cot quilt of mixed textiles and techniques. Made in sections and stitched together possibly with some padding. It features embroidered and appliqued animals (cats, donkey, elephant, squirrel, birds, kangaroo, emu) and nursery rhyme characters. Materials are cotton, silk, wool, imitation fur. There is a black velvet patch with a cross stitch parrot and embroidered date and initials 'May 1925 AE'. The backing is woven self patterned curtain material. There is a ruffle around the edge in the same material.
1400 x 930mm