Quilt No.514DG - Dianne Gorringe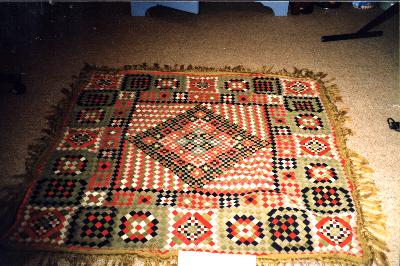 Description:
Patchwork quilt/cloth with strong overall design of very small squares. The colours are navy, red, cream, green (khaki) and fawn. There is a wide fringe on all sides. There is no padding. The backing is cotton sateen.
1240 x 126mm
History:
The quilt was made in about 1900 to 1905 by Millist Vincent thought to have been a batman to Lord Kitchener in the Boer war. It was handed down to 1. Mrs. Millicent Driscoll daughter of Millist Vincent 2. Mrs.Dorothy Hammond grand-daughter of Millist and mother of the present owner. 3. Mrs. Dianne Corringe great grand-daughter of the maker Millist Vincent. With these 3 generations it was been in Tasmania. It is not now used.
Related Quilts:

Crazy patchwork quilt with mainly patterned pieces in a wide variety of designs and colours. Backing is wholecloth patterned cotton. The quilt is edged with a checked bias binding. Machine construction.
2299 x 1449mm

Reversible quilt. Both sides are small squares of cotton scraps mainly left over from children's clothes. Plain and patterned pieces in a wide variety of colours. Hand stitched. Padding is pieced men's clothing, jumpers, cardigans, trousers. The present owner zig zagged over the seams, bound the edges and 'clouted' (her term) it in circles and squares.
2080 x 1570mm

Hexagons appliqued onto sheeting. 5 groups of 6 hexagons in centre of sheet and continuous row of hexagon rosettes around border.
2261mm x 1664mm

Patchwork quilt, log cabin pattern. Made of strips of dark and light material arranged to produce strongly contrasting bands running diagonally across the quilt. Colours are mainly pinks and blues in small floral and paisley cotton prints. There is no padding.
1310 x 1140mm

Quilt of small silk and rayon rosettes of hexagons in prints and plain materials including velvet, voided velvet, chine, printed silk, brocades, taffeta, satin, crepes. Many of the materials are from Japanese kimono and wrapping silks. It is pieced over papers, one paper has a typed date '1930'. The backing is black silk satin and is turned to the front to form a border.
1695 x 1390mm

Patchwork quilt made from pure wool suiting samples in shades of navy blue and brown. Quilt is constructed in 11 rows containing 11 pieces. Each piece is 14cm x 9cm. No padding. Backing is of mauve cotton with a floral pattern of closely spaces white/pale mauve flowers.
1480 x 900mm