Quilt No.570DA - Daphne Akehurst
Description:
Cotton quilt of hexagons in 'Grandmother's Flower Garden' pattern. Hand stitched. Machined to a cotton backing. There is no padding.
2480 x 1950mm
History:
The quilt was made by Mrs. Jane Jackson of Temora c.1940. Mrs. Jackson was the grandmother of the present owner, Daphne Akehurst. The quilt then passed to Daphne's mother, Elsie Harris. It is not used now.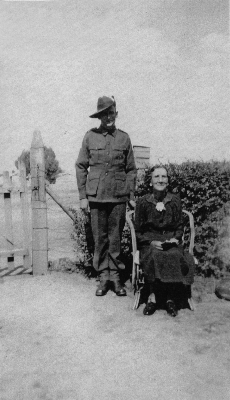 Related Quilts:

Suffolk Puff quilt with puffs mainly in patterned cotton pieces saved from 60 years of household sewing. Puffs are formed into rosettes and the holes are on the top making a decorative feature. It is hand sewn.
2700 x 2400mm.

Frame quilt in cottons with a centre motif of pieced 8 point star surrounded by borders, 2 from red/white material printed to represent Tumbling Block patchwork. The remaining borders are, one plain, one of pieced squares, one of pieced large triangles with squares in the corner. The outer border is plain. The padding is wool and the backing is cream cotton. It is elaborately quilted.
2400 x 2260mm

Quilt made of hexagons in cotton materials, the hexagons set in the 'Grandmother's Flower Garden' pattern with 6 patterned patches set around a plain coloured centre patch and white hexagons forming 'paths'. There is a white cotton backing with the edges turned under all the way around and top and backing are joined by a blue machine sewn satin stitch. The patches are hand sewn.
2160 x 1830mm

Quilt made from blocks in a fan pattern, 5 blocks across by 6 down. Fans are set on a black background, materials are wool and cotton in a mixture of plains and patterns. Edges of fans are decorated with cream herringbone stitch. Machine pieced with hand stitched repairs.Cream cotton backing folded over to make binding, stitched with pink herringbone stitch. Tied regularly with pink thread. The quilt is padded with wool.
2000 x 1720mm

Patchwork quilt of hand sewn hexagons in a variety of print and plain cotton fabrics from 1950-1960. Colours are mainly pinks, blues, greens and yellow, with some red, and white. Quilt has a wide border of yellow poplin, which also forms the backing. No padding.
2280 x 1520mm

Pieced construction, repeat block format, American Blue Grass pattern. Hand stitched and quilted with a machined edge. Mauve check stars, 8 points, surrounded by 16 point stars in yellow floral. One star per block plus green squares and red strips. The background is yellow cotton and so is the backing. There is a dacron type padding.
1980 x 1740mm