Quilt No.578AK - Aliki Kretsis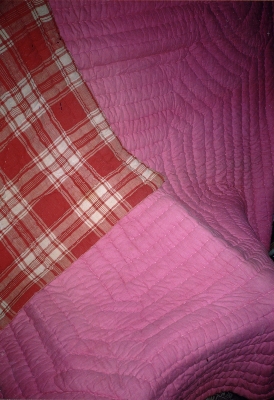 Description:
Greek wholecloth quilt of hand woven cotton with one side red and white check and the other pink. Hand quilted in an all over pattern of parallel lines about 100mm apart. The padding is raw cotton.
2100 x 1900mm
History:
The quilt was made in Greece on the island of Lesvos by the local 'paploma' maker c.1930. It was one of 3 quilts ordered by Taxiarchia Tsakiri for her daughter Aliki's dowry. This quilt came to Australia when Aliki migrated here in 1935. She still owns the quilt. It is not used now.
Story:
"Aliki Kretsis and Her Paploma
Aliki Kretsis was born in 1915 on the Greek island of Lesvos (more commonly known as Mytilini), in the village of Aghia Paraskevi. In keeping with Greek tradition, a 'paploma' (quilt) was an essential part of every young girl's 'prika' (dowry); so Aliki's mother, Taxiarchia Tsakiri,arranged for the local paploma maker to make this quilt, using the cotton fabric which had been hand-woven on the family loom by Aliki's grandmother, Sevastoula Varoukshi.
All the cotton, including the raw cotton used for the padding, was grown locally in Aghia Paraskevi, and the cotton thread wwhich Sevastoula used to weave the cloth, would have been spun locally.
Aliki actually had three quilts as part of her prika, but this is the one which travelled with her to Australia in 1935. Aliki's husband-to-be, Jack, had already been to Australia and had returned to Aghia Paraskevi to marry Aliki, with the intention of returning to Australia to try to build a better life. By this time there were several thousand Greeks in Australia, an established Greek community in Sydney, and there were Greek families and businesses to be found throughout country NSW. Many had come from the island of Lesvos and from the village of Aghia Paraskevi.
Aliki and Jack arrived at Circular Quay, Sydney, in 1935, having travelled on the ship Orion. They settled in Taree NSW where Jack established his own men's barber shop. Aliki worked in the shop selling cigarettes and sweets etc. and this also helped her to start learning English. Their two children, Katina and Peter were born in Taree, but, as with so many Greek women in similar circumstances, Aliki found life in this small country town extremely difficult.
One of the key aspects to Greek village life is the church, usually the centre of much of the community life and activity. The absence of Greek Orthodox Churches in country towns, particularly back in the years of pre-multicultural Australia, added to the deep loneliness and isolation felt by many women.
Aliki and her family, plus paploma of course, spent a number of years living in various other country towns until finally settling in Sydney. She has made several return trips to Greece, and always back to Aghia Paraskevi, her 'topos', her place.
Aliki, now a widow, has four grandchildren, George, John, Danielle and Rebecca, and three great grandchildren, Taylor, Jack and Jake."
[Written by Lula Saunders, adapted from interview 29/7/99 for the National Quilt Register]
Related Quilts:

Wholecloth pram quilt with a top of pink cotton sateen, and the reverse is a more finely woven, ivory, fabric. All over quilting design as main feature, with stylised hearts, leaves and cross hatching. The padding is cotton batting. 870 x 660 mm.

Hand stitched, cotton, appliquéd, quilt in a flower pattern on a plain background. Colours are shades of green, apricot and browns. This quilt was known as a 'Bride's Quilt'. Padding is thought to be layers of white fabric raised almost like a wadding. The backing is cotton material. 2470 x 2020 mm.

Wholecloth cover in synthetic rayon. Centre plain, drop slightly gathered, edging border is large saw tooth appliqued pieces in flannelette, striped seersucker, crepe de chine. Materials typical of the 30s through to the 50s. The appliqued triangles are chain stitched in yellow thread which also anchors them to the backing.
2450 x 1940mm

Wholecloth quilt made of royal blue satin, squares around a central panel. Seam lines are covered with a faggoting stitch. All names are embroidered in satin stitch, the central motif is hand painted. The border is quilted with a repeat scroll ing pattern in hellow thread, and edges are trimmed with a fringe of small pom-poms in burgundy, gold, blue and yellow, the colours mixed in each pom-pom. Quilt is backed with yellow satin cotton. Centre has embroidered: "Lancefield/ Presbyterian/ Sale of Gifts/ February, 1896'.
1880 x 1330mm

Wholecloth quilt made from deep cherry red satin with a backing of red cotton. The padding is cotton wadding. It is hand quilted and the pattern is a central motif of a large diamond with diamond fill. Each corner has a pattern of curved lines and the quilt border is created by four parallel lines.
2070 x 2000mm

Wholecloth quilt with top of red sateen. Hnad quilted with a large central rosette in a 'gothic' border then square on point border and outer border with rosettes in rectangular corner panel. The backing is cotton sateen with printed floral bouquets. The thick padding is cotton. This type of quilt is called 'cuttunina' in the Sicilian dialect which means 'has cotton inside'.
2360 x 2310mm