Quilt No.242EJ - Ella Jarvis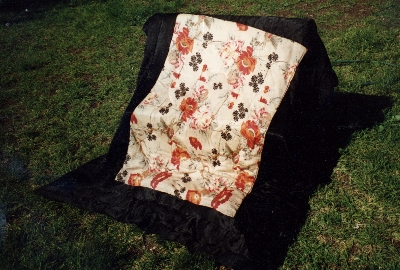 Description:
Quilt made with a rectangular centre panel of cotton fabric printed with red poppies and black flowers in a japanese style. The panel is surrounded by a wide black satin border. The backing is of black cotton, covering a previous backing of green floral cotton fabric. The padding is feathers.
1700 x 1370mm
History:
Maker unknown. Owned and used by Louisa Jacobs (born Broadbent) of Wandearah (SA). Now owned by her grand-daughter Ella Jarvis.
Story:
"I don't know who made this quilt. It was on my Grandmother's bed for as long as I can remember - 60 odd years - she had new bedroom furniture made in 1911, perhaps this was when she acquired it - or made it. Her name was Louisa Jacobs of Wandearah, Sth Aust."
Louisa lived at 'Broughton House', Wandearah.
[Ella Jarvis]
Related Quilts:

Patchwork quilt of hexagon patches in a variety of colours and fabrics, including cottons, wool, lace, nylon. Edging is of yellow cotton. It is backed but there is no filling or padding.
2470 x 2100mm

Pieced quilt featuring log cabin and tumbling block patterns. It is handsewn and has some appliqued flowers.Materials are mainly velvet with a small amount of cotton. There is no padding and the backing is cotton flannelette.
1525 x 1220mm

Hand pieced frame quilt with centre frame of hexagons and radiating borders of cotton and chintz. There is a heart at each of the 4 corners on the second border. It is hand quilted. There is no padding.
1900 x 1900mm

Scrap quilt made of vertical strips of rectangles alternating with narrow strips of pieced triangles. Colours are subdued, blues, pinks, red, browns and black, in small patterns and stripes. Fabrics are suiting, rayon, crepe, gaberdine, taffeta and blazer wool. The padding or middle layer is pieced from hessian and suiting fabric, knitted cotton. and khaki and brown twill (uniform material). The middle layer is then handsewn to the back.
1550 x 870mm

Patchwork quilt made from different sized rectangles, in new materials, including cotton, lightweight velvet, lining silk, crepe, seersucker, and satin. All fabrics are of even weight. Colours are mainly light, with pinks, greens and blues predominating. No padding or backing. Quilt was not finished.
2050 x 1250mm

Double sided quilt. One side is frame with borders of wool rectangles mainly offcuts of men's suiting from tailors' shops. The other side is mainly flannelette in stripes and patterns similar to pyjama material. The padding is pieced patches of worn jumpers that were too matted to be unpicked. Machine construction.
1700 x 1490mm