Quilt No.242EJ - Ella Jarvis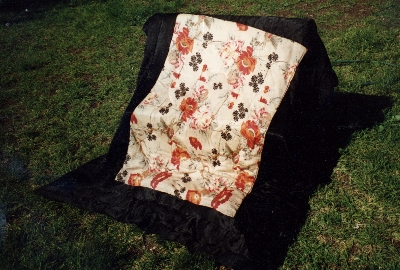 Description:
Quilt made with a rectangular centre panel of cotton fabric printed with red poppies and black flowers in a japanese style. The panel is surrounded by a wide black satin border. The backing is of black cotton, covering a previous backing of green floral cotton fabric. The padding is feathers.
1700 x 1370mm
History:
Maker unknown. Owned and used by Louisa Jacobs (born Broadbent) of Wandearah (SA). Now owned by her grand-daughter Ella Jarvis.
Story:
"I don't know who made this quilt. It was on my Grandmother's bed for as long as I can remember - 60 odd years - she had new bedroom furniture made in 1911, perhaps this was when she acquired it - or made it. Her name was Louisa Jacobs of Wandearah, Sth Aust."
Louisa lived at 'Broughton House', Wandearah.
[Ella Jarvis]
Related Quilts:

The quilt consists of 2 layers of random pieces of woollen coating and suiting materials machined together, very dark colours on one side and a mixture of dark and lighter on the other. The 2 layers are quilted together with a row of machining and has a folded and machine stitched edge. There is no padding.
1270 x 950mm

Cot quilt of mixed textiles and techniques. Made in sections and stitched together possibly with some padding. It features embroidered and appliqued animals (cats, donkey, elephant, squirrel, birds, kangaroo, emu) and nursery rhyme characters. Materials are cotton, silk, wool, imitation fur. There is a black velvet patch with a cross stitch parrot and embroidered date and initials 'May 1925 AE'. The backing is woven self patterned curtain material. There is a ruffle around the edge in the same material.
1400 x 930mm

Log cabin patchwork pieces (2) with each block approximately 120 x 120mm. They are diagonally divided into light and dark side. Materials are mainly silks including silk velvets. Each block is stitched on to a backing square, pieces of old blanket, woollens, cottons, many very worn. There is no other backing.
Quilt is hand pieced.
1000 x 1000mm

The suffolk puffs are mainly cotton in a wide variety of colours and plain and patterned materials. The puffs are small squares rather than the more usual circles. The backing is teal satin hand stitched to the top. There is a teal bow at one end. There is no padding.
1570 x 1100mm

Log Cabin quilt made from a variety of cottons and silks. There is no padding and the backing is calico bags. 1500 x 1250 mm.

Hand pieced hexagon quilt or table cover with centre motif of hexagons within hexagons. The remainder of the quilt is mainly hexagon rosettes. The materials are silks and brocades and it is pieced over papers in the English tradition.
1710 x 1600mm