Quilt No.603PWH - The Pioneer Women's Hut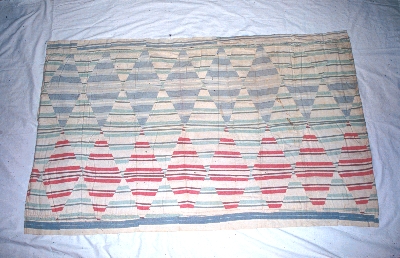 Description:
The quilt is constructed from machine pieced diamond shaped striped flannel materials. The backing is the same. The padding is not visible but is thought to be worn out woollen clothing, unpicked and ironed flat.
1520 x 970mm
History:
The quilt was made by Delia Neil in 1942 (when she was 26) from salesman's samples of pyjama material from a menswear store in Kandos NSW. It was then owned by Ruth Piotrowski of Canberra who donated it to The Pioneer Women's Hut. It is occasionally displayed at the museum.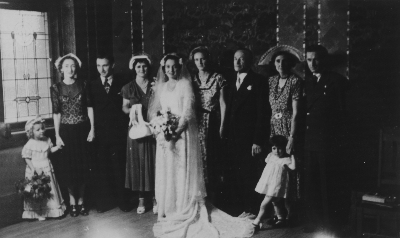 Related Quilts:

Utility quilt hand and machine sewn. The top has a centre frame of hand sewn hexagonal patches in a mix of dress materials and shirtings with four corner flowers and a roughly circular ring in red and blue stripe. The inner border has rectangular pieces in red/yellow/green/white hexagon printed material alternating with a blue/white spot. The outer border consists of large pieces of material, predominantly pink and blue stripes and checks. The backing is mainly red/white printed cotton. It is quilted all over in a diamond pattern. The padding is mainly flannel and has been made from another quilt.
1975 x 1675mm

Crazy patchwork quilt in a variety of cotton materials. There is no padding. The backing is old flour bags.
2000 x 2000mm

Quilt made with a rectangular centre panel of cotton fabric printed with red poppies and black flowers in a japanese style. The panel is surrounded by a wide black satin border. The backing is of black cotton, covering a previous backing of green floral cotton fabric. The padding is feathers.
1700 x 1370mm

Wholecloth quilt made from orange cotton cretonne for back and front. Padding is made from old blankets stitched together. The quilt weighs 16 lb.
1423 x 1118mm

Patchwork quilt, all cotton including cotton filling. "8 pointed star" with turkey red surround, white background. Hand stitched and hand quilted.
2109 X 1727mm

The top is strips of mainly wools in blue, maroon and purple. The backing is imitation fur in brown and grey. They is no quilting. The padding appears to be a double sided pieced quilt from men's suitings or tailors' samples.
1500 x 1130mm