Quilt No.605PWH - The Pioneer Women's Hut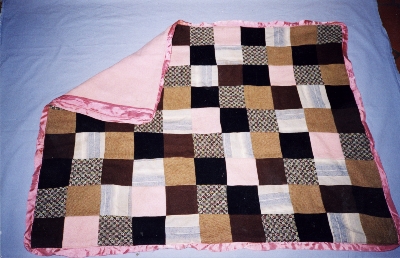 Description:
Machine pieced cot quilt made from squares of material including tweed, wool, blanket and pyjama material. The squares are joined in rows with colours randomly placed. There is a pink satin edging. The backing is part of a pale pink blanket.
1150 x 900mm
History:
This cot quilt was made by Doris Rattay in the Barossa Valley of SA in 1963. It was made from second hand materials that would give warmth, including parts of old skirts and blankets. Doris donated it to The Pioneer Women's Hut. It is displayed occasionally at the museum.
Related Quilts:

Pieced repeat block, in what the owner calls 'Our Village Green' pattern. Wide variety of patterned and plain materials. Finely quilted. Padding is cotton and the backing is white calico. 2180 x 1890 mm.

This quilt consists of rows of pieced blocks approximately 280mm square sewn directly on to a foundation square. The design is really a version of 'log cabin' set on the diagonal. The backing squares are made from flour bags including a number stamped in blue ink "The Defiance Milling Company��..Toowoomba NET 3 lbs". Another is stamped in green ink "Parsons Rolled Oats". Two short sides and one long side of the quilt are bound in apricot coloured cotton.
1960 x 1700mm

Hand pieced frame quilt with centre frame of hexagons and radiating borders of cotton and chintz. There is a heart at each of the 4 corners on the second border. It is hand quilted. There is no padding.
1900 x 1900mm

Patchwork quilt made from different sized rectangles, in new materials, including cotton, lightweight velvet, lining silk, crepe, seersucker, and satin. All fabrics are of even weight. Colours are mainly light, with pinks, greens and blues predominating. No padding or backing. Quilt was not finished.
2050 x 1250mm

Hand made cotton quilt in repeat block with appliqued Iris pattern. It is a kit quilt. "The Iris, Design "R" of the 'Mountain Mist Series' of Quilt Patterns" from The Stearns & Foster Company, Lockland, Cincinnati, Ohio. Copyright 1930. The backing is cotton and the filling also.
2439 x 1981mm

Wholecloth quilt in white cotton voile with alternating designs of Australian wildflowers worked in multi coloured cottons and shadow work. It is backed with yellow voile. There is no padding.
2010 x 1910mm