Quilt No.605PWH - The Pioneer Women's Hut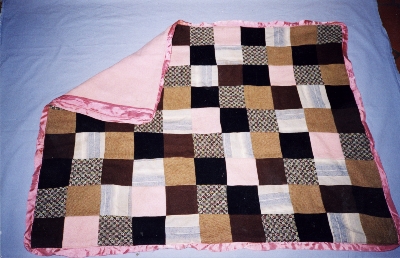 Description:
Machine pieced cot quilt made from squares of material including tweed, wool, blanket and pyjama material. The squares are joined in rows with colours randomly placed. There is a pink satin edging. The backing is part of a pale pink blanket.
1150 x 900mm
History:
This cot quilt was made by Doris Rattay in the Barossa Valley of SA in 1963. It was made from second hand materials that would give warmth, including parts of old skirts and blankets. Doris donated it to The Pioneer Women's Hut. It is displayed occasionally at the museum.
Related Quilts:

A frame quilt with a pattern using hexagons from crepe de chine and silk material. The centre frame consists of a blue rosette of hexagons surrounded by six rosettes or flowers all with black centres. These are surrounded by rows of hexagons and then a row of flowers and then more hexagon borders. The owner refers to the pattern as 'Grandma's Garden'. 2550 x 2550 mm

Machine sewn quilt made from 125mm squares of scraps left over from dressmaking, joined in strips and then the strips joined. There is a border of fawn cotton and the backing is the same material. The padding is an old blanket and the border is padded with sheep's wool.
1400 x 925mm

Utility quilt hand and machine sewn. The top has a centre frame of hand sewn hexagonal patches in a mix of dress materials and shirtings with four corner flowers and a roughly circular ring in red and blue stripe. The inner border has rectangular pieces in red/yellow/green/white hexagon printed material alternating with a blue/white spot. The outer border consists of large pieces of material, predominantly pink and blue stripes and checks. The backing is mainly red/white printed cotton. It is quilted all over in a diamond pattern. The padding is mainly flannel and has been made from another quilt.
1975 x 1675mm

Cotton Hexagon quilt with a wide variety of patterned and plain materials. Blue binding and a cotton backing. The padding is thought to be cotton wool.
1525 x 1220mm

This domestic Wagga is two layers of woollen army blankets with the top layer in rectangles joined in rows. The backing is hessian bags that originally contained meat meal.
11650 x 1130mm

Single bed quilt made up entirely of hexagons in 'Granny's Flower Garden' pattern. The rosettes are made up of 8 hexagons and a central one. Native flower prints, including wattle, on a white background. Plain hexagons in white, yellow and blue form a scalloped border. Hexagons are hand stitched and the 2 layers are quilted in running stitch. The backing is a pieced sheet.
2400 x 1500mm