Quilt No.605PWH - The Pioneer Women's Hut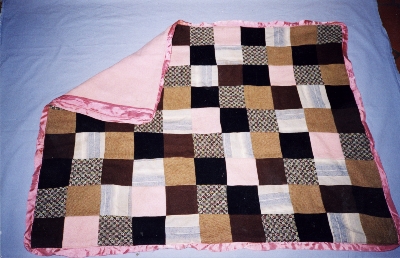 Description:
Machine pieced cot quilt made from squares of material including tweed, wool, blanket and pyjama material. The squares are joined in rows with colours randomly placed. There is a pink satin edging. The backing is part of a pale pink blanket.
1150 x 900mm
History:
This cot quilt was made by Doris Rattay in the Barossa Valley of SA in 1963. It was made from second hand materials that would give warmth, including parts of old skirts and blankets. Doris donated it to The Pioneer Women's Hut. It is displayed occasionally at the museum.
Related Quilts:

Quilt of scrap hexagons. Hand pieced over papers with some papers still in place. Materials used include seersucker, plisse, chambray and various other textured cottons used in dressmaking. The owner has restored the quilt. The backing is a soft cotton in indigo blue and the padding is flannelettte. "I machine tied the quilt in its restoration using cream cotton at the intersections so that it doesn't impinge on the interesting fabrics and the overall scrap effects." [Marie Pye]
2590 x 2170mm

Patchwork quilt of cotton hexagon patches grouped in 'flowers', comprising 4 rings of patches around a central hexagon. Prints and plains are used, the colours mainly browns, greens, yellows, dark blue and dark pink. The 'paths' are in a yellow-brown cotton. Cotton backing. The padding is probably an old blanket. The quilt is an irregular shape, and is tied.
2550 x 1870mm

Rectangular quilt of print and plain cottons pieced in squares and rectangles, the centre group of pieces surround a larger piece of pale blue fabric, within a frame or border, of bright pink material, then 3 rows of squares and rectangles. Backing of plain fabric. Machine stitched on a treadle machine.

Double sided quilt. Side 1 has a central patch of small rectangles and borders of half square triangles. Seamed construction. Side 2 is crazy patch in wools and cottons on to a backing material. There is one round segmented circle in the centre. Machine pieced and quilted.
2050 x 1610mm

Cotton scrap quilt with shapes of diamonds, strip and squares. The quilt has been repaired using machine zig zag in white cotton. There is no padding and the backing is calico.
2175 x 1625mm

Patchwork cot quilt made from hexagons 63mm across in a variety of cotton prints and plains. The bright coloured patches came from children's clothes and dressmaking scraps. No padding. Backing of unbleached calico. Hand sewn.
1524 x 1169mm