Quilt No.890NMA - National Musuem of Australia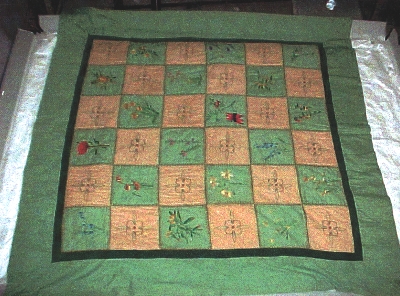 Owner:
National Musuem of Australia
Description:
Patchwork quilt with alternate squares of green and fawn cotton headcloth. Various Australian wild flowers are embroidered in coloured threads in the green squares. In the fawn squares there is a stylised flower and leaf pattern outlined in embroidery. The border, front and back is green headcloth. The backing is printed cotton with a floral design. There is some padding.
1610 x 1610mm
History:
The quilt was made by Nettie McColive from a pattern published in the 1930s in 'The Adelaide Chronicle' a weekly newspaper. It is now in the collection of the National Museum of Australia.
Related Quilts:

Quilt made of 26 x 13 rectangles of woollen men's suiting samples. Each rectangle is about 70 x 130 mm. Wide variety of patterns, mainly stripes, and colous. The padding is part of a worn cream blanket and joined pieces of woollen clothing. The backing is a well worn piece of brushed cotton. Machine made.
11900 x 1870 mm

Medallion style all cotton quilt made in the USA. Hand pieced with centre panel of 'cheater' material pre printed in a patchwork design. Bordered with 'Nine Patch' and sashing. The backing is printed cotton and the padding is cotton. The quilt has yellow tufting or ties in wool.
1855 x 1525mm

Old jute wool pack opened out and joined together selvedge to selvedge. Ends bound with recycled curtain material.
1550 x 1321mm

Quilt made of tailors' swatches, machine constructed around a central frame that is mainly mid brown pieces. This is surrounded by rectangles of mainly charcoal greys and the outer border is navy blues. The backing is a heavy cotton with random green and cream and grey stripes.
1651 x 1220mm

Quilt made of hexagons in cotton materials, the hexagons set in the 'Grandmother's Flower Garden' pattern with 6 patterned patches set around a plain coloured centre patch and white hexagons forming 'paths'. There is a white cotton backing with the edges turned under all the way around and top and backing are joined by a blue machine sewn satin stitch. The patches are hand sewn.
2160 x 1830mm

Quilt with log cabin blocks forming centre rectangle with border of crazy patchwork, in silks and velvets, handsewn on to backing of blue, beige, white woven cotton. Log cabin blocks are in rich dark and light rows forming diagonal stripes. The crazy patchwork has edges decorated with yellow and cream feather stitch. Mostly plain materials with some checks and stripes. The quilt appears to have had the edges cut down. The outer border is a dark blue figured velvet. There is no padding and the backing is maroon silk with a woven yellow motif.
1655 x 1215mm