Quilt No.890NMA - National Musuem of Australia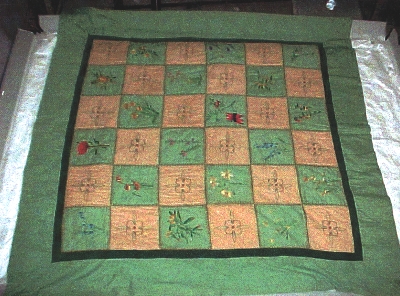 Owner:
National Musuem of Australia
Description:
Patchwork quilt with alternate squares of green and fawn cotton headcloth. Various Australian wild flowers are embroidered in coloured threads in the green squares. In the fawn squares there is a stylised flower and leaf pattern outlined in embroidery. The border, front and back is green headcloth. The backing is printed cotton with a floral design. There is some padding.
1610 x 1610mm
History:
The quilt was made by Nettie McColive from a pattern published in the 1930s in 'The Adelaide Chronicle' a weekly newspaper. It is now in the collection of the National Museum of Australia.
Related Quilts:

Cotton scrap quilt in a pattern known as 'Grandmothers Fan'. It is hand quilted. The padding is hand carded cotton and the backing is muslin.
2235 x 1880mm

Patchwork quilt of hand sewn hexagons in a variety of print and plain cotton fabrics from 1950-1960. Colours are mainly pinks, blues, greens and yellow, with some red, and white. Quilt has a wide border of yellow poplin, which also forms the backing. No padding.
2280 x 1520mm

4 Pieces of a patchwork quilt which was formerly a whole quilt. It is pieced in cottons in blues reds and browns in many prints. There are whole circles and pieced circles against a plain cream calico background. It is wool lined and is quilted. There are the initials 'A.B.' and '1828' on a central piece. The 4 pieces are various sizes.

Log Cabin quilt featuring centre square and 3 outer borders. Evidence of later repairs and additions by machine and hand sewing. There is white paint on it. The log cabin pieces are sewn on to black netting. There is no padding and the backing is a centre piece of gold damask/sateen and green and black sateen borders.
1728 x 1321mm

"The Rajah "quilt" is a patchwork and appliquéd bed cover or coverlet. It is in pieced medallion or framed style: a popular design style for quilts in the British Isles in the mid 1800's. There is a central field of white cotton decorated with appliquéd (in broderie perse) chintz birds and floral motifs. This central field is framed by 12 bands or strips of patchwork printed cotton. The quilt is finished at the outer edge by white cotton decorated with appliquéd daisies on three sides and inscription in cross stitch surrounded by floral chintz attached with broderie perse on the fourth side. All fabrics used in the Rajah quilt are cotton with the exception of small amounts of linen and silk threads. The quilt shows evidence of being produced by many hands." [NGA] The quilt is not padded or lined. 3372 x 3250mm

Quilt of scrap hexagons. Hand pieced over papers with some papers still in place. Materials used include seersucker, plisse, chambray and various other textured cottons used in dressmaking. The owner has restored the quilt. The backing is a soft cotton in indigo blue and the padding is flannelettte. "I machine tied the quilt in its restoration using cream cotton at the intersections so that it doesn't impinge on the interesting fabrics and the overall scrap effects." [Marie Pye]
2590 x 2170mm