Quilt No.643JB - Julie Bos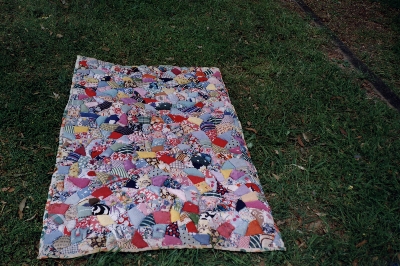 Description:
Crazy patchwork quilt with pieces made from cottons, rayons, silks and taffetas. Each piece is stuffed with kapok and machine sewn to a backing then a wholecloth floral cotton backing has been added.
920 x 164o mms
Related Quilts:

Patchwork quilt in the Log Cabin pattern, made from cotton fabrics in prints and plains in bright colours. There are 185 squares, all sewn on to check gingham. No padding. Backing is of black cotton.
2718 x 2540mm

Patchwork quilt in crazy pattern, with pieces of silks, corded silks and velvets in prints, plaids and plains. Nearly all pieces are edged with embroidery, and many pieces have embroidered names and motifs. There are a variety of embroidery stitches. The backing is of slub cotton in a plaid pattern in yellow, grey, red and white. No padding. Quilt has a gathered edging of dark red organdy and silk. Names and dates embroidered are: Bert, Milly, Toots, Verdi, Ida, and 1893, 1895, 1894.
1550 x 1420mm

English pieced hexagonal star quilt in silks, velvets and satins. Commercially made fringe in cotton maroon twill. Some motifs have herringbone stitching around them. There is no padding and the backing is polished cotton twill. 1840 x 1660 mm

Log cabin quilt consisting of 36 blocks each 200mm square. Light and dark arrangement with a variety of small patterned cotton materials (floral, spotted, striped) and plains. The blocks are hand stitched on to fine cotton and then joined by machine. There is a 120mm double gathered frill of floral cotton with a beige background. The backing is 2 pieces of cream cotton with repeat floral and musical motifs interspersed with forget me nots.
1500 x 1500mm

Machine pieced cotton quilt, in random design of geometric pieces. Materials used are cotton sheeting, dress fabrics, broderie anglaise, and seersucker. There is no padding, and backing is white curtain lining.
1540 x 1150 mm.

Patchwork quilt made of hexagons in silks, satins and brocades. Colours are soft, mainly creams and pastels, with some deep pink, yellow, dark grey and bright blue. Quilt is bordered with a wide band of light navy moire or faille. Padded, possibly with a blanket. Backed with cotton twill.
2420 x 1900mm