Quilt No.651TRM - The Temora Rural Museum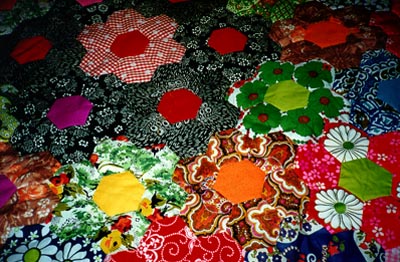 Description:
All cotton hexagon quilt using a wide variety of colours and patterns. The hexagons were hand stitched by Sylvia Schleibs in the same style she and her daughter, Norma Gilchrist, had previously made 3 hexagon quilts. There is a calico border and backing.
2000 x 1450mm
History:
This quilt was part made by Sylvia Schleibs in the Temora district NSW in the 1960s. In 1981 Sylvia's daughter, Norma Gilchrist, gave the hexagons to the Temora Rural Museum and in 1996 Marj Brown (the curator) completed the quilt by stitching the hexagons together and adding a calico border and backing.
Story:
Sylvia Schleibs was a typical farmer's wife with many interests and commitments including milking the cows and tending a large flock of chooks. She sold butter and eggs and violets, sewed, was a good cook and was practical and thrifty. She and Norma (daughter) only made hexagon quilts.
Marj Brown grew up on a farm and also married a farmer. Her interest in needlework was a great help to her in making her own and the children's clothes. She retired to Temora in 1982 where she became interested in the Rural Museum and became curator in September 1995. Her knowledge of needlework was a great help to her in repairing and finishing articles that were in storage. She likes doing tatting, crochet, knitting and embroidery of all types.
Related Quilts:

Double sided square quilt mainly in cottons. Side 1 has been made in 4 squares each consisting of different sized strips and rectangles. With side 2 there appears to have been 2 stages as if the quilt was extended perhaps to match side 1. It is also squares, rectangles and strips. Sparsley machine quilted. There is no binding but side 2 has been turned over to side 1 and stitched by machine.
1525 x 1525mm

Machine pieced crazy patchwork quilt in plain, floral and striped cotton materials. Some pieces are seamed and others are sewn direct on to calico backing. Each piece is outlined in red stranded cotton in herringbone stitch.
2150 x 1770mm

Suffolk Puff quilt with puffs mainly in patterned cotton pieces saved from 60 years of household sewing. Puffs are formed into rosettes and the holes are on the top making a decorative feature. It is hand sewn.
2700 x 2400mm.

Cotton quilt of hexagons in 'Grandmother's Flower Garden' pattern. Hand stitched. Machined to a cotton backing. There is no padding.
2480 x 1950mm

Quilt with alternate red and white diamonds in cotton, with wide border of white cotton and a white cotton crochet edging. All diamond patches and edging were joined to white border decorated with feather stitch. White border edged with zig-zag white feather stitch. Centre rectangle of white has 4 red petals edged with white feather stitch and 4 red diamonds each embroidered in white clockwise: '1898', 'R', 'L', 'K'. Diamonds edged with feather stitch. There is no padding and the backing is white cotton.
2420 x 1740mm

Patchwork quilt made from hexagon patches on one side, and squares and rectangles on the reverse. Cottons are used, mostly from dressmaking, in bright and light colours. The hexagons form an indented edge on all sides; on the back the rectangles have been cut at the edge to match the hexagon shapes. Hand sewn, the edge machine sewn.
No padding.
1551 x 1373mm