Quilt No.663CR - Constance Real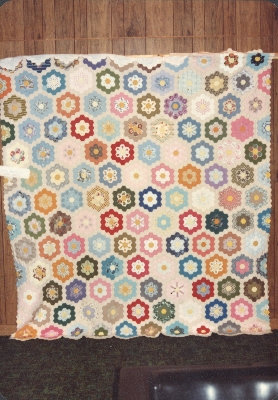 Description:
Quilt of hand sewn cotton hexagons arranged in rosettes or 'flowers'. The padding is seedless cotton imported from America and the backing is madapolin. The scraps for the hexagons came from old dresses and especially from the owner's children's clothes.
2591 x 2337mm
History:
Constance Real made this hexagon quilt in Kingaroy Queensland c.1960 and she is still the owner.
Story:
Connie Real started quilting in the 1950s. "She knew nothing about the craft and started from scratch." In the 1960s Connie was influenced by an article in the New Idea magazine on Mrs. Bland a Canadian woman married to an Englishman and living in Melbourne. The article promoted quilting and referred to American designs such as 'Ohio Rose', 'Triple Sunflower', 'Daddy Hex' and 'Double Wedding Ring'.
"In the 1970s interest was growing in Queensland and as people saw Connie's work they too wanted to know how to do it. Interest was also stimulated through CWA meetings and eventually in 1978 Connie began the first patchwork group in the Darling Downs when she was asked to tutor a full and enthusiastic class at the Summer school in Toowoomba. A further class was begun by Connie in her home town of Kingaroy in 1980. Due to her enthusiasm and strong direction a very strong group was established there and in the surrounding districts. These are alive and flourishing today, regularly attracting new devotees to a wonderful craft. Over the years Connie can count back to a figure of 200 women who have joined her group enjoying what she calls 'this fabulous pastime'. Connie is an original member of the Queensland Quilters Inc. which began in 1984 as an organisational guild for meetings in Brisbane, becoming the Queensland Quilters Inc. in 1988."
[Extract from notes from a friend of Constance Real, Qld, 1998]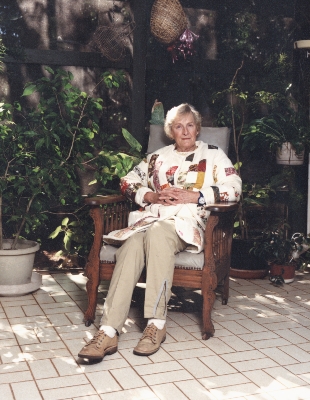 Related Quilts:

This quilt consists of many blocks of different colours with etchings and verse from the bible machine appliqued on to a red backing material. It is a kit quilt.
2580 x 24100mm

Patchwork cradle quilt of pieced repeat blocks. All cotton including cotton filling. Pattern is in faded greens and pinks,"4 pointed star" in circles. There are 20 blocks.
991 x 788mm

Patchwork quilt has pieced blocks in the 'Ohio star' pattern in red print and white cotton, alternating with plain white blocks. Quilt has a 9cm frill in red and grey geometric print cotton, machine stitched around the edge. Quilt appears to have some hand quilting. No padding. Backing is white cotton.
2210 x 2060mm

The top is machine pieced patches of used clothing. The backing is large pieces of dress materials and either end patches similar to the top. The padding is a chaff bag or similar with patches of worn, matted children's jumpers sewn directly on to it.
1400 x 1150mm

The top of this utility quilt is machine pieced rectangles of woollen materials joined in strips. It includes corduroys and velveteens and woollen tartan. The backing is an Indian cotton blanket.
1651 x 1271mm

Reused parts of hand knitted woollen jumpers patched together. Wide crocheted edge from wool unravelled from jumpers retrieved from the tip.
1905 x 1525mm