Quilt No.673AV - Mrs. Agata Vecchio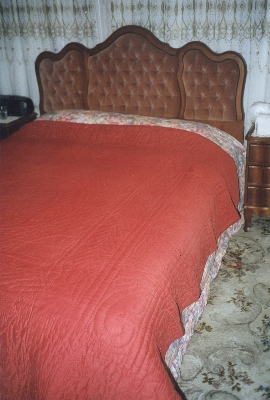 Description:
Whole cloth quilt in rose coloured cotton sateen. The backing is the same material. Hand sewn and hand quilted. The quilting is in a medallion style. The padding is kapok.
2250 x 2200mm
History:
The quilt was made in the 1930s by Mrs. Agata Vecchio (born Lo Monaco) in Linguaglossa Sicily. It is still owned by Mrs Agata Vecchio. It is not used at the present time as the winters in North Queensland are not cold enough.
Story:
This is a traditional quilt that young Sicilian brides made for their 'Glory Boxes'. It was considered to be part of their dowry.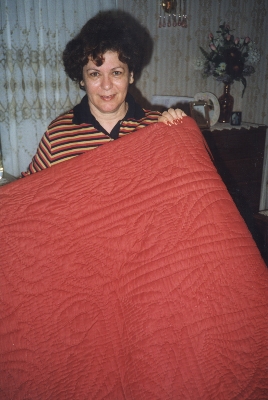 Related Quilts:

Wholecloth pram quilt with a top of pink cotton sateen, and the reverse is a more finely woven, ivory, fabric. All over quilting design as main feature, with stylised hearts, leaves and cross hatching. The padding is cotton batting. 870 x 660 mm.

Hand stitched, cotton, appliquéd, quilt in a flower pattern on a plain background. Colours are shades of green, apricot and browns. This quilt was known as a 'Bride's Quilt'. Padding is thought to be layers of white fabric raised almost like a wadding. The backing is cotton material. 2470 x 2020 mm.

Quilt remnant. This piece of the top is hand embroidered in gold thread on a background of burgundy silk in a traditional style still practised by Greek women today. The backing is white and probably cotton or linen.
940 x 430mm

Wholecloth quilt, both sides cretonne in different rose patterns. 120mm double frill matches each side. Padding is possibly hessian bags. It is hand quilted in large stitches in white/cream cotton in strips with circles, diamonds and scrolls repeated.
2070 x 2030mm

Wholecloth quilt of white cotton with hand appliqued flowers in 3 shades of red. The centre of the quilt has 6 separate flowers radiating from a circle and each corner has a separate arrangement of flowers. The white cotton quilting is in diagonal lines and a daisy pattern. There is a narrow red border widely scalloped. The backing is white cotton. There is no padding.
2236 x 1905mm

Wholecloth quilt made of gold satin with a backing of beige coloured cotton. The padding is wool. The quilting pattern is an all over diamond pattern, framed in a border of straight and wavy parallel lines. It is hand quilted.
2000 x 1820mm