Quilt No.673AV - Mrs. Agata Vecchio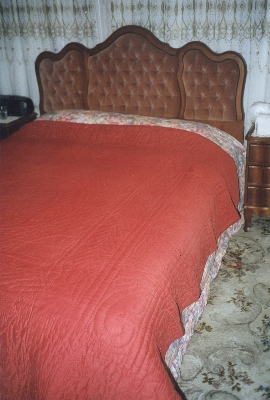 Description:
Whole cloth quilt in rose coloured cotton sateen. The backing is the same material. Hand sewn and hand quilted. The quilting is in a medallion style. The padding is kapok.
2250 x 2200mm
History:
The quilt was made in the 1930s by Mrs. Agata Vecchio (born Lo Monaco) in Linguaglossa Sicily. It is still owned by Mrs Agata Vecchio. It is not used at the present time as the winters in North Queensland are not cold enough.
Story:
This is a traditional quilt that young Sicilian brides made for their 'Glory Boxes'. It was considered to be part of their dowry.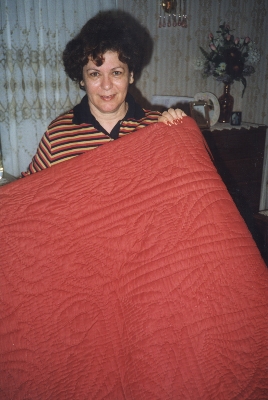 Related Quilts:

Wholecloth pram quilt with a top of pink cotton sateen, and the reverse is a more finely woven, ivory, fabric. All over quilting design as main feature, with stylised hearts, leaves and cross hatching. The padding is cotton batting. 870 x 660 mm.

Hand stitched, cotton, appliquéd, quilt in a flower pattern on a plain background. Colours are shades of green, apricot and browns. This quilt was known as a 'Bride's Quilt'. Padding is thought to be layers of white fabric raised almost like a wadding. The backing is cotton material. 2470 x 2020 mm.

World' quilt of linen squares , autographed, embroidered in stranded cotton and the squares sewn together.
2000 x 2000mm

Wholecloth quilt covered with floral cretonne both sides, deep pink and yellow flowers on a cream background. The padding is hessian/jute type bags joined.
One of a pair but the other quilt is larger.
1800 x 900mm

Wholecloth quilt of natural coloured cotton material. Two thousand two hundred and twenty six names have been embroidered on the top in red stranded cotton. The backing is red and white cotton material.
2033 x 1474mm

4 Pieces of a patchwork quilt which was formerly a whole quilt. It is pieced in cottons in blues reds and browns in many prints. There are whole circles and pieced circles against a plain cream calico background. It is wool lined and is quilted. There are the initials 'A.B.' and '1828' on a central piece. The 4 pieces are various sizes.