Quilt No.691MT - Marjorie Treasy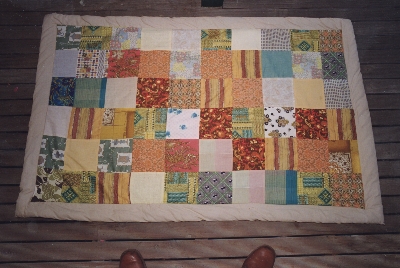 Description:
Machine sewn quilt made from 125mm squares of scraps left over from dressmaking, joined in strips and then the strips joined. There is a border of fawn cotton and the backing is the same material. The padding is an old blanket and the border is padded with sheep's wool.
1400 x 925mm
History:
This quilt was made by Marjorie Treasy at 'The Mount' Dumbalk Nth, Victoria in the mid 1960s. It is one of three made about the same time. It is either stored or in use on one of two single beds.
Story:
"Mum is in good health and at 86 is quite active and lives alone with her garden to care for. She drives and has been vetry involved with many organisations and still drives to meetings of church, CWA, Elderly Citizens Club, bowls (indoor), flower shows (ex judge) with her friends. Life member of CWA. Farm life at Mirboo in her youth and during the depression has given her a deeply ingrained sense of being resourceful and a habit of naturally recycling everything. She lives well but is never wasteful. We think she is wonderful."
[Jan Hall Yarrawonga 13.9.1999]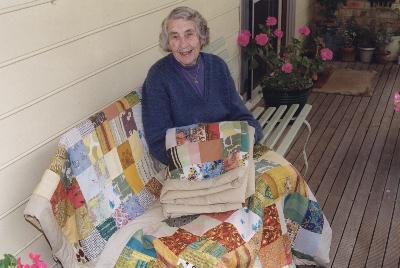 Related Quilts:

Quilt top with English piecing in a star in polygon pattern. English and French cotton fabrics in a wide variety of patterns and plains constructed over papers with the tacking still in tact. Papers are mainly part envelopes some with stamps and post dated 1898. 2200 x 1800mm

Patchwork quilt has pieced blocks in the 'Ohio star' pattern in red print and white cotton, alternating with plain white blocks. Quilt has a 9cm frill in red and grey geometric print cotton, machine stitched around the edge. Quilt appears to have some hand quilting. No padding. Backing is white cotton.
2210 x 2060mm

Quilt of small silk and rayon rosettes of hexagons in prints and plain materials including velvet, voided velvet, chine, printed silk, brocades, taffeta, satin, crepes. Many of the materials are from Japanese kimono and wrapping silks. It is pieced over papers, one paper has a typed date '1930'. The backing is black silk satin and is turned to the front to form a border.
1695 x 1390mm

Wholecloth quilt in white cotton voile with alternating designs of Australian wildflowers worked in multi coloured cottons and shadow work. It is backed with yellow voile. There is no padding.
2010 x 1910mm

Patchwork quilt made from a variety of printed cottons over 70 prints, using shirting and dress fabrics, fabrics also from pyjamas, curtains, aprons, tablecloths. The centre medallion is a square within a square with white borders, the inner frame made of sawtooth triangles. This is surrounded by pieced triangles, square within a square and crosses. Outer frame of sawtooth triangles, and outer border pieced of squares and triangles. Colours are pinks, blues, burgundy and pastels, with floral, stripe and check prints. Lining of cotton. Backed with a printed cotton. Quilt is bound on all edges.
2430 x 2250mm

Large double sided quilt of rectangles and squares of men's suitings, patterned and plain on both sides. The top has a central motif of a circle of three segmented rings radiating from a single hexagon. The outer ring is all tailors' samples and the inner rings are a variety of materials. There is some featherstitching in red. The quilt is sparsley machine quilted.