Quilt No.691MT - Marjorie Treasy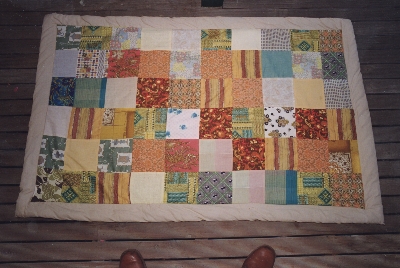 Description:
Machine sewn quilt made from 125mm squares of scraps left over from dressmaking, joined in strips and then the strips joined. There is a border of fawn cotton and the backing is the same material. The padding is an old blanket and the border is padded with sheep's wool.
1400 x 925mm
History:
This quilt was made by Marjorie Treasy at 'The Mount' Dumbalk Nth, Victoria in the mid 1960s. It is one of three made about the same time. It is either stored or in use on one of two single beds.
Story:
"Mum is in good health and at 86 is quite active and lives alone with her garden to care for. She drives and has been vetry involved with many organisations and still drives to meetings of church, CWA, Elderly Citizens Club, bowls (indoor), flower shows (ex judge) with her friends. Life member of CWA. Farm life at Mirboo in her youth and during the depression has given her a deeply ingrained sense of being resourceful and a habit of naturally recycling everything. She lives well but is never wasteful. We think she is wonderful."
[Jan Hall Yarrawonga 13.9.1999]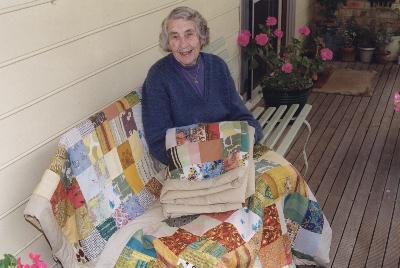 Related Quilts:

This hand pieced and hand quilted hexagon quilt is in a pattern often called 'Grandmother's Flower Garden'. The background is white and there are concentric rows of double rosettes each with a yellow centre. The colours start in the centre of the quilt with pink and then follow the rainbow. Paper templates were used. The padding is cotton (American) and the backing is cotton floral poplin.
2360 x 1730mm

Patchwork quilt made from brightly coloured printed cotton fabrics in hexagon patches hand sewn together in rosettes, and stitched by machine onto a border of green moire taffeta. No padding. Backing is green cotton satin curtain lining. There is a matching pillow sham.
2591 x 2540mm

Randomly patched quilt in many different colours and fabrics. There are appliquéd shapes over many pieces including Suffolk Puffs, hearts, hexagons and other shapes. There is an embroidered inscription "A11 to S11 1829" which is thought to mean AN to SN 1829. There is no padding and the backing is white cotton.
2000 x 2200mm

Quilt top of hexagons in silks and satins, pieced over papers in the English tradition. Some paper templates still in place. One states: 'Semi - Monthly Regular Clipper packets to New Zealand, Port Phillip, Sydney�2nd of each month..Adelaide' suggesting it may have been from a shipping timetable.
1580 x 1830mm

Quilt of 2025 hexagons stitched together to form diamond patterns. Hand sewn using paper templates. Materials are cottons and plains typical of the thirties period. The backing is blue cotton and the quilt is bound with many rows of coloured bias binding through which is treaded window cord. There is no padding. The quilt is called 'Grandmothers' Flower Garden quilt'.
2439 x 1829mm

Frame quilt with the centre frame featuring stars. These are English pieced and then appliqued on to the background using straight stitch on the machine. Borders are squares, rectangles and truangles. Mainly cottons. There is no padding. The backing is an old white bedspread similar to a Marcella.
1900 x 1930mm